Rajeev Vibhakar, MD, PhD, MPH/MSPH
Professor, Pediatrics-Heme/Onc and Bone Marrow Transplantation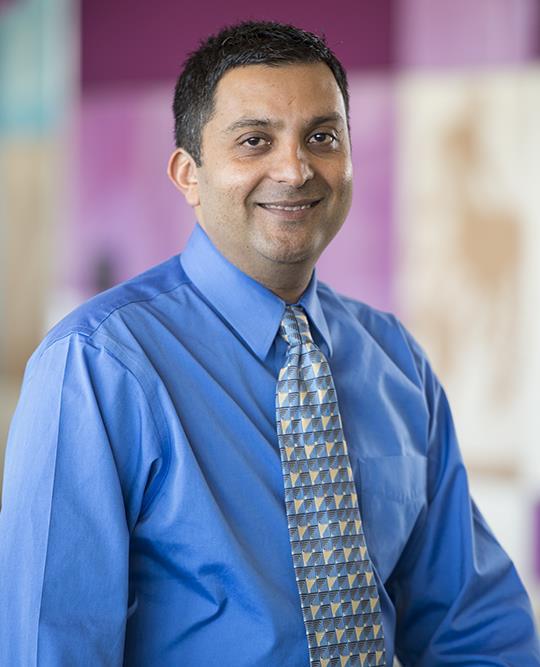 Medical School
:
MD, New York Medical College (1999)
Graduate Schools
:
PhD, New York Medical College (1999)
MPH, New York Medical College (1999)
Undergraduate School
:
BA, Macalester College (MN) (1991)
Residency
:
University of Iowa Hospitals and Clinics Program, Pediatrics (2002)
Fellowships
:
University of Iowa Hospitals and Clinics Program, Pediatric Hematology / Oncology (2005)
Languages
:
English
Department
:
Pediatrics-Heme/Onc and Bone Marrow Transplantation
Research Interests
My research focuses on genetic mechanisms by which normal brain cells become cancerous and how these genetic differences can be used to better diagnose and treat children with brain tumors.
Teaching
Assistant Professor (2008)
School of Medicine, Pediatrics

Publications
Hendrikse LD, Haldipur P, Saulnier O, Millman J, Sjoboen AH, Erickson AW, Ong W, Gordon V, Coudière-Morrison L, Mercier AL, Shokouhian M, Suárez RA, Ly M, Borlase S, Scott DS, Vladoiu MC, Farooq H, Sirbu O, Nakashima T, Nambu S, Funakoshi Y, Bahcheli A, Diaz-Mejia JJ, Golser J, Bach K, Phuong-Bao T, Skowron P, Wang EY, Kumar SA, Balin P, Visvanathan A, Lee JJY, Ayoub R, Chen X, Chen X, Mungall KL, Luu B, Bérubé P, Wang YC, Pfister SM, Kim SK, Delattre O, Bourdeaut F, Doz F, Masliah-Planchon J, Grajkowska WA, Loukides J, Dirks P, Fèvre-Montange M, Jouvet A, French PJ, Kros JM, Zitterbart K, Bailey SD, Eberhart CG, Rao AAN, Giannini C, Olson JM, Garami M, Hauser P, Phillips JJ, Ra YS, de Torres C, Mora J, Li KKW, Ng HK, Poon WS, Pollack IF, López-Aguilar E, Gillespie GY, Van Meter TE, Shofuda T, Vibhakar R, Thompson RC, Cooper MK, Rubin JB, Kumabe T, Jung S, Lach B, Iolascon A, Ferrucci V, de Antonellis P, Zollo M, Cinalli G, Robinson S, Stearns DS, Van Meir EG, Porrati P, Finocchiaro G, Massimino M, Carlotti CG, Faria CC, Roussel MF, Boop F, Chan JA, Aldinger KA, Razavi F, Silvestri E, McLendon RE, Thompson EM, Ansari M, Garre ML, Chico F, Eguía P, Pérezpeña M, Morrissy AS, Cavalli FMG, Wu X, Daniels C, Rich JN, Jones SJM, Moore RA, Marra MA, Huang X, Reimand J, Sorensen PH, Wechsler-Reya RJ, Weiss WA, Pugh TJ, Garzia L, Kleinman CL, Stein LD, Jabado N, Malkin D, Ayrault O, Golden JA, Ellison DW, Doble B, Ramaswamy V, Werbowetski-Ogilvie TE, Suzuki H, Millen KJ, Taylor MD. Author Correction: Failure of human rhombic lip differentiation underlies medulloblastoma formation. Nature. 2022 Nov 29. [Epub ahead of print] PubMed PMID: 36446943
Milgrom SA, Koo J, Foreman N, Liu AK, Campbell K, Dorris K, Green AL, Dahl N, Donson AM, Vibhakar R, Levy JMM. Radiation Therapy for Young Children Treated With High-Dose Chemotherapy and Autologous Stem Cell Transplant for Primary Brain Tumors. Adv Radiat Oncol. 2022 Jul-Aug;7(4):100945. PubMed PMID: 35814855
Ocasio JK, Babcock B, Malawsky D, Weir SJ, Loo L, Simon JM, Zylka MJ, Hwang D, Dismuke T, Sokolsky M, Rosen EP, Vibhakar R, Zhang J, Saulnier O, Vladoiu M, El-Hamamy I, Stein LD, Taylor MD, Smith KS, Northcott PA, Colaneri A, Wilhelmsen K, Gershon TR. Author Correction: scRNA-seq in medulloblastoma shows cellular heterogeneity and lineage expansion support resistance to SHH inhibitor therapy. Nat Commun. 2022 May 26;13(1):3048. PubMed PMID: 35618754
Asuthkar S, Venkataraman S, Avilala J, Shishido K, Vibhakar R, Veo B, Purvis IJ, Guda MR, Velpula KK. SMYD3 Promotes Cell Cycle Progression by Inducing Cyclin D3 Transcription and Stabilizing the Cyclin D1 Protein in Medulloblastoma. Cancers (Basel). 2022 Mar 25;14(7). PubMed PMID: 35406445
Madhavan K, Balakrishnan I, Lakshmanachetty S, Pierce A, Sanford B, Fosmire S, Elajaili HB, Walker F, Wang D, Nozik ES, Mitra SS, Dahl NA, Vibhakar R, Venkataraman S. Venetoclax Cooperates with Ionizing Radiation to Attenuate Diffuse Midline Glioma Tumor Growth. Clin Cancer Res. 2022 Jun 1;28(11):2409-2424. PubMed PMID: 35344040
Specialty Information
Specialties
Pediatric Hematology / Oncology, Board Certification (2008)
Pediatrics, Board Certification (2011)
Conditions & Treatments
Blood / Lymphatic System - Blood Disorders
Cancers - Pediatric Cancer
Blood / Lymphatic System
Cancers
Clinical Interests
My clinical interest is in the treatment of Pediatric Oncology & Neuro-Oncology with an emphasis on medulloblastoma.


General Information
Medical Schools
:
MD, New York Medical College (1999)
Graduate Schools
:
PhD, New York Medical College (1999)
MPH, New York Medical College (1999)
Undergraduate Schools
:
BA, Macalester College (MN) (1991)
Residency Programs
:
University of Iowa Hospitals and Clinics Program, Pediatrics (2002)
Fellowships
:
University of Iowa Hospitals and Clinics Program, Pediatric Hematology / Oncology (2005)
Languages
:
English
Department
:
Pediatrics-Heme/Onc and Bone Marrow Transplantation