Genie Roosevelt, MD, MPH/MSPH
Professor, Emergency Medicine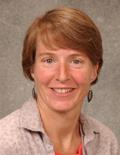 Medical School
:
MD, University of Texas Southwestern Medical Center at Dallas Southwestern Medical School (1990)
Residency
:
McGaw Medical Center of Northwestern University/Children's Memorial Hospital Program, Pediatrics (1993)
Fellowships
:
Children's Memorial Hospital, Chicago, Pediatric Emergency Medicine (1995)
Languages
:
English
Department
:
Emergency Medicine
Publications
Rappaport L, Markowitz G, Hulac S, Roosevelt G. Medication errors in pediatric patients after implementation of a field guide with volume-based dosing. Prehosp Emerg Care. 2022 Jan 12:1-8.doi: 10.1080/10903127.2022.2025962. Online ahead of print. PMID: 35020551.
Hayachi M, Huber KK, Rankin C, Boyajian BV, Martinez A, Grover T, Roosevelt G. BLOSSoM: improving human milk provision in preterm infants through texting support. Pediatr Qual Saf. 2022; 23:7(5):e600.doi: 10.1087/pq9.0000000000000600. PMID: 36168514
Mahajan P, VanBuren JM, Tzimenatos LM, Cruz AT, Vitale M, Powell E, Leetch AN, Pickett ML, Brayer A, Nigrovic LE, Dayan PS, Atabaki S, Ruddy RM, Rogers AJ, Greenberg RA, Alpern E, Tunik MG, Saunders M, Muenzaer J, Levine DA, Hoyle JD, Lillis KG, Gattu R, Crain EF, Borghill D, Bonsu BE, Blumberg S, Anders JF, Roosevelt G, Browne LR, Cohen DM, Linakis JG, Jaffe DM, Bennett JE, Schnadower D, Park G, Mistry RD, Glissmeer EW, Cator A, Bogle A, Quayle KS, Ellison AM, Balamuth F, Richards R, Ramilo O, Kupperman N. Prevalence of serious bacterial infection in young febrile infants with positive urinalysis. Pediatrics. 2022; 150(4): e20210556330. Doi: 10.1542/peds.2021-055633. PMID: 36097858.
Hulse WN, Bell CR, Roosevelt GE, Sabbadini L, Germano R, Hopkins E, Kendall J, Toney AG. Evaluation of a Novel Point-of-Care Ultrasound Curriculum for First-Year Pediatric Residents. Pediatr Emerg Care. 2022 Nov 1;38(11):605-608. doi: 10.1097/PEC.0000000000002853. Epub 2022 Oct 17. PMID: 36314862.
Neumeier A, Coombs B, DiGuiseppi, Brainard J, Roosevelt G, Rustici M. Increasing challenge: a redesign approach to improve learner satisfaction in a critical appraisal skills session during a transition to residency course. Learn Serve Lead 2022 Association of American Medical Colleges, Nashville, TN, November 14, 2022.
Specialty Information
Specialties
Pediatric Emergency Medicine, Board Certification (2001)
Pediatrics, Board Certification
General Information
Medical Schools
:
MD, University of Texas Southwestern Medical Center at Dallas Southwestern Medical School (1990)
Residency Programs
:
McGaw Medical Center of Northwestern University/Children's Memorial Hospital Program, Pediatrics (1993)
Fellowships
:
Children's Memorial Hospital, Chicago, Pediatric Emergency Medicine (1995)
Languages
:
English
Department
:
Emergency Medicine