Genie Roosevelt, MD, MPH/MSPH
Professor, Emergency Medicine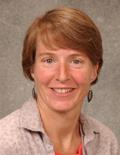 Medical School
:
MD, University of Texas Southwestern Medical Center at Dallas Southwestern Medical School (1990)
Residency
:
McGaw Medical Center of Northwestern University/Children's Memorial Hospital Program, Pediatrics (1993)
Fellowships
:
Children's Memorial Hospital, Chicago, Pediatric Emergency Medicine (1995)
Languages
:
English
Department
:
Emergency Medicine
Publications
Harding E, Stenzel C, Roosevelt G, Grover T, Hayachi M. Decreasing percent of infants with very low 5 minute Apgar scores at a Denver safety-net level III NICU. Western Medical Research Conference. Carmel, CA. January 21, 2022. (oral)
Rappaport L, Markowitz G, Hulac S, Roosevelt G. Medication errors in pediatric patients after implementation of a field guide with volume-based dosing. Prehosp Emerg Care. 2022 Jan 12:1-8.doi: 10.1080/10903127.2022.2025962. Online ahead of print. PMID: 35020551.
Hulse WN, Bell CR, Roosevelt GE, Germano R, Hopkins E, Kendall J, Toney AG. Evaluation of a novel point-of-care ultrasound curriculum for first year pediatric residents. Accepted for publication Pediatr Emerg Care 11.20.21.
Kreiser M, Hill B, Dikchhya K, Wood E, Shelton R, Person J, Riccio J, Zapata I, Khalil PA, LaPorta AJ, Roosevelt GE, Toney AG. Point-of-care ultrasound use by ems providers in out-of-hospital cardiac arrest. Accepted for publication Prehosp Disaster Med. 2022 Jan 7:1-6. doi: 10.1136/bmjqs-2020-012869. Epub 2021 May 17. PMID: 34001649.
Murray E, Roosevelt GE, Vogel J. Screening for health-related social needs in the ED: adaptability and fidelity during the COVID-19 pandemic. Accepted for publication Am J Emerg Med. 2021 Oct 1: S0735-675(21)00808-1. doi: 10.1016/j.ajem.2021.09.071. Online ahead of print. PMID: 34654599.
Specialty Information
Specialties
Pediatric Emergency Medicine, Board Certification (2001)
Pediatrics, Board Certification
General Information
Medical Schools
:
MD, University of Texas Southwestern Medical Center at Dallas Southwestern Medical School (1990)
Residency Programs
:
McGaw Medical Center of Northwestern University/Children's Memorial Hospital Program, Pediatrics (1993)
Fellowships
:
Children's Memorial Hospital, Chicago, Pediatric Emergency Medicine (1995)
Languages
:
English
Department
:
Emergency Medicine