David Wagner, PhD
Associate Professor, Medicine-Pulmonary Sciences & Critical Care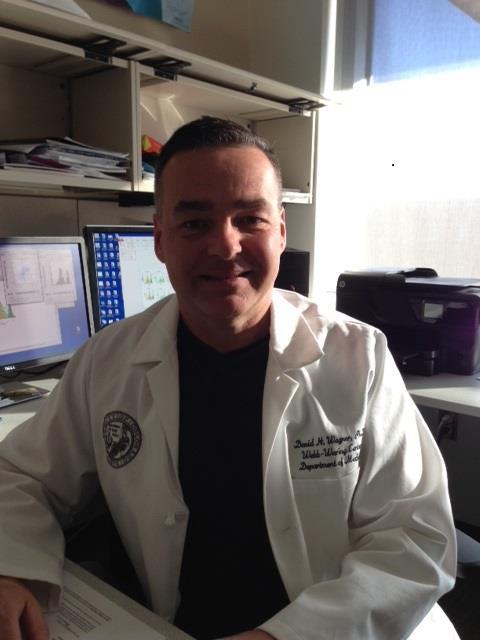 Professional Titles
Associate Professor
Chief Scientific Officer
Head, Immunology Section
Recognition & Awards
Philip R. Lee Award in Diabetes Research, American Diabetes Association (2010)
This award is given to the highest scoring Career Development Award Grant administered by the ADA. A typical year has over 400 applicants.
Teaching
Faculty Advisor, PhD program (2015)
School of Medicine, Immunology and Microbiology
Im interested in autoimmune regulation; defining pathogenic T cell subsets and controlling those. Specific disease areas include: Type 1 Diabetes, Multiple Sclerosis; Cardio-Vascular Disease/Atherosclerosis and Stroke.
Publications
Not available yet "Understanding Inflammation During Type 1 Diabetes"
Frontiers in Neurology "Ocrelizumab Anti-CD20 Treatment Regulates TH40 Cells, A Biomarker of Systemic Inflammation, In All Disease Courses of Multiple Sclerosis" ON TIME Christian Curran, Gisela Vaitaitis, Dan Waid, Enrique Alverez, Enrique Alverez and David H Wagner
Curran C, Vaitaitis G, Waid D, Volmer T, Alverez E, Wagner DH. Ocrevus reduces TH40 cells, a biomarker of systemic inflammation, in relapsing multiple sclerosis (RMS) and in progressive multiple sclerosis (PMS). J Neuroimmunol. 2022 Dec 7;374:578008. [Epub ahead of print] PubMed PMID: 36535240
Lu Y, Xu M, Dorrier CE, Zhang R, Mayer CT, Wagner D, McGavern DB, Hodes RJ. CD40 Drives Central Nervous System Autoimmune Disease by Inducing Complementary Effector Programs via B Cells and Dendritic Cells. J Immunol. 2022 Dec 1;209(11):2083-2092. PubMed PMID: 36426970
Vaitaitis GM, Olmstead MH, Waid DM, Carter JR, Wagner DH Jr. CD40-targeted peptide proposed for type 1 diabetes therapy lacks relevant binding affinity to its cognate receptor. Reply to Pagni PP, Wolf A, Lo Conte M et al [letter]. Diabetologia. 2019 Sep;62(9):1730-1731. PubMed PMID: 31286154
Personal Interests
I am passionate about Mountain Biking and Road Biking in addition to fitness. I am a very good cook.
Volunteer Activities
American Diabetes Association Community Leadership Board
Public Speaking
Yes
I give regular talks on type 1 diabetes research areas. Also I am under consideration for TED talks X.