David Badesch, MD
Professor, Medicine-Cvp-Pulmonary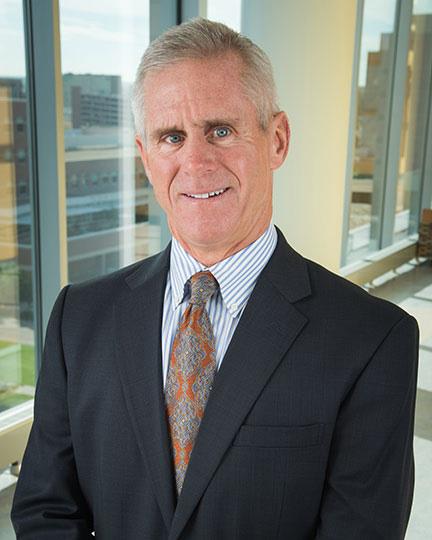 Medical School
:
MD, University of Virginia School of Medicine (1983)
Undergraduate School
:
BA, Vanderbilt University (TN) (1979)
Internship
:
Vanderbilt University Medical Center Program (1984)
Residency
:
Vanderbilt University Program, Internal Medicine (1986)
Fellowships
:
University of Colorado (University Hospital) Program, Pulmonary Disease (1989)
Languages
:
English
Department
:
Medicine-Cvp-Pulmonary
Professional Titles
Clinical Director, Pulmonary Hypertension Center
Chair, Pharmacy and Therapeutics Committee
Publications
Humbert M, McLaughlin V, Gibbs JSR, Gomberg-Maitland M, Hoeper MM, Preston IR, Souza R, Waxman AB, Ghofrani HA, Escribano Subias P, Feldman J, Meyer G, Montani D, Olsson KM, Manimaran S, de Oliveira Pena J, Badesch DB. Sotatercept for the treatment of pulmonary arterial hypertension: PULSAR open-label extension. Eur Respir J. 2023 Jan;61(1). PubMed PMID: 36041750
DuBrock HM, Burger CD, Bartolome SD, Feldman JP, Ivy DD, Rosenzweig EB, Sager JS, Presberg KW, Mathai SC, Lammi MR, Klinger JR, Eggert M, De Marco T, Elwing JM, Badesch D, Bull TM, Cadaret LM, Ramani G, Thenappan T, Ford HJ, Al-Naamani N, Simon MA, Mazimba S, Runo JR, Chakinala M, Horn EM, Ryan JJ, Frantz RP, Krowka MJ. Erratum: Health disparities and treatment approaches in portopulmonary hypertension and idiopathic pulmonary arterial hypertension: An analysis of the Pulmonary Hypertension Association Registry. Pulm Circ. 2022 Oct;12(4):e12172. PubMed PMID: 36540874
Hill NS, Feldman JP, Sahay S, Benza RL, Preston IR, Badesch D, Frantz RP, Patel S, Galloway A, Bull TM. INSPIRE: Safety and tolerability of inhaled Yutrepia (treprostinil) in pulmonary arterial hypertension (PAH). Pulm Circ. 2022 Jul;12(3):e12119. PubMed PMID: 36034402
Grinnan D, Kang L, DeWilde C, Badesch D, Benza R, Bull T, Chakinala M, DeMarco T, Feldman J, Ford HJ, Klinger J, McConnell J, Rosenzweig EB, Sager J, Shlobin O, Zamanian R. Prediction of patient outcomes through social determinants of health: The Pulmonary Hypertension Association Registry (PHAR) evaluation. Pulm Circ. 2022 Jul;12(3):e12120. PubMed PMID: 35911181
Minhas J, Narasimmal SP, Bull TM, De Marco T, Mc Connell JW, Lammi MR, Thenappan T, Feldman JP, Sager JS, Badesch DB, Ryan JJ, Grinnan DC, Zwicke D, Horn EM, Elwing JM, Moss JE, Eggert M, Shlobin OA, Frantz RP, Bartolome SD, Mathai SC, Mazimba S, Pugliese SC, Al-Naamani N. Corrigendum for health-related quality of life and hospitalizations in chronic thromboembolic pulmonary hypertension versus idiopathic pulmonary arterial hypertension: And analysis from the Pulmonary Hypertension Association Registry. Pulm Circ. 2022 Apr;12(2):e12085. PubMed PMID: 35783032
Specialty Information
Specialties
Pulmonary Disease, Board Certification (1988)
Internal Medicine, Board Certification (1986)
Pulmonary Disease and Critical Care Medicine, Board Certification (2009)
Conditions & Treatments
Lungs and Breathing - Pulmonary Hypertension
Lungs and Breathing
Clinical Interests
I am part of an outstanding team of caregivers who have earned a worldwide reputation for excellence in the field of pulmonary hypertension. I have dedicated my career to improving the treatment of patients who are afflicted with PAH, preferring to apply an evidence-based approach toward therapy. By serving as a member and/or chairman of many PAH-related planning committees, and presenting lectures on current clinical trials and advances in the field of PAH, I have been actively involved in furthering research, treatment options, and disease awareness .

Care Philosophy
I believe strongly in the benefits of clinical trials, and contributing to our knowledge about pulmonary hypertension. As an investigator of the treatments that are currently approved for PAH, I offer to our patients the option of receiving currently approved therapies, as well as the possibility of participating in cutting edge clinical trials. Our team strives to provide the very best clinical care available, and to contribute to advancing new therapeutic options for the future.


Personal Interests
Outside of the clinic, I enjoy spending time with my wife and two daughters, travelling, and road cycling.


General Information
Medical Schools
:
MD, University of Virginia School of Medicine (1983)
Undergraduate Schools
:
BA, Vanderbilt University (TN) (1979)
Internships
:
Vanderbilt University Medical Center Program (1984)
Residency Programs
:
Vanderbilt University Program, Internal Medicine (1986)
Fellowships
:
University of Colorado (University Hospital) Program, Pulmonary Disease (1989)
Languages
:
English
Department
:
Medicine-Cvp-Pulmonary