Lisa Forman, MD
Professor, Medicine-Gastroenterology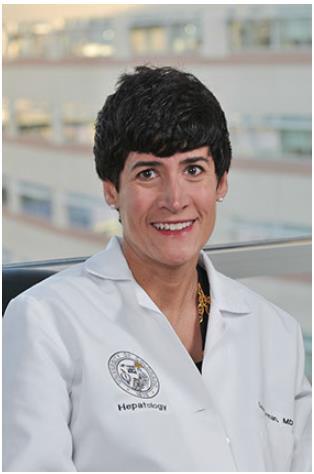 Medical School
:
MD, University of Pennsylvania School of Medicine (1995)
Graduate School
:
MSCE, University of Pennsylvania (2001)
Undergraduate School
:
BA, Tufts University (MA) (1991)
Internship
:
University of Pennsylvania Program
Residency
:
University of Pennsylvania Program, Internal Medicine (1998)
Fellowships
:
University of Pennsylvania Program, Gastroenterology (2001)
Languages
:
English
Department
:
Medicine-Gastroenterology
Research Interests
My research interests include the treatment of Autoimmune Hepatitis, Primary Sclerosing Cholangitis and Primary Biliary Cholangitis
Publications
Martinez-CAmacho A< Fortune BE, Forman L. Hepatic Encephalopathy. In Vincent LJ, Moore F, Belloma R, MAriniJ (eds): Textbook of Critical Care, Elssevier Press 2022
Bowlus CL, Arrive L, Bergquits A, Deneau M, Forman L, et al. AASLD Practice Guidance on PSCA and CCA. Hepatology2022 Sep 9. Doi: 10.1002/hep.32771
Swei EC, Bar AK, Rice JD, Doe CF, Forman LM, Statin-induced rhabdomyolysis associated with TIPS. ACG Case Rep J 2022:9:e00774
Mayo MJ, Carey E. et al. Impact of Pruritus on QOL and Current Treatment Patterns in Patients with PBC.Dig Dis Sc 2022;
Krowdley KV, Forman LM, Eksteen B et al. A randomized, dose finding, proof of concept Study of Berberine Ursodeoxycholate in PAtients with PSC. AM J GAstro;2022:17:1805015
Specialty Information
Specialties
Transplant Hepatology, Board Certification
Gastroenterology
Conditions & Treatments
Digestive System - Hepatology (Liver Disorders)
Digestive System
Surgery - Liver Transplant Surgery
Surgery
Clinical Interests
Autoimmune Liver Disease, PSC, PBC Hepatology Liver Transplantation Hepatic Encephalopathy

Care Philosophy
I believe in providing the best care possible to all of my patients, educating and empowering them.


Personal Interests
In my free time I like to spend time with my family, read, hike, ski, and travel.
Public Speaking
Yes
General Information
Medical Schools
:
MD, University of Pennsylvania School of Medicine (1995)
Graduate Schools
:
MSCE, University of Pennsylvania (2001)
Undergraduate Schools
:
BA, Tufts University (MA) (1991)
Internships
:
University of Pennsylvania Program (0001)
Residency Programs
:
University of Pennsylvania Program, Internal Medicine (1998)
Fellowships
:
University of Pennsylvania Program, Gastroenterology (2001)
Languages
:
English
Department
:
Medicine-Gastroenterology