Edwin deZoeten, MD, PhD
Professor, Pediatrics-Gastroenterology, Hepatology and Nutrition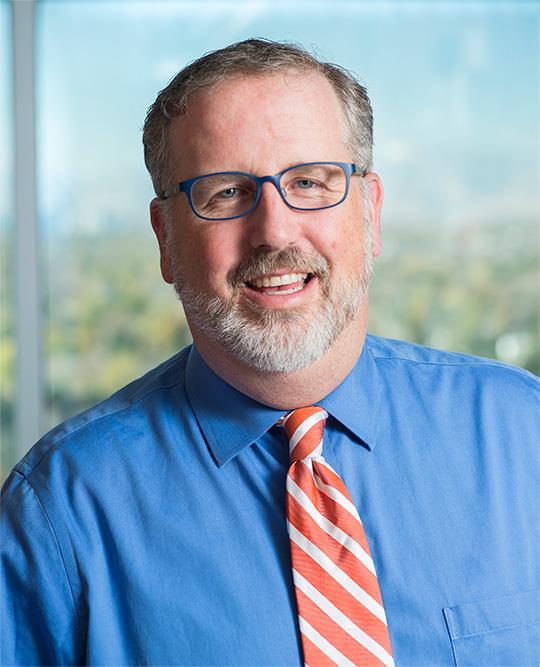 Medical School
:
MD, University of Illinois College of Medicine (2001)
Graduate School
:
PhD, University of Illinois At Chicago (2001)
Undergraduate School
:
BS, University of Wisconsin–Madison (WI) (1992)
Internship
:
University of Colorado (University Hospital) Program (2002)
Residency
:
University of Colorado (University Hospital) Program, Pediatrics (2004)
Fellowships
:
University of Pennsylvania/Children's Hospital of Philadelphia Program, Pediatric Gastroenterology (2004)
Languages
:
English, Dutch, Spanish
Department
:
Pediatrics-Gastroenterology, Hepatology and Nutrition
Professional Titles
Director-Pediatric Inflammatory Bowel Disease Center
Professor-Pediatrics
Publications
Cheung T, de Zoeten EF, Hoffenberg EJ, Liu E, Pan Z, Walker T, Stahl M. Characteristics of Children with Inflammatory Bowel Disease and Coexisting Celiac Disease Seropositivity. J Pediatr Gastroenterol Nutr. 2022 Sep 19. [Epub ahead of print] PubMed PMID: 36122373
Constant BD, de Zoeten EF, Weinman JP, Albenberg L, Scott FI. Early Anti-Tumor-Necrosis-Factor Therapy for Crohn's Disease-Related Abdominal Abscesses and Phlegmon in Children. Dig Dis Sci. 2022 Jul 5. [Epub ahead of print] PubMed PMID: 35790702
Constant BD, de Zoeten EF, Stahl MG, Vajravelu RK, Lewis JD, Fennimore B, Gerich ME, Scott FI. Delays Related to Prior Authorization in Inflammatory Bowel Disease. Pediatrics. 2022 Mar 1;149(3). PubMed PMID: 35190811
Nicholson MR, Alexander E, Ballal S, Davidovics Z, Docktor M, Dole M, Gisser JM, Goyal A, Hourigan SK, Jensen MK, Kaplan JL, Kellermayer R, Kelsen JR, Kennedy MA, Khanna S, Knackstedt ED, Lentine J, Lewis JD, Michail S, Mitchell PD, Oliva-Hemker M, Patton T, Queliza K, Sidhu S, Solomon AB, Suskind DL, Weatherly M, Werlin S, de Zoeten EF, Kahn SA. Efficacy and Outcomes of Faecal Microbiota Transplantation for Recurrent Clostridioides difficile Infection in Children with Inflammatory Bowel Disease. J Crohns Colitis. 2022 Jun 24;16(5):768-777. PubMed PMID: 34788420
Constant BD, Dutmer CM, Arnold MA, Hall C, Abbott JK, de Zoeten EF. Cytotoxic T-Lymphocyte-Associated Antigen 4 Haploinsufficiency Mimics Difficult-to-Treat Inflammatory Bowel Disease. Clin Gastroenterol Hepatol. 2022 Apr;20(4):e696-e702. PubMed PMID: 33965572
Specialty Information
Specialties
Pediatrics, Board Certification (2004)
Pediatric Gastroenterology, Board Certification (2007)
Conditions & Treatments
Digestive System - Gastroenterology (Stomach, Bowel, General GI Problems)
Digestive System - Therapeutic Endoscopy
Digestive System - Inflammatory Bowel Disease (IBD): Crohn's disease, ulcerative colitis, microscopic colitis
Digestive System
Clinical Interests
My clinical interests include the care and treatment of patients with Inflammatory Bowel Diseases, Novel treatments for IBD, as well as Immunodeficiencies affecting the gastrointestinal system, and other issues involving the GI tract.

Care Philosophy
I take into account the entire child in developing a plan for patient with Inflammatory Bowel Disease. I work with Dieticians, Psychologists and Social Workers to develop a therapeutic plan. I strive to listen to patients concerns and thoughts and work with the patient and family to come to a mutually agreed upon therapy that I think will benefit my patients. I focus on evidence based medicine to guide these decisions.


Personal Interests
In my spare time I enjoy skiing, hiking, cooking and my children


General Information
Medical Schools
:
MD, University of Illinois College of Medicine (2001)
Graduate Schools
:
PhD, University of Illinois At Chicago (2001)
Undergraduate Schools
:
BS, University of Wisconsin–Madison (WI) (1992)
Internships
:
University of Colorado (University Hospital) Program (2002)
Residency Programs
:
University of Colorado (University Hospital) Program, Pediatrics (2004)
Fellowships
:
University of Pennsylvania/Children's Hospital of Philadelphia Program, Pediatric Gastroenterology (2004)
Languages
:
English, Dutch, Spanish
Department
:
Pediatrics-Gastroenterology, Hepatology and Nutrition