Rachelle Nuss, MD
Professor, Pediatrics-Heme/Onc and Bone Marrow Transplantation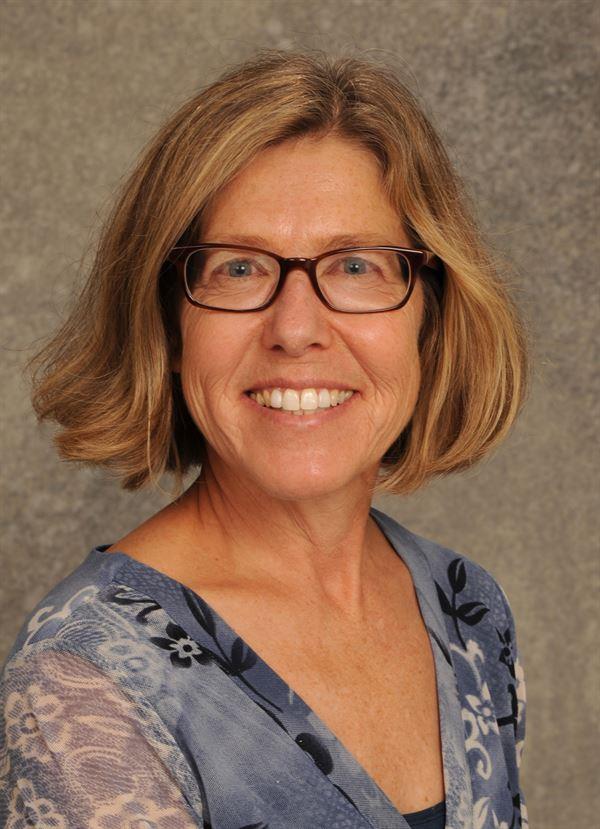 Medical School
:
MD, Wayne State University School of Medicine (1981)
Undergraduate School
:
BS, Wayne State University (MI) (1977)
Residency
:
Children's Hospital/Boston Medical Center Program, Pediatrics (1984)
Fellowships
:
St. Jude Children's Research Hospital, Pediatric Hematology / Oncology (1987)
Languages
:
English
Department
:
Pediatrics-Heme/Onc and Bone Marrow Transplantation
Research Interests
I conduct research studies involving patients with hemoglobinopathies.
Publications
Nuss R. Medical Conditions and High-Altitude Travel. N Engl J Med. 2022 May 12;386(19):1866. PubMed PMID: 35544404
Buehler PW, Swindle D, Pak DI, Ferguson SK, Majka SM, Karoor V, Moldovan R, Sintas C, Black J, Gentinetta T, Buzzi RM, Vallelian F, Wassmer A, Edler M, Bain J, Schu D, Hassell K, Nuss R, Schaer DJ, Irwin DC. Hemopexin dosing improves cardiopulmonary dysfunction in murine sickle cell disease. Free Radic Biol Med. 2021 Nov 1;175:95-107. PubMed PMID: 34478834
Underdown MJ, Nuss R. Thrombocytopenia in a teen with sickle cell disease following COVID-19 vaccination. Pediatr Blood Cancer. 2021 Dec;68(12):e29271. PubMed PMID: 34331506
Casella JF, Barton BA, Kanter J, Black LV, Majumdar S, Inati A, Wali Y, Drachtman RA, Abboud MR, Kilinc Y, Fuh BR, Al-Khabori MK, Takemoto CM, Salman E, Sarnaik SA, Shah N, Morris CR, Keates-Baleeiro J, Raj A, Alvarez OA, Hsu LL, Thompson AA, Sisler IY, Pace BS, Noronha SA, Lasky JL 3rd, de Julian EC, Godder K, Thornburg CD, Kamberos NL, Nuss R, Marsh AM, Owen WC, Schaefer A, Tebbi CK, Chantrain CF, Cohen DE, Karakas Z, Piccone CM, George A, Fixler JM, Singleton TC, Moulton T, Quinn CT, de Castro Lobo CL, Almomen AM, Goyal-Khemka M, Maes P, Emanuele M, Gorney RT, Padgett CS, Parsley E, Kronsberg SS, Kato GJ, Gladwin MT. Effect of Poloxamer 188 vs Placebo on Painful Vaso-Occlusive Episodes in Children and Adults With Sickle Cell Disease: A Randomized Clinical Trial. JAMA. 2021 Apr 20;325(15):1513-1523. PubMed PMID: 33877274
Karoor V, Swindle D, Pak DI, Strassheim D, Fini MA, Dempsey E, Stenmark KR, Hassell K, Nuss R, Buehler PW, Irwin DC. Evidence supporting a role for circulating macrophages in the regression of vascular remodeling following sub-chronic exposure to hemoglobin plus hypoxia. Pulm Circ. 2021 Oct-Dec;11(4):20458940211056806. PubMed PMID: 34777787
Specialty Information
Specialties
Pediatrics, Board Certification
Pediatric Hematology / Oncology, Board Certification
Conditions & Treatments
Cancers
Blood / Lymphatic System - Blood Disorders
Blood / Lymphatic System - Bleeding Disorders
Blood / Lymphatic System
Clinical Interests
I provide direct care for patients with hemoglobinopathies with a focus on sickle cell disease.

Care Philosophy
My goal is to understand the families wishes and work collaboratively to satisfy them.


Personal Interests
Hobbies: hiking with dogs, running with dogs, fostering dogs and cats


General Information
Medical Schools
:
MD, Wayne State University School of Medicine (1981)
Undergraduate Schools
:
BS, Wayne State University (MI) (1977)
Residency Programs
:
Children's Hospital/Boston Medical Center Program, Pediatrics (1984)
Fellowships
:
St. Jude Children's Research Hospital, Pediatric Hematology / Oncology (1987)
Languages
:
English
Department
:
Pediatrics-Heme/Onc and Bone Marrow Transplantation