Stephen Cass, MD, MPH/MSPH
Professor, Otolaryngology - Head and Neck Surgery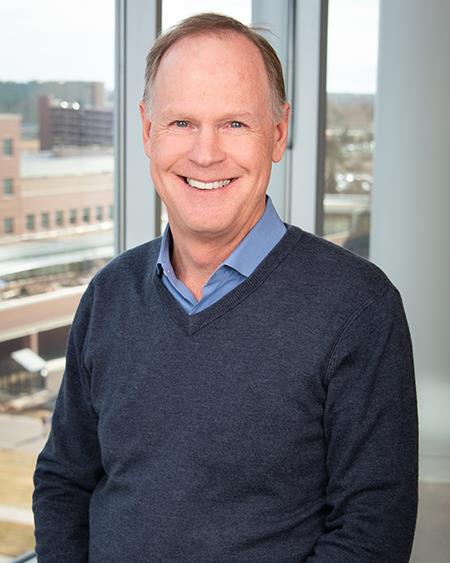 Medical School
:
MD, Wayne State University School of Medicine (1983)
Graduate School
:
MPH, University of Michigan (1983)
Undergraduate School
:
BS, University of Michigan (MI) (1979)
Internship
:
St Joseph Mercy Hospital Program (1984)
Residency
:
Wayne State University/Detroit Medical Center, Otolaryngology - Head & Neck Surgery (1988)
Fellowships
:
Providence Hospital/Michigan Ear Institute/Wayne State Program, Otology & Neurotology (2000)
Languages
:
English
Department
:
Otolaryngology - Head and Neck Surgery
Recognition & Awards
Recognized as Top Neurotologist, 5280 Magazine (2019)
Also awarded in 2016, 2017, 2018
Professor of the Year, University of Colorado, School of Medicine, Department of Otolaryngology (2013)
Also awarded 2000, 2009
Teaching
Professor (1999)
School of Medicine, Otolaryngology - Head and Neck Surgery
Otology and Neurotology
Publications
Elling Christina L., Scholes Melissa A., Streubel Sven-Olrik, Larson Eric D., Wine Todd M., Bootpetch Tori C., Yoon Patricia J., Kofonow Jennifer M., Gubbels Samuel P., Cass Stephen P., Robertson Charles E., Jenkins Herman A., Prager Jeremy D., Frank Daniel N., Chan Kenny H., Friedman Norman R., Ryan Allen F., Santos-Cortez Regie Lyn P. The FUT2 Variant c.461G>A (p.Trp154*) Is Associated With Differentially Expressed Genes and Nasopharyngeal Microbiota Shifts in Patients With Otitis Media. Frontiers in Cellular and Infection Microbiology Vol 11, 2022. DOI=10.3389/fcimb.2021.798246 ISSN=2235-2988
Martinez-Perez R, Kunigelis KE, Ward RC, Ung TH, Arnone GD, Cass SP, Gubbels SP, Youssef AS. Hydroxyapatite cement cranioplasty for reconstruction of translabyrinthine approach: aesthetic results, long-term satisfaction, quality of life, and complications. Acta Neurochirurgica 2022
Mann SE, Hollis J, Frederics T, Watters A, Oakes J, Cass SP, Mehler PS. Transient patulous eustachian tube in severe anorexia nervosa: A prospective observational study. Laryngoscope Investigative: 04 July 2022. https://doi.org/10.1002/lio2.846
Lee NK, Cass SP, Gubbels SP, Gomez HZ, Scholes MA, Jenkins H, Santos-Cortez R. Novel Candidate Genes for Cholesteatoma in Chronic Otitis Media. Frontiers in Genetics, section Genetics of Common and Rare Diseases, Accepted for publication Dec 2022
Hall, Courtney D.; Herdman, Susan J.; Whitney, Susan L.; Anson, Eric R.; Carender, Wendy J.; Hoppes, Carrie W.; Cass, Stephen P.; Christy, Jennifer B.; Cohen, Helen S.; Fife, Terry D.; Furman, Joseph M.; Shepard, Neil T.; Clendaniel, Richard A.; Dishman, J. Donald; Goebel, Joel A.; Meldrum, Dara; Ryan, Cynthia; Wallace, Richard L.; Woodward, Nakia J. Less. Vestibular Rehabilitation for Peripheral Vestibular Hypofunction: An Updated Clinical Practice Guideline from the Academy of Neurologic Physical Therapy of the American Physical Therapy Association. Journal of Neurologic Physical Therapy. JNPT 2022 Vol 46, Issue 2.
Specialty Information
Specialties
Otolaryngology - Head & Neck Surgery, Board Certification (1988)
Otology & Neurotology, Board Certification (2004, 2010)
Bone obliteration Tympanomastoid surgery for cholesteatoma, Specialized Training (2017)
Gamma Knife Radiosurgery for vestibular schwannoma and glomus jugulare, Certificate (1999)
Cochlear Implants, Specialized Training (0001)
Conditions & Treatments
Ear, Nose, and Throat (ENT)
Ear, Nose, and Throat (ENT) - Ear Infection
Ear, Nose, and Throat (ENT) - Eardrum Perforation
Ear, Nose, and Throat (ENT) - Hearing Loss
Ear, Nose, and Throat (ENT) - Facial Paralysis
Ear, Nose, and Throat (ENT) - Skull Base Tumors
Ear, Nose, and Throat (ENT) - Acoustic Neuromas
Ear, Nose, and Throat (ENT) - Cochlear Implants
Ear, Nose, and Throat (ENT) - Osseointegrated Devices
Ear, Nose, and Throat (ENT) - Dizziness and Vertigo
Symptoms and Manifestations
Ear, Nose, and Throat (ENT) - Tinnitus
Ear, Nose, and Throat (ENT) - Cholesteatoma
Ear, Nose, and Throat (ENT) - Chronic ear disease
Clinical Interests
I provide medical and surgical treatment of adult and pediatric ear disorders including hearing loss, cholesteatoma, otosclerosis, cochlear implants, vertigo/balance disorders, superior semicircular canal dehiscence, acoustic neuroma (Gamma Knife Radiosurgery and open surgery), and cranial base surgery.

Care Philosophy
I strive to provide world class care for ear and hearing disorders in a caring and compassionate manner


Personal Interests
I am passionate educating my patients so they can be informed of all treatment options about teaching the next generation of physicians. I study and research the best treatments for cranial base tumors and hearing restoration using cochlear implants and bone conduction devices
Volunteer Activities
I serve on the advisory board of the Colorado Infant Hearing Consortium and on the board of the Marion Downs Foundation
Public Speaking
Yes
I speak regularly locally and also nationally and internationally on cochlear implantation, management of acoustic neuroma and other topics in neurotology
General Information
Medical Schools
:
MD, Wayne State University School of Medicine (1983)
Graduate Schools
:
MPH, University of Michigan (1983)
Undergraduate Schools
:
BS, University of Michigan (MI) (1979)
Internships
:
St Joseph Mercy Hospital Program (1984)
Residency Programs
:
Wayne State University/Detroit Medical Center, Otolaryngology - Head & Neck Surgery (1988)
Fellowships
:
Providence Hospital/Michigan Ear Institute/Wayne State Program, Otology & Neurotology (2000)
Languages
:
English
Department
:
Otolaryngology - Head and Neck Surgery