Kyros Ipaktchi, MD
Associate Professor, Orthopedics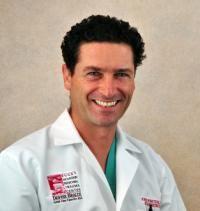 Download CV
Medical School
:
MD, Justus Liebig University Giessen - Germany (1991)
Internship
:
Universitatsmedizin Berlin (1993)
Residency
:
Universitatsmedizin Berlin, Orthopedic Trauma (1998)
Fellowships
:
University of Michigan Program, Surgical Critical Care (2006)
Universitatsmedizin Berlin, Orthopedic Trauma (1999)
Universitatsmedizin Berlin, Hand Surgery (2000)
Languages
:
English, Farsi, French, German, Spanish
Department
:
Orthopedics
Professional Titles
Chief of Hand, Upper Extremity & Microvascular Surgery - Denver Health
Research Interests
My research focuses on Hand and Reconstructive Surgery, Inflammatory Cell Signaling and Trauma.
Publications
Musculoskeletal Trauma, Conditions of the Extremity and Hand Injuries. Ipaktchi K, Morel S. In: 7th Edition Emergency Medicine Secrets. Editors: Bakes K, Buchanan J, Moreira M. Elsevier 2021
Douleh DG, Ipaktchi K, Lauder A. Hand Call Practices and Satisfaction: Survey Results From Hand Surgeons in the United States. J Hand Surg Am. 2021 Oct 28. [Epub ahead of print] PubMed PMID: 34756619
Rodriguez-Fontan F, Maertens AS, Parry JA, Stacey S, Lauder A, Ipaktchi K, Heare A, Hadeed M, Mauffrey C. From Dr. Miller E. Preston (1879-1928) to the Department of Orthopaedics at Denver Health Medical Center in Denver, CO. Int Orthop. 2021 Nov;45(11):2997-3001. PubMed PMID: 34328538
Chen C, Scott F, Ipaktchi KR, Lauder A. Postoperative Digit and Hand Replantation Protocols: A Review of the Literature. J Am Acad Orthop Surg. 2021 Aug 1;29(15):e732-e742. PubMed PMID: 34185029
Woods D, Cao J, Maddox G, Strage K, Lauder A, Ipaktchi K.: Pediatric Upper Extremity Escalator Entrapment JEMS, September 21, 2021
Practice Locations
Denver Health
777 Bannock St
Denver
, CO
80204
303-436-6000
Hospital Affiliation
Denver Health Medical Center
Specialty Information
Specialties
Surgery
Orthopedic Trauma
Conditions & Treatments
Surgery - Hand Surgery
Bones, Joints and Muscles
Surgery
Bones, Joints and Muscles - Carpal Tunnel Syndrome
Bones, Joints and Muscles - Fractures
Bones, Joints and Muscles - Arthritis
Surgery - Arm and hand injuries and disorders
Surgery - Fracture nonunions
Surgery - Free flaps and limb salvage
Surgery - Nerve surgery
Surgery - Wrist fractures
Clinical Interests
My focus is on hand and upper extremity reconstructive surgery including microvascular tissue transfer and replantation.

Care Philosophy
My philosophy of care is a commitment to my patients and their families to deliver care that is supported by the highest order of compassion, innovation, science, and technology.


Personal Interests
Complex Traumatic Conditions of the Upper Extremity, Neurovascular Injuries, Soft Tissue Reconstruction, MIcrosurgery, Replantation
Public Speaking
Yes
Outreach Lectures - National and International Research Meetings
General Information
Medical Schools
:
MD, Justus Liebig University Giessen - Germany (1991)
Internships
:
Universitatsmedizin Berlin (1993)
Residency Programs
:
Universitatsmedizin Berlin, Orthopedic Trauma (1998)
Fellowships
:
University of Michigan Program, Surgical Critical Care (2006)
Universitatsmedizin Berlin, Orthopedic Trauma (1999)
Universitatsmedizin Berlin, Hand Surgery (2000)
Download CV
Languages
:
English, Farsi, French, German, Spanish
Department
:
Orthopedics