Michael Handler, MD
Professor, Neurosurgery-Peds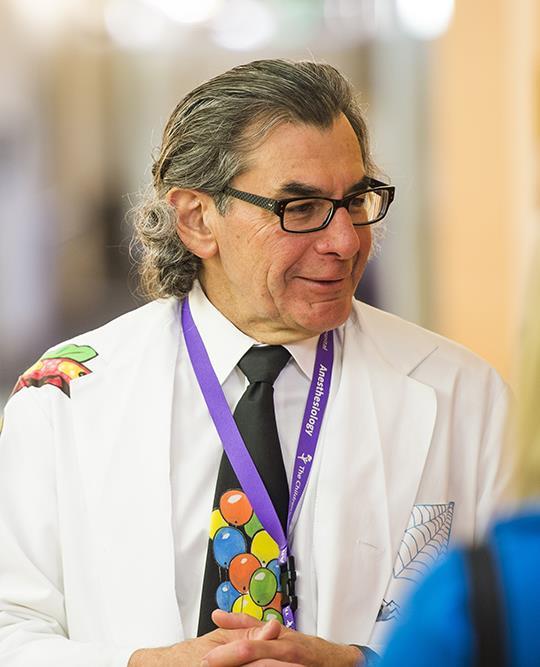 Download CV
Medical School
:
MD, University of Pittsburgh School of Medicine (1979)
Undergraduate School
:
BA, Columbia University (NY) (1974)
Internship
:
New York University School of Medicine Program (1980)
Residencies
:
New York University School of Medicine Program, Neurological Surgery (1986)
SUNY Upstate Medical University Program, Neurology (1981)
Fellowships
:
New York University School of Medicine Program, Neurological Surgery (1994)
Languages
:
English
Department
:
Neurosurgery-Peds
Professional Titles
Chairman, Department of Neurosurgery
The McMurry-Seebaum Chair in Pediatric Neurosurgery
Associate Surgeon-in-Chief, Children's Hospital Colorado
Publications
Vaughn AE, Louiselle AE, Tong S, Niemiec SM, Ahmad S, Zaretsky M, Galan HL, Behrendt N, Wilkinson CC, O'Neill B, Handler M, Derderian SC, Mirsky DM, Liechty KW. Early outcomes of a myofascial repair technique for fetal myelomeningocele. J Pediatr Surg. 2023 Jan;58(1):20-26. PubMed PMID: 36289034
Riemondy KA, Venkataraman S, Willard N, Nellan A, Sanford B, Griesinger AM, Amani V, Mitra S, Hankinson TC, Handler MH, Sill M, Ocasio J, Weir SJ, Malawsky DS, Gershon TR, Garancher A, Wechsler-Reya RJ, Hesselberth JR, Foreman NK, Donson AM, Vibhakar R. Neoplastic and immune single-cell transcriptomics define subgroup-specific intra-tumoral heterogeneity of childhood medulloblastoma. Neuro Oncol. 2022 Feb 1;24(2):273-286. PubMed PMID: 34077540
Finneran MM, Graber S, Poppleton K, Alexander AL, Wilkinson CC, O'Neill BR, Hankinson TC, Handler MH. Postoperative general medical ward admission following Chiari malformation decompression. J Neurosurg Pediatr. 2022 Dec 1;30(6):602-608. PubMed PMID: 36115060
Malik N, Samples DC, Finneran MM, Graber S, Dorris K, Norris G, Foreman NK, Hankinson TC, Handler MH. Pediatric pineal region masses: a single-center experience over 25 years. Childs Nerv Syst. 2022 Jul 14. [Epub ahead of print] PubMed PMID: 35831712
Steinbok P, Cheong A, Dix DB, Bhatia S, Handler MH, Limbrick DD Jr, Niazi T, Price AV, Ragheb J, Souweidane M, Tamber MS, Sandberg DI. Nonoperative Management of Childhood Calvarial Langerhans-Cell Histiocytosis. N Engl J Med. 2022 Jun 30;386(26):2532-2534. PubMed PMID: 35767446
Professional Memberships
American Association of Neurological Surgeons, Member
Congress of Neurological Surgeons , Member
American Society of Pediatric Neurosurgeons, Member
American Epilepsy Society, Member
American Medical Association, Member
Colorado Neurosurgical Society, Member
Rocky Mountain Neurosurgical Society, Member
Colorado Medical Society (CMS), Member
International Society for Pediatric Neurosurgery, Executive Board Member
Specialty Information
Specialties
Neurological Surgery (1989)
Pediatric Neurological Surgery, Board Certification (1998)
Conditions & Treatments
Brain and Nervous System - Spine Diseases and Conditions
Child and Teen Health - Pediatric Diseases and Conditions
Brain and Nervous System
Child and Teen Health
Clinical Interests
I am interested in Pediatric Neurosurgery, Congenital Malformations, Brain Tumors, Epilepsy Surgery and Neuro-endoscopy.


General Information
Medical Schools
:
MD, University of Pittsburgh School of Medicine (1979)
Undergraduate Schools
:
BA, Columbia University (NY) (1974)
Internships
:
New York University School of Medicine Program (1980)
Residency Programs
:
New York University School of Medicine Program, Neurological Surgery (1986)
SUNY Upstate Medical University Program, Neurology (1981)
Fellowships
:
New York University School of Medicine Program, Neurological Surgery (1994)
Download CV
Languages
:
English
Department
:
Neurosurgery-Peds