Michael Handler, MD
Professor, Neurosurgery-Peds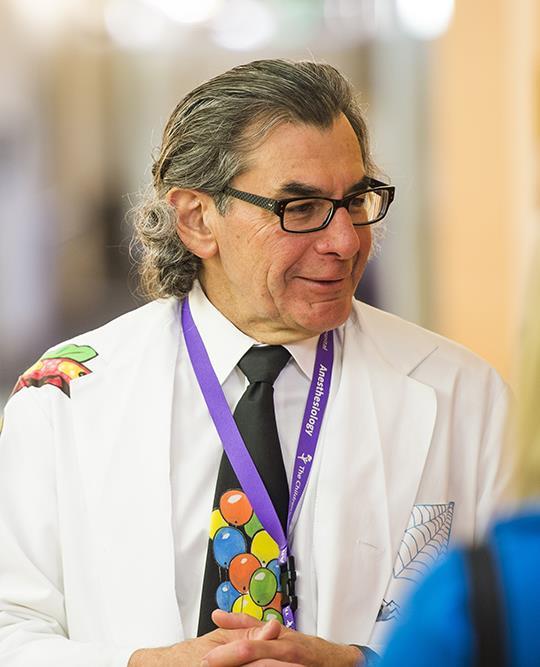 Download CV
Medical School
:
MD, University of Pittsburgh School of Medicine (1979)
Undergraduate School
:
BA, Columbia University (NY) (1974)
Internship
:
New York University School of Medicine Program (1980)
Residencies
:
New York University School of Medicine Program, Neurological Surgery (1986)
SUNY Upstate Medical University Program, Neurology (1981)
Fellowships
:
New York University School of Medicine Program, Neurological Surgery (1994)
Languages
:
English
Department
:
Neurosurgery-Peds
Professional Titles
Chairman, Department of Neurosurgery
The McMurry-Seebaum Chair in Pediatric Neurosurgery
Associate Surgeon-in-Chief, Children's Hospital Colorado
Publications
Riemondy KA, Venkataraman S, Willard N, Nellan A, Sanford B, Griesinger AM, Amani V, Mitra S, Hankinson TC, Handler MH, Sill M, Ocasio J, Weir SJ, Malawsky DS, Gershon TR, Garancher A, Wechsler-Reya RJ, Hesselberth JR, Foreman NK, Donson AM, Vibhakar R. Neoplastic and immune single-cell transcriptomics define subgroup-specific intra-tumoral heterogeneity of childhood medulloblastoma. Neuro Oncol. 2022 Feb 1;24(2):273-286. PubMed PMID: 34077540
DeSisto J, Lucas JT Jr, Xu K, Donson A, Lin T, Sanford B, Wu G, Tran QT, Hedges D, Hsu CY, Armstrong GT, Arnold M, Bhatia S, Flannery P, Lemma R, Hardie L, Schüller U, Venkataraman S, Hoffman LM, Dorris K, Mulcahy Levy JM, Hankinson TC, Handler M, Liu AK, Foreman N, Vibhakar R, Jones K, Allen S, Zhang J, Baker SJ, Merchant TE, Orr BA, Green AL. Comprehensive molecular characterization of pediatric radiation-induced high-grade glioma. Nat Commun. 2021 Sep 20;12(1):5531. PubMed PMID: 34545084
Svokos K, Batista-Silverman L, Graber SJ, O'Neill BR, Handler MH. International survey on the management of lumbosacral cutaneous stigmata in infants with suspected occult spinal dysraphism. J Neurosurg Pediatr. 2021 Sep 3;28(5):592-599. PubMed PMID: 34479200
Derderian SC, Greenan K, Mirsky DM, Stence NV, Graber S, Hankinson TC, Hubbell N, Alexander A, O'Neill BR, Wilkinson CC, Handler MH. The utility of magnetic resonance imaging in pediatric trauma patients suspected of having cervical spine injuries. J Trauma Acute Care Surg. 2019 Dec;87(6):1328-1335. PubMed PMID: 31764482
Twist CJ, Schmidt ML, Naranjo A, London WB, Tenney SC, Marachelian A, Shimada H, Collins MH, Esiashvili N, Adkins ES, Mattei P, Handler M, Katzenstein H, Attiyeh E, Hogarty MD, Gastier-Foster J, Wagner E, Matthay KK, Park JR, Maris JM, Cohn SL. Maintaining Outstanding Outcomes Using Response- and Biology-Based Therapy for Intermediate-Risk Neuroblastoma: A Report From the Children's Oncology Group Study ANBL0531. J Clin Oncol. 2019 Dec 1;37(34):3243-3255. PubMed PMID: 31386611
Professional Memberships
American Association of Neurological Surgeons, Member
Congress of Neurological Surgeons , Member
American Society of Pediatric Neurosurgeons, Member
American Epilepsy Society, Member
American Medical Association, Member
Colorado Neurosurgical Society, Member
Rocky Mountain Neurosurgical Society, Member
Colorado Medical Society (CMS), Member
International Society for Pediatric Neurosurgery, Executive Board Member
Specialty Information
Specialties
Neurological Surgery (1989)
Pediatric Neurological Surgery, Board Certification (1998)
Conditions & Treatments
Brain and Nervous System - Spine Diseases and Conditions
Child and Teen Health - Pediatric Diseases and Conditions
Brain and Nervous System
Child and Teen Health
Clinical Interests
I am interested in Pediatric Neurosurgery, Congenital Malformations, Brain Tumors, Epilepsy Surgery and Neuro-endoscopy.


General Information
Medical Schools
:
MD, University of Pittsburgh School of Medicine (1979)
Undergraduate Schools
:
BA, Columbia University (NY) (1974)
Internships
:
New York University School of Medicine Program (1980)
Residency Programs
:
New York University School of Medicine Program, Neurological Surgery (1986)
SUNY Upstate Medical University Program, Neurology (1981)
Fellowships
:
New York University School of Medicine Program, Neurological Surgery (1994)
Download CV
Languages
:
English
Department
:
Neurosurgery-Peds