Steven Johnson, MD
Professor, Medicine-Infectious Disease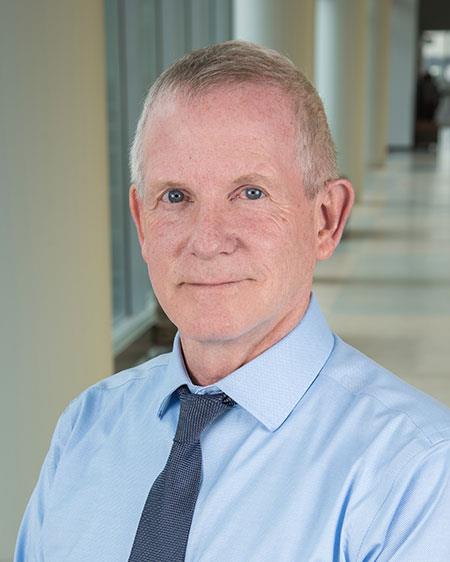 Medical School
:
MD, Northwestern University The Feinberg School of Medicine (1984)
Undergraduate School
:
BA, Bethany College (KS) (1980)
Internship
:
Fitzsimons Army Medical Center, Aurora, CO (1985)
Residency
:
Fitzsimons Army Medical Center, Aurora, CO, Internal Medicine (1987)
Fellowships
:
National Capital Consortium (Walter Reed) Program, Infectious Disease (1990)
Languages
:
English
Department
:
Medicine-Infectious Disease
Professional Titles
Associate Division Head for Clinical Affairs, Division of Infectious Diseases, University of Colorado School of Medicine
Director, University of Colorado HIV/AIDS Clinical Program
Recognition & Awards
Member, NIH COVID-19 Treatment Guidelines Panel, 2020-present, NIH (2020)
25 Years of Service Award, University of Colorado (2018)
Top Doctors in Infectious Disease, 5280 Magazine (2018)
Member, DHHS Panel on Antiretroviral Guidelines for Adults and Adolescents, 2018-present, NIH (2018)
Research Interests
My research interests are primarily in the study of new treatments for persons living with HIV infection, including antiretroviral medications, HIV vaccines, and treatments for complications of HIV infection.
Teaching
Professor of Medicine, Division of Infectious Diseases (1994)
School of Medicine, Medicine
Medical Director, Colorado AIDS Education and Training Center (2005)
School of Medicine, Medicine
HIV Consultant for Durango, Fort Collins, Grand Junction, and Pueblo Collaborative HIV Clinics (2000)
School of Medicine, Medicine
Publications
Barbera L, Kamis K, Rowan S, Davis A, Davis S, Carlson J, Johnson S, Erlandson K. HIV and COVID-19: Review of Clinical Course and Outcomes. HIV Research & Clinical Practice. HIV Res Clin Pract 2021;22(4):102-118. DOI: 10.1080/25787489.2021.1975608.
Kamis K, Barbera L, Abdo M, Rowan S, Hussain C, Gardner E, Johnson S, MaWhinney S, Davis A, Carlson J, Kozacka K, Erlandson K. Risk factors for hospitalization in people with HIV and COVID-19. JAIDS November 2021;88(3):e22. DOI: 10.1097/QAI.0000000000002780.
Kuriakose S, Singh K, Pau AK, Daar E, Gandhi R, Tebas P, Evans L, Gulick RM, Lane HC, Masur H; NIH COVID-19 Treatment Guidelines Panel, Aberg JA, Adimora AA, Baker J, Kreuziger LB, Bedimo R, Belperio PS, Cantrill SV, Coopersmith CM, Davis SL, Dzierba AL, Gallagher JJ, Glidden DV, Grund B, Hardy EJ, Hinkson C, Hughes BL, Johnson S, Keller MJ, Kim AY, Lennox JL, Levy MM, Li JZ, Martin GS, Naggie S, Pavia AT, Seam N, Simpson SQ, Swindells S, Tien P, Waghmare AA, Wilson KC, Yazdany J, Zachariah P, Campbell DM, Harrison C, Burgess T, Francis J, Sheikh V, Uyeki TM, Walker R, Brooks JT, Ortiz LB, Davey RT Jr, Doepel LK, Eisinger RW, Han A, Higgs ES, Nason MC, Crew P, Lerner AM, Lund C, Worthington C. Developing Treatment Guidelines During a Pandemic Health Crisis: Lessons Learned from COVID-19. Ann Intern Med. 2021;174:1151-1158.
Abdo M, Ressler A, MaWhinney S, Jankowski C, Johnson S, Erlandson K. End-of-Life Planning Prior to Death Among People Living With HIV. J Assoc Nurses AIDS Care 2021 Jan-Feb 01;32(1):127-133. doi: 10.1097/JNC.0000000000000162.
Johnson S. Primary Care Concerns for the Aging Population With HIV. Top Antivir Med Oct-Nov 2021;29(4):412-415.
Specialty Information
Specialties
Internal Medicine, Board Certification (1987)
Infectious Disease (1990)
Infectious Disease Recertification, Board Certification (2010)
Infectious Disease Recertification, Board Certification (2000)
Conditions & Treatments
Brain and Nervous System - Meningitis
Brain and Nervous System - Brain Abscess
Immune System - AIDS / HIV Disease
Immune System - Immunodeficiency
Infections
Infections - Influenza
Infections - Pneumonia
Infections - Sexually Transmitted Diseases
Brain and Nervous System
Immune System
Infections - Bacterial Infections
Infections - Viral Infections
Infections - Fungal Infections
Clinical Interests
My primary clinical focus is the care of persons living with HIV/AIDS. I am also interested in COVID-19, immunizations, sexually transmitted diseases, Hepatitis C, and travel medicine.

Care Philosophy
Our model of HIV care is focused on combining expert HIV care with comprehensive primary medical care. This multi-disciplinary medical home is designed to provide most of the care needs in a singe location.


Personal Interests
My personal interests include my family, running, hiking, and the Beatles.

Volunteer Activities
Volunteer activies include work with local HIV service organizations and HIV-related charities. I have also taught about HIV in many parts of rural Colorado, around the nation, and in other parts of the world.


General Information
Medical Schools
:
MD, Northwestern University The Feinberg School of Medicine (1984)
Undergraduate Schools
:
BA, Bethany College (KS) (1980)
Internships
:
Fitzsimons Army Medical Center, Aurora, CO (1985)
Residency Programs
:
Fitzsimons Army Medical Center, Aurora, CO, Internal Medicine (1987)
Fellowships
:
National Capital Consortium (Walter Reed) Program, Infectious Disease (1990)
Languages
:
English
Department
:
Medicine-Infectious Disease