Ravi Mahalingam, PhD
Research Professor, Neurology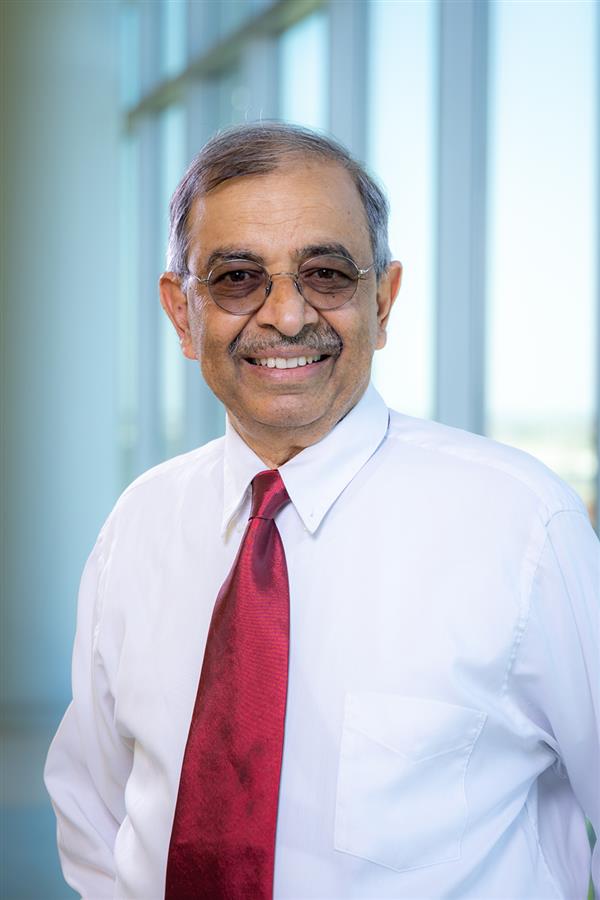 Download CV
Graduate Schools
:
MS, Indian Institute of Technology (1977)
MS, Southern Illinois University Carbondale (1981)
PhD, Southern Illinois University Carbondale (1983)
Languages
:
English
Department
:
Neurology
Recognition & Awards
Keynote speaker at IHW 2018 in Vancouver, VZV Foundation (2018)
Each year VZV Foundation selects and expert in the field of VZV research to present their research at the International Herpesvirus Workshop
Research Interests
Currently, my laboratory is involved in identification of cell types that transport varicella to skin and ganglia during varicella. During the past 10 years, I have been characterizing the phenotype of the T-cells that respond to varicella reactivation and have been identifying signaling molecules that recruit T cells to ganglia. Because (varicella zoster virus) VZV and (simian varicella virus) SVV are highly species-specific, my laboratory is also involved in the preparation of a VZV-SVV chimeric virus to enable direct studies of VZV infection in primates and to help identify specific regions of the VZV and SVV genomes that are responsible for species specificity
Publications
Bubak AN, Coughlan C, Posey J, Saviola AJ, Niemeyer CS, Lewis SWR, Lopez SB, Solano A, Tyring SK, Delaney C, Neeves KB, Mahalingam R, Hansen KC, Nagel MA. Zoster-associated Prothrombotic Plasma Exosomes and Increased Stroke Risk. J Infect Dis. 2022 Oct 6. [Epub ahead of print] PubMed PMID: 36200236
Grose C, Rovnak J, Mahalingam R. The Enduring Legacy of Randall Cohrs: A Meeting of the Minds in the Rocky Mountains. Viruses. 2022 Apr 28;14(5). PubMed PMID: 35632657
Mahalingam R, Feia B, Coleman C, Anupindi K, Saravanan P, Luthens A, Bustillos A, Das A, de Haro E, Doyle-Meyers L, Looper J, Bubak AN, Niemeyer CS, Palmer B, Nagel MA, Traina-Dorge V. Simian Varicella Virus Pathogenesis in Skin during Varicella and Zoster. Viruses. 2022 May 27;14(6). PubMed PMID: 35746639
Sarkar L, Oko L, Gupta S, Bubak AN, Das B, Gupta P, Safiriyu AA, Singhal C, Neogi U, Bloom D, Banerjee A, Mahalingam R, Cohrs RJ, Koval M, Shindler KS, Pal D, Nagel M, Sarma JD. Azadirachta indica A. Juss bark extract and its Nimbin isomers restrict ß-coronaviral infection and replication. Virology. 2022 Apr;569:13-28. PubMed PMID: 35219218
Bubak AN, Beseler C, Como CN, Coughlan CM, Johnson NR, Hassell JE, Burnet AM, Mescher T, Schmid DS, Coleman C, Mahalingam R, Cohrs RJ, Boyd TD, Potter H, Shilleh AH, Russ HA, Nagel MA. Amylin, Aß42, and Amyloid in Varicella Zoster Virus Vasculopathy Cerebrospinal Fluid and Infected Vascular Cells. J Infect Dis. 2021 Apr 8;223(7):1284-1294. PubMed PMID: 32809013
Practice Locations
UCHealth Neurosciences Center - Anschutz Medical Campus
1635 Aurora Ct
4th Floor
Aurora
, CO
80045
720-848-2080
Personal Interests
Cultural aspects of medicine including eastern traditional medicine.
Volunteer Activities
I am a member of the Honors Program Advisory Board, Metropolitan State University, Denver, CO. I am Board member in the Colorado Fine Arts Association
Public Speaking
Yes
Different aspects of Virology including Herpesviruses.
General Information
Graduate Schools
:
MS, Indian Institute of Technology (1977)
MS, Southern Illinois University Carbondale (1981)
PhD, Southern Illinois University Carbondale (1983)
Download CV
Languages
:
English
Department
:
Neurology