Darlene Tad-y, MD
Professor, Medicine-Hospital Medicine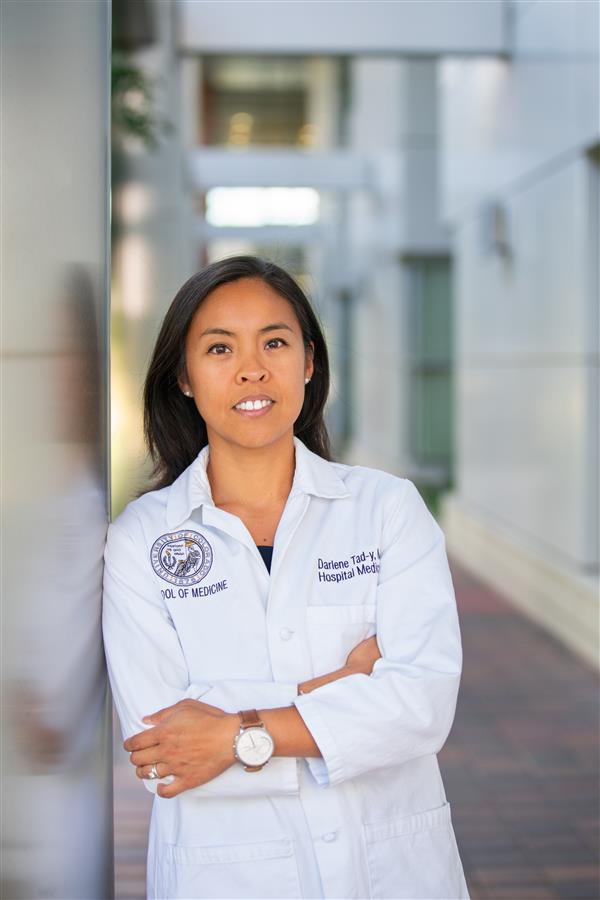 Medical School
:
MD, St. George's University School of Medicine, West Indies (2005)
Undergraduate School
:
BS, Truman State University (MO) (2000)
Residency
:
Lutheran Medical Center Program, Internal Medicine (2008)
Fellowships
:
Johns Hopkins University/Bayview Medical Center Program, Internal Medicine (2010)
Languages
:
English
Department
:
Medicine-Hospital Medicine
Teaching
Director of GME Quality and Safety Programs (2014)
School of Medicine, Gme/Cme
Associate Program Director - Internal Medicine Residency Program (2011)
School of Medicine, Medicine
Program Director - Hospitalist Training Program (2015)
School of Medicine, Medicine
Publications
Rossi-MacKay D, Bulfer M, Kuljis D, Tad-y DB. Reduction in Opioid Prescribing and Administration in Hospitalized Acute Care Medical Patients. J Opioid Mgt; 18(4), July/August 2022.
Gonzalo J, Caverzagie K, Tad-y, DB, et al. The Triple Helix of Clinical, Research and Education Missions in Academic Health Centers: A Qualitative Study of Diverse Stakeholder Perspectives. Learning Health Systems; 2020; e10250.
Valin JP, Gulley S, Keidan B, Perkins K, Winfield G, Price C, Neff W, and Tad-y, DB. Physician Executives Guide a Successful COVID-19 Response in Colorado. NEJM Catalyst; Oct 15, 2020.
Oza SK, van Schaik S, Boscardin CK, Pierce R, Miao E, Lockspeiser T, Tad-Y D, Aagaard E, Kuo AK. Leadership Observation and Feedback Tool: A Novel Instrument for Assessment of Clinical Leadership Skills. J Grad Med Educ. 2018 Oct;10(5):573-582. PubMed PMID: 30386485
Myers JS, Tess AV, McKinney K, Rosenbluth G, Arora VM, Tad-Y D, Vidyarthi AR. Bridging Leadership Roles in Quality and Patient Safety: Experience of 6 US Academic Medical Centers. J Grad Med Educ. 2017 Feb;9(1):9-13. PubMed PMID: 28261389
Specialty Information
Specialties
Hospital Medicine, Board Certification (2008)
Johns Hopkins Carey School of Business-Graduate Certificate in the Business of Medicine , Certificate (2010)
Clinical Interests
Interests: Patient-Centered Care. This physician treats inpatients only and does not make office appointments.


General Information
Medical Schools
:
MD, St. George's University School of Medicine, West Indies (2005)
Undergraduate Schools
:
BS, Truman State University (MO) (2000)
Residency Programs
:
Lutheran Medical Center Program, Internal Medicine (2008)
Fellowships
:
Johns Hopkins University/Bayview Medical Center Program, Internal Medicine (2010)
Languages
:
English
Department
:
Medicine-Hospital Medicine