Shi-Long Lu, MD, PhD
Professor, Otolaryngology - Head and Neck Surgery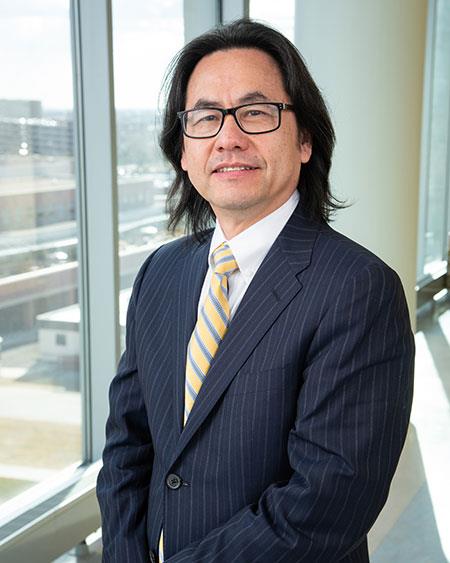 Medical School
:
MD, China Medical University - Shenyang (1987)
Graduate School
:
PhD, Tokyo Medical and Dental University (1999)
Fellowships
:
Case Western Reserve University (MetroHealth)/Cleveland Clinic Foundation Program, Molecular Oncology (2003)
Languages
:
English
Department
:
Otolaryngology - Head and Neck Surgery
Recognition & Awards
Research Career Development Award, Dermatology Foundation (2007)
Albert Kligman Fellowship, Society of Investigative Dermatology (2005)
Certificate of Appreciation for Mentoring Next Generation of Scientists, OHSU (2005)
Best Presentation Award, 6th International Conference of Head and Neck Cancer (2004)
Scholarship for PhD Degree, Japanese Government (Monbusho) (1995)
Research Interests
My research focuses on fundamental and translational aspects on head and neck cancers, including head and neck squamous cell carcinoma (HNSCC) and salivary gland tumors (SGTs). Specifically, my lab works on delineating the roles of PI3K and TGF??signaling pathway, cancer stem cell, and oral microbiome in HNSCC pathogenesis, identifying saliva biomarkers for early detection, recurrence, and surveillance of HNSCC, and developing novel therapeutic approaches for HNSCC. Several key discoveries from my lab are: (1) We were among the firsts to develop multiple genetically engineered mouse models (GEMMs) of HNSCC in both PI3K and TGFß pathways. In combination with tobacco carcinogenesis protocol, these models develop HNSCC, which mimic human HNSCC etiologically, pathologically and molecularly. (2) We recently developed GEMMs for human SGTs, and are using these models to study the role of PTEN and Smad4 in SGT pathogenesis. (3) We have identified a panel of methylated genomic loci encoding microRNAs, which can be detected in patient saliva, to serve as biomarkers for early diagnosis, recurrence, and surveillance of HNSCC patients. (4). In collaboration with our colleague, we are among the firsts to study the functional role of oral microbiome in HNSCC pathogenesis and its impact on immunotherapy and PI3K targeted therapy. (5). In collaboration with our colleague, we are developing a novel therapeutic approach using an immunotoxin-based therapy on HNSCC models we have developed.
Publications
Frank D, Qiu Y, Cao Y, Zhang S, Lu L, Kofonow J, Roberson C, Liu Y, Wang H, Levens C, Kuhn K, Song J, Ramakrishnan V, Lu SL: A dysbiotic microbiome promotes head and neck squamous cell carcinoma. Oncogene, 41, 1269-1280 (2022).
Qiu Y, Lu L, Halven A, Terrio R, Yuldelson S, Dougal N, Galbo F, Lu A, Gao D, Blomquist B, Zevallos J, Harry B, Yao X, Lu SL: COVIDFastTM: A high-throughput and RNA extraction-free method for SARS-CoV-2 detection in swab (SwabFASTTM) or saliva (SalivaFASTTM). medRxiv (2022); doi: https://doi.org/10.1101/2021.12.29.21268527
Frank D, Magno J, Velasco K, Bootpetch T, Salud J, David K, Yee E, Dulnuan H, Lacuata J, Arbizo J, Guce B, Mendoza K, Illustre G, Kofonow J, Chiong A, Roberson R, Tongol E, Sacayan N, Lu SL, Yarza T, Chiong C, Santos-Cortez R: Microbiota associated with cholesteatoma tissue in chronic suppurative otitis media. Frontiers in Cellular and Infection Microbiology, 12: 746428 (2022)
Qi Z, Qiu Y, Wang Z, Zhang H, Lu L, Liu Y, Mathes D, Pomfret E, Gao D, Lu SL*, Wang Z: A novel diphtheria toxin-based bivalent human EGF fusion toxin for treatment of head and neck squamous cell carcinoma. Molecular Oncology, 15: 1054-1068 (2021).
Qiu Y, Lu L, Gao D, McGrath P, Han C, Kogut I, Blomquist B, Yao X, Zevallos J, Harry B, Lu SL: SARS-Cov-2 viral load monitoring by extraction-free testing of saliva. medRxiv 2021.08.02.21261502; doi: https://doi.org/10.1101/2021.08.02.21261502
Professional Memberships
American Association of Cancer Research (AACR), Member
Society of Investigative Dermatology, Member
Colorado BioScience Association, Member
American Society of Clinical Oncology (ASCO), Member
American Association of Dental Research (AADR)-Diagnostic Sciences Group, Member
International Association of Dental Research (IADR)-Salivary Research Group, Member
Specialty Information
Specialties
Otolaryngology - Head & Neck Surgery
General Information
Medical Schools
:
MD, China Medical University - Shenyang (1987)
Graduate Schools
:
PhD, Tokyo Medical and Dental University (1999)
Fellowships
:
Case Western Reserve University (MetroHealth)/Cleveland Clinic Foundation Program, Molecular Oncology (2003)
Languages
:
English
Department
:
Otolaryngology - Head and Neck Surgery