Lina Patel, PsyD
Associate Professor, Psychiatry-Child-CHC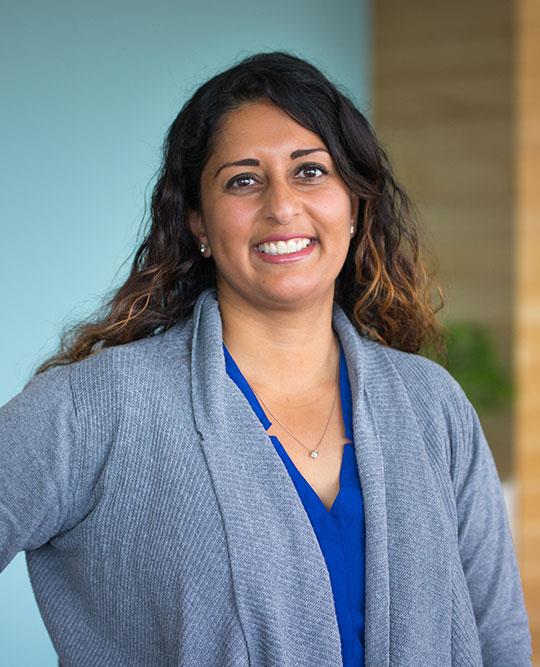 Graduate Schools
:
MA, University of Denver (2002)
PsyD, University of Denver (2006)
Undergraduate School
:
BA, University of Oklahoma (OK) (2000)
Internship
:
Boston University Medical Center Program (2006)
Fellowships
:
Stanford University Program, Psychology (2007)
Languages
:
English
Department
:
Psychiatry-Child-CHC
Publications
Van Deusen K, Prince MA, Esbensen AJ, Edgin JO, Schworer EK, Thurman AJ, Patel LR, Daunhauer LA, Fidler DJ. Profiles of Caregiver-Reported Executive Function in Children with Down Syndrome. Brain Sci. 2022 Oct 1;12(10). PubMed PMID: 36291267
Fidler DJ, Prince MA, Van Deusen K, Esbensen AJ, Thurman AJ, Abbeduto L, Patel L, Mervis C, Schworer EK, Lee NR, Edgin JO, Hepburn S, Davis S, Daunhauer LA. Latent profiles of autism symptoms in children and adolescents with Down syndrome. J Intellect Disabil Res. 2022 Mar;66(3):265-281. PubMed PMID: 34984734
Santoro JD, Patel L, Kammeyer R, Filipink RA, Gombolay GY, Cardinale KM, Real de Asua D, Zaman S, Santoro SL, Marzouk SM, Khoshnood M, Vogel BN, Tanna R, Pagarkar D, Dhanani S, Ortega MDC, Partridge R, Stanley MA, Sanders JS, Christy A, Sannar EM, Brown R, McCormick AA, Van Mater H, Franklin C, Worley G, Quinn EA, Capone GT, Chicoine B, Skotko BG, Rafii MS. Assessment and Diagnosis of Down Syndrome Regression Disorder: International Expert Consensus. Front Neurol. 2022;13:940175. PubMed PMID: 35911905
Dreher T, Wolter-Warmerdam K, Holland S, Katz T, Patel L. Toilet Training in Children and Adolescents with Down Syndrome. J Dev Behav Pediatr. 2022 Aug 1;43(6):e381-e389. PubMed PMID: 35026787
Santoro JD, Partridge R, Tanna R, Pagarkar D, Khoshnood M, Rehmani M, Kammeyer RM, Gombolay GY, Fisher K, Conravey A, El-Dahr J, Christy AL, Patel L, Manning MA, Van Mater H, Rafii MS, Quinn EA. Evidence of neuroinflammation and immunotherapy responsiveness in individuals with down syndrome regression disorder. J Neurodev Disord. 2022 Jun 3;14(1):35. PubMed PMID: 35659536
Specialty Information
Specialties
Psychology
Certified Clinical Psychologist, Certificate (0001)
Conditions & Treatments
Mental Health and Behavior
Child and Teen Health
Clinical Interests
My clinical interests are in multicultural issues, autism, mood dysregulation, and anxiety.

Care Philosophy
I believe that care should be provided using a multimodal, systemic approach involving all parties involved within a child's life.


General Information
Graduate Schools
:
MA, University of Denver (2002)
PsyD, University of Denver (2006)
Undergraduate Schools
:
BA, University of Oklahoma (OK) (2000)
Internships
:
Boston University Medical Center Program (2006)
Fellowships
:
Stanford University Program, Psychology (2007)
Languages
:
English
Department
:
Psychiatry-Child-CHC