Johan Van Hove, MD, PhD
Professor, Pediatrics-Clinical Genetics and Metabolism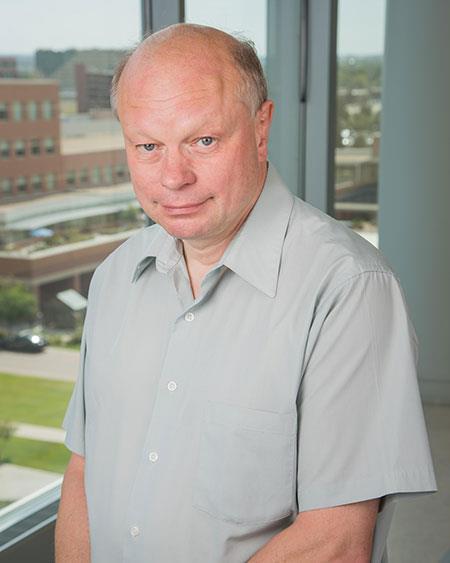 Medical School
:
MD, Catholic University of Leuven (1986)
Graduate Schools
:
MBA, University of Colorado Denver (2006)
PhD, Katholieke Universiteit Leuven (Catholic University) (1994)
Fellowships
:
Duke University Hospital Program, Clinical Genetics and Genomics (MD) (1995)
Languages
:
English
Department
:
Pediatrics-Clinical Genetics and Metabolism
Research Interests
Please visit my lab research web page at For nonketotic hyperglycinemia (NKH): https://medschool.cuanschutz.edu/pediatrics/sections/genetics-and-metabolism/research/nonketotic-hyperglycinemia-(nkh)-research-lab For Mitochondrial energetics disorders: https://medschool.cuanschutz.edu/pediatrics/sections/genetics-and-metabolism/research/mitochondrial-bioenergetics-disorders-lab I am interested in neurometabolic diseases that causes seizures, in particular in non-ketotic hyperglycinemia. I study the genetic basis, the clinical spectrum, the prediction of outcome including the relation between genotype and phenotype, the pathogenesis in animal models and human patients and the development of new treatments for this condition. I am also interested in pyridoxine dependent epilepsy and related metabolic causes of seizures. I am interested in the development of appropriate clinical tests for mitochondrial energy disorders, in the identification and proof of new genetic causes as well as the development of new treatments. Disorders of lipoate metabolism are a particular focus.
Publications
Ligezka AN, Budhraja R, Nishiyama Y, Fiesel FC, Preston G, Edmondson A, Ranatunga W, Van Hove JLK, Watzlawik JO, Springer W, Pandey A, Morava E, Kozicz T. Interplay of Impaired Cellular Bioenergetics and Autophagy in PMM2-CDG. Genes (Basel). 2023 Aug 4;14(8). PubMed PMID: 37628636
Karaa A, Bertini E, Carelli V, Cohen BH, Enns GM, Falk MJ, Goldstein A, Gorman GS, Haas R, Hirano M, Klopstock T, Koenig MK, Kornblum C, Lamperti C, Lehman A, Longo N, Molnar MJ, Parikh S, Phan H, Pitceathly RDS, Saneto R, Scaglia F, Servidei S, Tarnopolsky M, Toscano A, Van Hove JLK, Vissing J, Vockley J, Finman JS, Brown DA, Shiffer JA, Mancuso M. Efficacy and Safety of Elamipretide in Individuals With Primary Mitochondrial Myopathy: The MMPOWER-3 Randomized Clinical Trial. Neurology. 2023 Jul 18;101(3):e238-e252. PubMed PMID: 37268435
Squires JE, Miethke AG, Valencia CA, Hawthorne K, Henn L, Van Hove JLK, Squires RH, Bove K, Horslen S, Kohli R, Molleston JP, Romero R, Alonso EM, Bezerra JA, Guthery SL, Hsu E, Karpen SJ, Loomes KM, Ng VL, Rosenthal P, Mysore K, Wang KS, Friederich MW, Magee JC, Sokol RJ. Clinical spectrum and genetic causes of mitochondrial hepatopathy phenotype in children. Hepatol Commun. 2023 Jun 1;7(6). PubMed PMID: 37184518
Poquérusse J, Nolan M, Thorburn DR, Van Hove JLK, Friederich MW, Love DR, Taylor J, Powell CA, Minczuk M, Snell RG, Lehnert K, Glamuzina E, Jacobsen JC. Severe neonatal onset neuroregression with paroxysmal dystonia and apnoea: Expanding the phenotypic and genotypic spectrum of CARS2-related mitochondrial disease. JIMD Rep. 2023 May;64(3):223-232. PubMed PMID: 37151360
Shelkowitz E, Saneto RP, Al-Hertani W, Lubout CMA, Stence NV, Brown MS, Long P, Walleigh D, Nelson JA, Perez FE, Shaw DWW, Michl EJ, Van Hove JLK. Correction: Ketogenic diet as a glycine lowering therapy in nonketotic hyperglycinemia and impact on brain glycine levels. Orphanet J Rare Dis. 2023 Mar 13;18(1):54. PubMed PMID: 36915141
Specialty Information
Specialties
Clinical Genetics and Genomics (MD), Board Certification (1993, 2003)
Clinical Biochemical Genetics, Board Certification (1993, 2003)
Clinical Interests
I am interested in metabolic disorders, neurometabolic disorders and mitochondrial energy disorders, fatty acid oxidation disorders and ketones utilization disorders.

Care Philosophy
I strive to provide the very best care currently available and to work on developing better care for tomorrow.


General Information
Medical Schools
:
MD, Catholic University of Leuven (1986)
Graduate Schools
:
MBA, University of Colorado Denver (2006)
PhD, Katholieke Universiteit Leuven (Catholic University) (1994)
Fellowships
:
Duke University Hospital Program, Clinical Genetics and Genomics (MD) (1995)
Languages
:
English
Department
:
Pediatrics-Clinical Genetics and Metabolism