Johan Van Hove, MD, PhD
Professor, Pediatrics-Clinical Genetics and Metabolism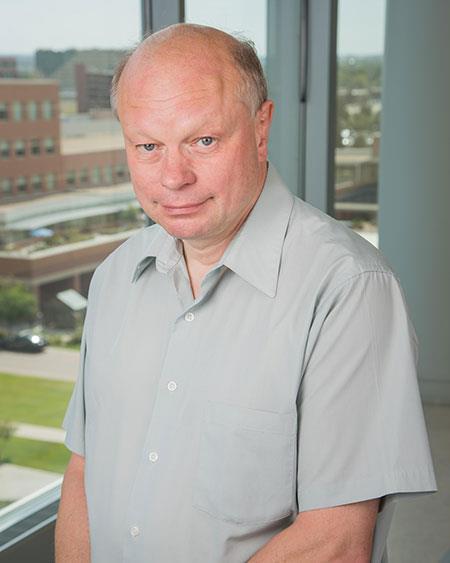 Medical School
:
MD, Catholic University of Leuven (1986)
Graduate Schools
:
MBA, University of Colorado Denver (2006)
PhD, Katholieke Universiteit Leuven (Catholic University) (1994)
Fellowships
:
Duke University Hospital Program, Clinical Genetics and Genomics (MD) (1995)
Languages
:
English
Department
:
Pediatrics-Clinical Genetics and Metabolism
Research Interests
Please visit my lab research web page at For nonketotic hyperglycinemia (NKH): https://medschool.cuanschutz.edu/pediatrics/sections/genetics-and-metabolism/research/nonketotic-hyperglycinemia-(nkh)-research-lab For Mitochondrial energetics disorders: https://medschool.cuanschutz.edu/pediatrics/sections/genetics-and-metabolism/research/mitochondrial-bioenergetics-disorders-lab I am interested in neurometabolic diseases that causes seizures, in particular in non-ketotic hyperglycinemia. I study the genetic basis, the clinical spectrum, the prediction of outcome including the relation between genotype and phenotype, the pathogenesis in animal models and human patients and the development of new treatments for this condition. I am also interested in pyridoxine dependent epilepsy and related metabolic causes of seizures. I am interested in the development of appropriate clinical tests for mitochondrial energy disorders, in the identification and proof of new genetic causes as well as the development of new treatments. Disorders of lipoate metabolism are a particular focus.
Publications
Shelkowitz E, Saneto RP, Al-Hertani W, Lubout CMA, Stence NV, Brown MS, Long P, Walleigh D, Nelson JA, Perez FE, Shaw DWW, Michl EJ, Van Hove JLK. Ketogenic diet as a glycine lowering therapy in nonketotic hyperglycinemia and impact on brain glycine levels. Orphanet J Rare Dis. 2022 Dec 5;17(1):423. PubMed PMID: 36471344
Arribas-Carreira L, Dallabona C, Swanson MA, Farris J, Østergaard E, Tsiakas K, Hempel M, Aquaviva-Bourdain C, Koutsoukos S, Stence NV, Magistrati M, Spector EB, Kronquist K, Christensen M, Karstensen HG, Feichtinger RG, Achleitner MT, Lawrence Merritt J, Pérez B, Ugarte M, Grünewald S, Riela AR, Julve N, Arnoux JB, Haldar K, Donnini C, Santer R, Lund AM, Mayr JA, Rodriguez-Pombo P, Van Hove JLK. Pathogenic variants in GCSH encoding the moonlighting H-protein cause combined Nonketotic Hyperglycinemia and Lipoate Deficiency. Hum Mol Genet. 2022 Oct 3. [Epub ahead of print] PubMed PMID: 36190515
Coughlin CR 2nd, Tseng LA, Bok LA, Hartmann H, Footitt E, Striano P, Tabarki BM, Lunsing RJ, Stockler-Ipsiroglu S, Gordon S, Van Hove JLK, Abdenur JE, Boyer M, Longo N, Andrews A, Janssen MC, van Wegberg A, Prasad C, Prasad AN, Lamb MM, Wijburg FA, Gospe SM, van Karnebeek C. Association Between Lysine Reduction Therapies and Cognitive Outcomes in Patients With Pyridoxine-Dependent Epilepsy. Neurology. 2022 Aug 25;99(23):e2627-36. [Epub ahead of print] PubMed PMID: 36008148
Challenges of studying ARS2 defects in fibroblasts. CureARS symposium, virtual, February 10, 2022
Balderas E, Eberhardt DR, Lee S, Pleinis JM, Sommakia S, Balynas AM, Yin X, Parker MC, Maguire CT, Cho S, Szulik MW, Bakhtina A, Bia RD, Friederich MW, Locke TM, Van Hove JLK, Drakos SG, Sancak Y, Tristani-Firouzi M, Franklin S, Rodan AR, Chaudhuri D. Author Correction: Mitochondrial calcium uniporter stabilization preserves energetic homeostasis during Complex I impairment. Nat Commun. 2022 Jun 20;13(1):3532. PubMed PMID: 35725853
Specialty Information
Specialties
Clinical Genetics and Genomics (MD), Board Certification (1993, 2003)
Clinical Biochemical Genetics, Board Certification (1993, 2003)
Clinical Interests
I am interested in metabolic disorders, neurometabolic disorders and mitochondrial energy disorders, fatty acid oxidation disorders and ketones utilization disorders.

Care Philosophy
I strive to provide the very best care currently available and to work on developing better care for tomorrow.


General Information
Medical Schools
:
MD, Catholic University of Leuven (1986)
Graduate Schools
:
MBA, University of Colorado Denver (2006)
PhD, Katholieke Universiteit Leuven (Catholic University) (1994)
Fellowships
:
Duke University Hospital Program, Clinical Genetics and Genomics (MD) (1995)
Languages
:
English
Department
:
Pediatrics-Clinical Genetics and Metabolism