Curt Freed, MD
Professor, Medicine-Clinical Pharmacology/Toxicology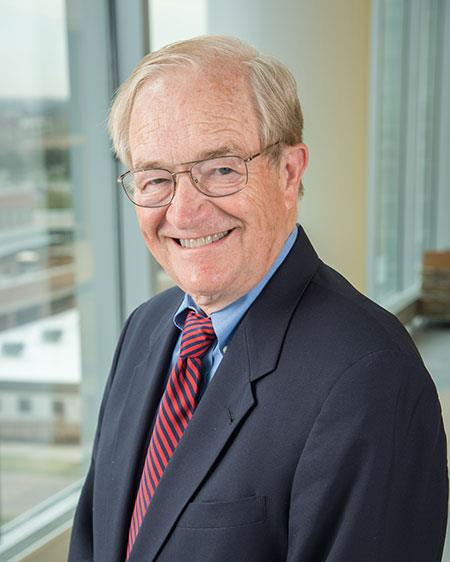 Medical School
:
MD, Harvard Medical School (1969)
Undergraduate School
:
AB, Harvard University (MA)
Internship
:
Los Angeles County-Harbor-UCLA Medical Center Program
Residency
:
Los Angeles County-Harbor-UCLA Medical Center Program, Internal Medicine
Fellowships
:
University of California (San Francisco) School of Medicine Program, Clinical Pharmacology
Languages
:
English
Department
:
Medicine-Clinical Pharmacology/Toxicology
Research Interests
Research in my laboratory has focused on improving treatments for Parkinson's disease. In 1988, we performed the first transplant of dopamine-producing brain cells into an American patient with Parkinson's. We have done more brain cell transplants than any other group. While the transplanted cells can replace the need to take drugs like L-DOPA, they do not stop the relentless progression of the underlying disease. In 2006, we began the search for a drug to stop Parkinson's and have found phenylbutyrate. In animal testing, phenylbutyrate can prevent Parkinson's from advancing. We are now testing phenylbutyrate in patients and should know in the next few years if it is able to stop the progression of Parkinson's disease in people.
Publications
Zhou W, Barkow JC, Freed CR. Running wheel exercise reduces a-synuclein aggregation and improves motor and cognitive function in a transgenic mouse model of Parkinson's disease. PLoS One. 2017;12(12):e0190160. PubMed PMID: 29272304
Bahmed K, Messier EM, Zhou W, Tuder RM, Freed CR, Chu HW, Kelsen SG, Bowler RP, Mason RJ, Kosmider B. DJ-1 Modulates Nuclear Erythroid 2-Related Factor-2-Mediated Protection in Human Primary Alveolar Type II Cells in Smokers. Am J Respir Cell Mol Biol. 2016 Sep;55(3):439-49. PubMed PMID: 27093578
Xiong R, Zhou W, Siegel D, Kitson RR, Freed CR, Moody CJ, Ross D. A Novel Hsp90 Inhibitor Activates Compensatory Heat Shock Protein Responses and Autophagy and Alleviates Mutant A53T a-Synuclein Toxicity. Mol Pharmacol. 2015 Dec;88(6):1045-54. PubMed PMID: 26405178
Jenkins PM, Laughter MR, Lee DJ, Lee YM, Freed CR, Park D. A nerve guidance conduit with topographical and biochemical cues: potential application using human neural stem cells. Nanoscale Res Lett. 2015 Dec;10(1):972. PubMed PMID: 26071111
Yun D, Lee YM, Laughter MR, Freed CR, Park D. Substantial Differentiation of Human Neural Stem Cells Into Motor Neurons on a Biomimetic Polyurea. Macromol Biosci. 2015 Sep;15(9):1206-11. PubMed PMID: 26033933
Practice Locations
Hospital Affiliation
University of Colorado Hospital
Clinical Interests
I am interested in Parkinson's Disease and Neuropharmacology.


General Information
Medical Schools
:
MD, Harvard Medical School (1969)
Undergraduate Schools
:
AB, Harvard University (MA) (0001)
Internships
:
Los Angeles County-Harbor-UCLA Medical Center Program (0001)
Residency Programs
:
Los Angeles County-Harbor-UCLA Medical Center Program, Internal Medicine (0001)
Fellowships
:
University of California (San Francisco) School of Medicine Program, Clinical Pharmacology (0001)
Languages
:
English
Department
:
Medicine-Clinical Pharmacology/Toxicology