Charles Hebert, MD
Visiting Associate Professor, Psychiatry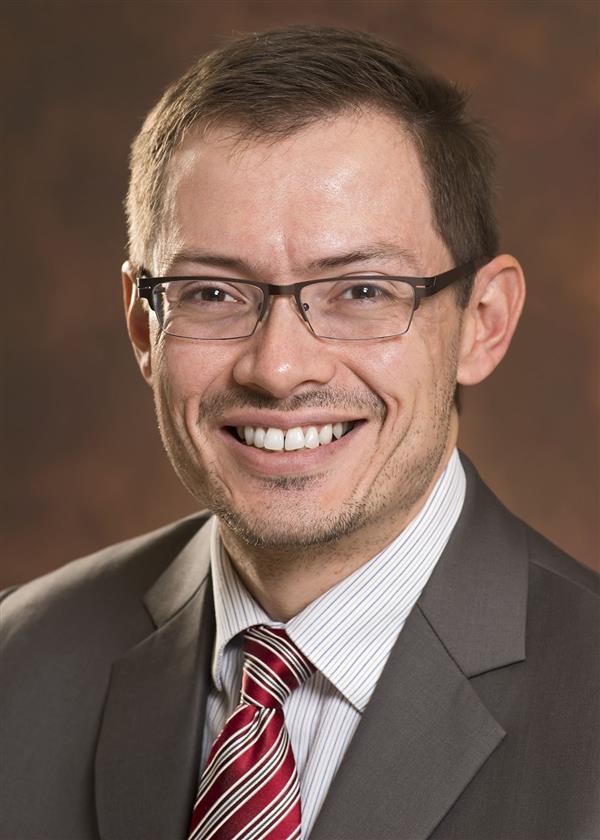 Medical School
:
MD, The Warren Alpert Medical School of Brown University (2005)
Undergraduate School
:
AB, Brown University (RI) (2001)
Internship
:
Rush University Medical Center Program (2005)
Residencies
:
Rush University Medical Center Program, Psychiatry (2010)
Rush University Medical Center Program, Chief Resident, Internal Medicine
Languages
:
English, Spanish
Department
:
Psychiatry
Professional Titles
Medical Director, CDU2, Anschutz Medical Campus
Attending Psychiatrist, Psychiatric Consultation Liaison Service, Anschutz Medical Campus
Recognition & Awards
Supervisor of the Year, Rush University Department of Psychiatry (2022)
Alpha Omega Alpha Medical Honor Society, Alpha Omega Alpha (2016)
Elected as one of two faculty members by fourth year graduating class of Rush Medical College
Phoenix Award, Rush Medical College (2014)
Awarded by the graduating MD class of Rush Medical College to a faculty member for "excelling in medical education or exhibiting the professional and personal qualities we should strive for as physicians."
Excellence in Resident Teaching Award, Rush University Division of Hospital Medicine (2014)
Psychiatric Preceptor of the Year, Rush University Department of Psychiatry (2013)
Teaching
Associate Professor (Visiting) (2022)
School of Medicine, Psychiatry
Publications
Dorafshar AH, Hamidian Jahromi A, Horen SR, Schechter LS, Johannesson L, Testa G, Hertl M, Dewdney S, Aschkenasy J, Wood-Molo M, Brincat C, Cherullo E, Behel JM, Hebert C, Shulman R, Bassi S, Alecci AT, Konety B. Strategic Planning and Essential Steps for Establishing a Uterine Transplant and Rehabilitation Program: From Idea to Reality. Ann Surg. 2022 Jul 1;276(1):74-80. PubMed PMID: 34793341
Kramkowski J, Hebert C. Neuropsychiatric sequelae of brain radiation therapy: A review of modality, symptomatology, and treatment options. Gen Hosp Psychiatry. 2022 Jan-Feb;74:51-57. PubMed PMID: 34911026
Espi Forcen F, Respino M, Eloge J, Baldwin M, Burns K, Patron V, Hebert C. Catatonia in the medically ill: Differences and parallels in etiology, phenomenology and management. Int J Psychiatry Med. 2022 Jan;57(1):80-88. PubMed PMID: 33567935
Hebert C. Interview with Ash-har Quraishi. Is the pandemic shortening our attention spans? Original Air Date: February 11, 2022. Available at: https://www.thedenverchannel.com/news/national/is-the-pandemic-shortening-our-attention-spans
Hebert C. Can patients just say no to treatment? Original publication date: January 19, 2022. Available at: https://www.kevindmd.com/blog/2022/01/can-patients-just-say-no-to-treatment.html
Specialty Information
Specialties
Psychiatry, Board Certification (2012, 2012)
Internal Medicine, Board Certification (2010, 2010)
Clinical Interests
Disaster psychiatry & emergency preparedness

Care Philosophy
Psychiatry offers a wonderful chance to understand patients' stories. As a psychiatrist working in emergency settings and with patients managing chronic medical illness, it is my role to make sure that patients are heard and respected and promote their control over their mental and physical ailments during moments of crisis and vulnerability.


Personal Interests
In my spare time, I enjoy being outdoors in the mountains but also can be found swimming and traveling during any down time I have.
Public Speaking
Yes
Integration of psychiatry and behavioral health in general medicine Decisional capacity Covid-19 association with mental illness Psychological wellness of medical providers and clinical resilience I also enjoy writing Op-Ed's on mental health topics and have authored pieces with The Hill, KevinMD, and Newsweek. I am also a standing contributor to Psychology Today.
General Information
Medical Schools
:
MD, The Warren Alpert Medical School of Brown University (2005)
Undergraduate Schools
:
AB, Brown University (RI) (2001)
Internships
:
Rush University Medical Center Program (2005)
Residency Programs
:
Rush University Medical Center Program, Psychiatry (2010)
Rush University Medical Center Program, Chief Resident, Internal Medicine (0001)
Languages
:
English, Spanish
Department
:
Psychiatry