David Binder, MD, PhD
Assistant Professor, Radiation Oncology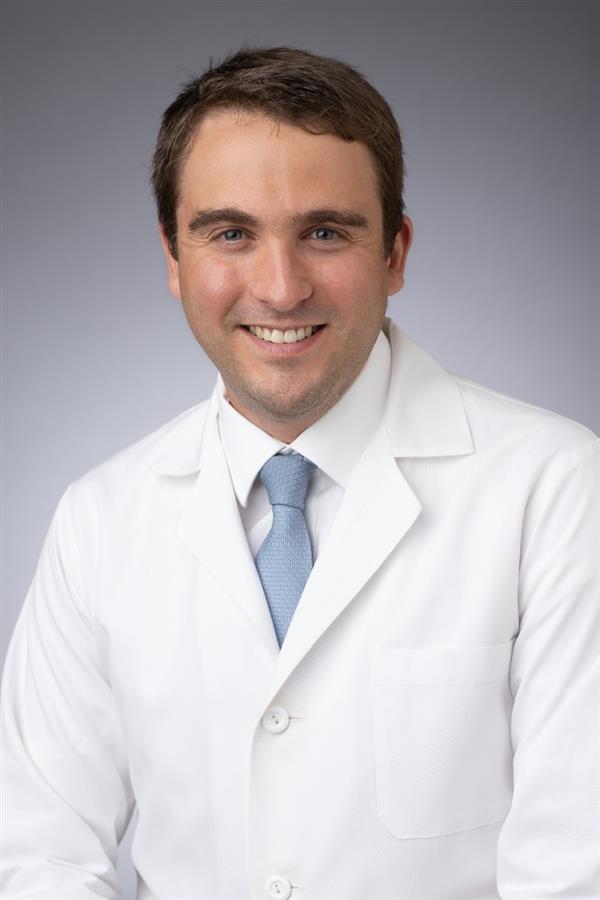 Medical School
:
MD, University of Chicago Division of the Biological Sciences The Pritzker School of Medicine (2015)
Graduate School
:
PhD, University of Chicago (2013)
Undergraduate School
:
BA, Cornell University (NY) (2007)
Internship
:
University of Chicago/University of Illinois College of Medicine at Chicago Program (2016)
Residency
:
University of Colorado, Chief Resident, Radiation Oncology (2020)
Department
:
Radiation Oncology
Publications
Oweida AJ, Darragh L, Phan A, Binder D, Bhatia S, Mueller A, Court BV, Milner D, Raben D, Woessner R, Heasley L, Nemenoff R, Clambey E, Karam SD. STAT3 Modulation of Regulatory T Cells in Response to Radiation Therapy in Head and Neck Cancer. J Natl Cancer Inst. 2019 Dec 1;111(12):1339-1349. PubMed PMID: 30863843
Zhai L, Ladomersky E, Lauing KL, Wu M, Scholtens DM, Savoor R, Zhang B, Wu JD, Horbinski C, Lukas RV, Binder DC, Wainwright DA. Commentary: preclinical efficacy of immune-checkpoint monotherapy does not recapitulate corresponding biomarkers-based clinical predictions in glioblastoma by Garg et al . (2017). Oncoimmunology. 2019;8(3):1548242. PubMed PMID: 30723577
Oweida A, Hararah MK, Phan A, Binder D, Bhatia S, Lennon S, Bukkapatnam S, Van Court B, Uyanga N, Darragh L, Kim HM, Raben D, Tan AC, Heasley L, Clambey E, Nemenoff R, Karam SD. Resistance to Radiotherapy and PD-L1 Blockade Is Mediated by TIM-3 Upregulation and Regulatory T-Cell Infiltration. Clin Cancer Res. 2018 Nov 1;24(21):5368-5380. PubMed PMID: 30042205
Ladomersky E, Zhai L, Lenzen A, Lauing KL, Qian J, Scholtens DM, Gritsina G, Sun X, Liu Y, Yu F, Gong W, Liu Y, Jiang B, Tang T, Patel R, Platanias LC, James CD, Stupp R, Lukas RV, Binder DC, Wainwright DA. IDO1 Inhibition Synergizes with Radiation and PD-1 Blockade to Durably Increase Survival Against Advanced Glioblastoma. Clin Cancer Res. 2018 Jun 1;24(11):2559-2573. PubMed PMID: 29500275
Binder DC, Ladomersky E, Lenzen A, Zhai L, Lauing KL, Otto-Meyer SD, Lukas RV, Wainwright DA. Lessons learned from rindopepimut treatment in patients with EGFRvIII-expressing glioblastoma. Transl Cancer Res. 2018 Apr;7(Suppl 4):S510-S513. PubMed PMID: 30283731
Specialty Information
Conditions & Treatments
Cancers - Radiation Therapy
Cancers
Clinical Interests
I have a particular interest in gastrointestinal, breast, prostate, and gynecologic malignancies. My specialization includes the most advanced treatment techniques including high dose rate brachytherapy, prostate procedures, stereotactic body radiotherapy, and gamma knife.

Care Philosophy
I value being a member of a multidisciplinary team of cancer physicians that individualize the best treatment option for each patient, while then executing care using the most up-to-date technology. I treat each patient with respect and work with them to define a treatment approach that best aligns with their goals and values. My mission is to eradicate tumors while helping patients maintain their lifestyle during and following treatment.


General Information
Medical Schools
:
MD, University of Chicago Division of the Biological Sciences The Pritzker School of Medicine (2015)
Graduate Schools
:
PhD, University of Chicago (2013)
Undergraduate Schools
:
BA, Cornell University (NY) (2007)
Internships
:
University of Chicago/University of Illinois College of Medicine at Chicago Program (2016)
Residency Programs
:
University of Colorado, Chief Resident, Radiation Oncology (2020)
Department
:
Radiation Oncology