Hayley Ennis, MD
Assistant Professor, Orthopedics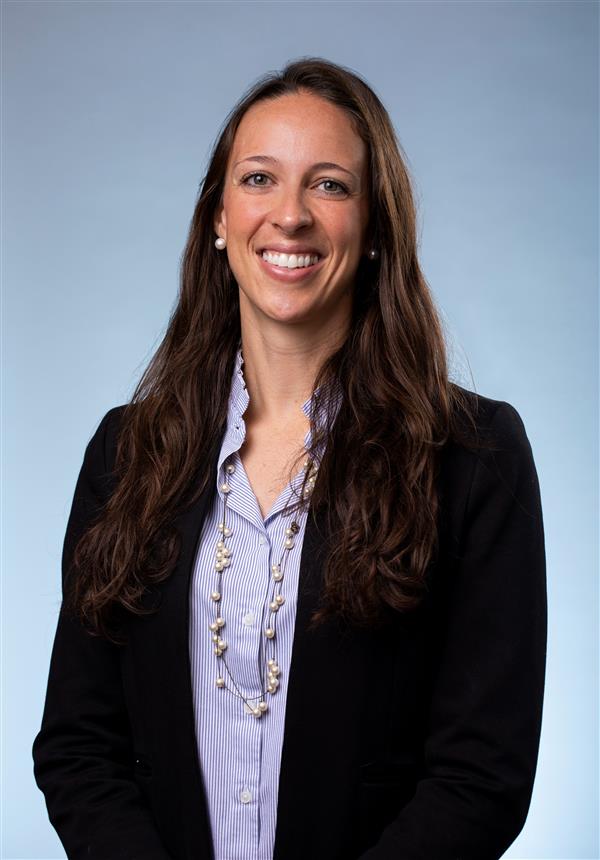 Medical School
:
MD, University of Miami Leonard M. Miller School of Medicine (2016)
Undergraduate School
:
BS, University of Arizona (AZ) (2009)
Internship
:
University of Miami. Jackson Memorial Hospital (2017)
Residency
:
University of Miami. Jackson Memorial Hospital, Chief Resident, Orthopedics (2021)
Fellowships
:
Colorado Joint Replacement Group, Adult Reconstructive Orthopedics (2022)
Languages
:
English
Department
:
Orthopedics
Recognition & Awards
Richard S. Laskin Research Award, Hospital for Special Surgery (HSS) Annual Hip & Knee Meeting (2019)
Publications
Ennis HE, Bondar K, McCormick J, Chen CJ, Donnally CJ 3rd, Kaplan L. The 50 Most Cited Articles in the Indications, Risk Factors, Techniques, and Outcomes of ACL Revision Surgery. J Knee Surg. 2021 Sep;34(11):1170-1181. PubMed PMID: 32369839
Lekic N, Sheu J, Ennis H, Lebwohl N, Al-Maaieh M. Why you should wear your seatbelt on an airplane: Burst fracture of the atlas (jefferson fracture) due to in-flight turbulence. J Orthop. 2020 Jan-Feb;17:78-82. PubMed PMID: 31879479
Barrera CM, Ennis H, Delcroix GJ, Kaimrajh D, Milne E, Latta L, Baraga MG. Supplemental Fixation of Inner Graft Limbs in All-Inside, Quadrupled, Single-Tendon Anterior Cruciate Ligament Reconstruction Graft Construct Yields Improved Biomechanical Properties. Arthroscopy. 2019 Mar;35(3):909-918. PubMed PMID: 30736995
Griswold AJ, Perez J, Nuytemans K, Strong TA, Wang L, Vance DD, Ennis H, Smith MK, Best TM, Vance JM, Pericak-Vance MA, Kaplan LD. Transcriptomic analysis of synovial extracellular RNA following knee trauma: A pilot study. J Orthop Res. 2018 Jun;36(6):1659-1665. PubMed PMID: 29106758
Genemaras AA, Ennis H, Bradshaw B, Kaplan L, Huang CC. Effects of Anti-Inflammatory Agents on Expression of Early Responsive Inflammatory and Catabolic Genes in Ex Vivo Porcine Model of Acute Knee Cartilage Injury. Cartilage. 2018 Jul;9(3):293-303. PubMed PMID: 29986604
Specialty Information
Specialties
Adult Reconstructive Orthopedics (2022)
Fellowship Trained in Adult Reconstruction Orthopedics/Hip & Knee Replacement, Specialized Training (2022)
Conditions & Treatments
Bones, Joints and Muscles
Bones, Joints and Muscles - Arthritis
Bones, Joints and Muscles - Hip Injuries and Disorders
Bones, Joints and Muscles - Knee Injuries and Disorders
Bones, Joints and Muscles - Leg Injuries and Disorders
Clinical Interests
Anterior Total Hip Replacement, Robotic Total Knee Replacement, Robotic Partial Knee Replacement, Total Knee Replacement, Total Hip Replacement, Revision Knee Replacement, Revision Hip Replacement

Care Philosophy
I strive to provide the best care for my patients by taking the time to listen in order to understand their needs and goals. I enjoy educating my patients on their non-operative and possible operative options to attain their goals. My family gives me the confidence to go through life knowing that I have someone out there that will always have my back and I attribute much of my success to this. I take that with me always and apply this to my care for my patients. My goal is for my patients to know that I always have their back and that I'm here to help them through their journey. I find it extremely rewarding to help someone get back to doing the things that they want to do with their life!


General Information
Medical Schools
:
MD, University of Miami Leonard M. Miller School of Medicine (2016)
Undergraduate Schools
:
BS, University of Arizona (AZ) (2009)
Internships
:
University of Miami. Jackson Memorial Hospital (2017)
Residency Programs
:
University of Miami. Jackson Memorial Hospital, Chief Resident, Orthopedics (2021)
Fellowships
:
Colorado Joint Replacement Group, Adult Reconstructive Orthopedics (2022)
Languages
:
English
Department
:
Orthopedics