Nipun Reddy, MD
Visiting Associate Professor, Medicine-Gastroenterology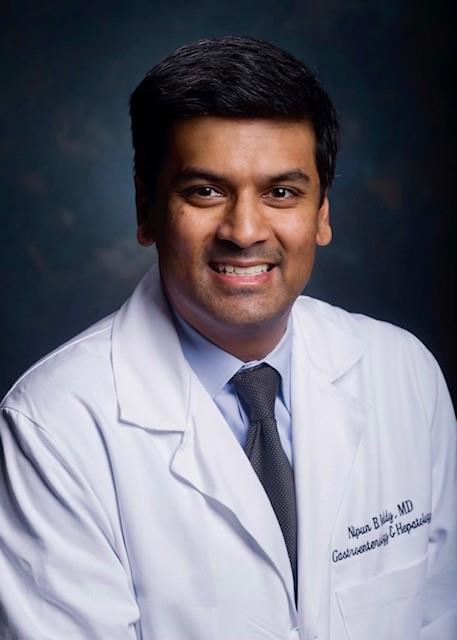 Medical School
:
MD, University of Alabama School of Medicine (2007)
Undergraduate School
:
BA, Villanova University (PA) (2002)
Internship
:
University of Alabama Medical Center (Birmingham) Program (2008)
Residency
:
University of Alabama Medical Center (Birmingham) Program, Internal Medicine (2010)
Fellowships
:
University of Alabama Medical Center (Birmingham) Program, Gastroenterology (2013)
Languages
:
English
Department
:
Medicine-Gastroenterology
Teaching
Associate Professor (2021)
School of Medicine, Medicine
Publications
Peter S, Reddy NB, Naseemuddin M, Zaibaq JN, McGwin G, Wilcox CM. Outcomes of use of electromagnetic guidance with responsive insertion technology (RIT) during colonoscopy: a prospective randomized controlled trial. Endosc Int Open. 2019 Feb;7(2):E225-E231. PubMed PMID: 30705957
Allamneni C, Richardson CT, Reddy NB, Kyanam Kabir Baig K. Over-the-scope clip to close bleeding pancreaticoduodenal fistula. VideoGIE. 2018 Jun;3(6):183-184. PubMed PMID: 30128380
Kakati DD, Reddy N, Weber FH. A case of sclerosing mesenteritis with spontaneous resolution with steroid therapy. Clin J Gastroenterol. 2014 Aug;7(4):346-8. PubMed PMID: 26185886
Ramesh J, Reddy N, Kim H, Mönkemüller K, Varadarajulu S, McGuire B, DuBay D, Eckhoff D, Wilcox CM. Safety and yield of diagnostic ERCP in liver transplant patients with abnormal liver function tests. Diagn Ther Endosc. 2014;2014:314927. PubMed PMID: 25110455
Waites KB, Reddy NB, Crabb DM, Duffy LB. Comparative in vitro activities of investigational peptide deformylase inhibitor NVP LBM-415 and other agents against human mycoplasmas and ureaplasmas. Antimicrob Agents Chemother. 2005 Jun;49(6):2541-2. PubMed PMID: 15917568
Specialty Information
Specialties
Internal Medicine, Board Certification
Gastroenterology, Board Certification
Conditions & Treatments
Digestive System - Colonoscopy
Digestive System
Digestive System - Gastroesophageal Reflux
Digestive System - Gastroenterology (Stomach, Bowel, General GI Problems)
Digestive System - Irritable Bowel Syndrome (IBS)
Digestive System - Motility disorders
Digestive System - Inflammatory Bowel Disease (IBD): Crohn's disease, ulcerative colitis, microscopic colitis
Digestive System - Celiac Disease
Digestive System - Hemorrhoids
Symptoms and Manifestations - Nausea and Vomiting
Symptoms and Manifestations
Symptoms and Manifestations - Heartburn
Symptoms and Manifestations - Abdominal Pain
Cancers - Cancer Prevention
Cancers
Ear, Nose, and Throat (ENT) - Dysphagia (Trouble Swallowing)
Ear, Nose, and Throat (ENT)
Ear, Nose, and Throat (ENT) - Esophageal Inlet Patch
Ear, Nose, and Throat (ENT) - Globus sensation
Clinical Interests
My clinical interests encompass all of general gastroenterology. I have developed a wealth of knowledge and experience in treating patients from all different backgrounds and varying degree of complexity.

Care Philosophy
My care philosophy is to provide the most up to date care for my patients. I strive to bring a high level of dedication, compassion and respect to every patient I see in my clinic.


General Information
Medical Schools
:
MD, University of Alabama School of Medicine (2007)
Undergraduate Schools
:
BA, Villanova University (PA) (2002)
Internships
:
University of Alabama Medical Center (Birmingham) Program (2008)
Residency Programs
:
University of Alabama Medical Center (Birmingham) Program, Internal Medicine (2010)
Fellowships
:
University of Alabama Medical Center (Birmingham) Program, Gastroenterology (2013)
Languages
:
English
Department
:
Medicine-Gastroenterology