Amy Schell, MD
Assistant Professor, Otolaryngology - Head and Neck Surgery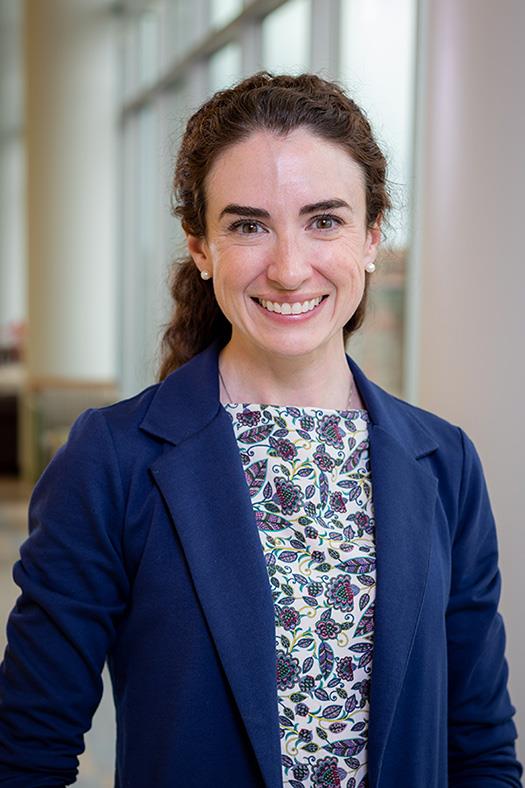 Medical School
:
MD, University of Virginia School of Medicine (2012)
Undergraduate School
:
BS, University of Virginia (VA) (2008)
Residency
:
University of Pittsburgh Medical Center, Otolaryngology - Head & Neck Surgery (2017)
Fellowships
:
University of Pittsburgh Medical Center, Sleep Medicine (2018)
Languages
:
English
Department
:
Otolaryngology - Head and Neck Surgery
Publications
Thornton JD, Dudley KA, Saeed GJ, Schuster ST, Schell A, Spilsbury JC, Patel SR. Differences in Symptoms and Severity of Obstructive Sleep Apnea between Black and White Patients. Ann Am Thorac Soc. 2022 Feb;19(2):272-278. PubMed PMID: 34242152
Chang JL, Goldberg AN, Alt JA, Ashbrook L, Auckley D, Ayappa I, Bakhtiar H, Barrera JE, Bartley BL, Billings ME, Boon MS, Bosschieter P, Braverman I, Brodie K, Cabrera-Muffly C, Caesar R, Cahali MB, Cai Y, Cao M, Capasso R, Caples SM, Chahine LM, Chang CP, Chang KW, Chaudhary N, Cheong CSJ, Chowdhuri S, Cistulli PA, Claman D, Collen J, Coughlin K, Creamer J, Davis EM, Dupuy-McCauley KL, Durr ML, Dutt M, Ali ME, Elkassabany NM, Epstein LJ, Fiala JA, Freedman N, Gill K, Gillespie MB, Golisch L, Gooneratne N, Gottlieb DJ, Green KK, Gulati A, Gurubhagavatula I, Hayward N, Hoff PT, Hoffmann OMG, Holfinger SJ, Hsia J, Huntley C, Huoh KC, Huyett P, Inala S, Ishman S, Jella TK, Jobanputra AM, Johnson AP, Junna MR, Kado JT, Kaffenberger TM, Kapur VK, Kezirian EJ, Khan M, Kirsch DB, Kominsky A, Kryger M, Krystal AD, Kushida CA, Kuzniar TJ, Lam DJ, Lettieri CJ, Lim DC, Lin HC, Liu SYC, MacKay SG, Magalang UJ, Malhotra A, Maurer JT, May AM, Mitchell RB, Mokhlesi B, Mullins AE, Nada EM, Naik S, Nokes B, Olson MD, Pack AI, Pang EB, Pang KP, Patil SP, de Perck EV, Piccirillo JF, Pien GW, Piper AJ, Plawecki A, Quigg M, Ravesloot MJL, Redline S, Rotenberg BW, Ryden A, Sarmiento KF, Sbeih F, Schell AE, Schmickl CN, Schotland HM, Schwab RJ, Seo J, Shah N, Shelgikar AV, Shochat I, Soose RJ, Steele TO, Stephens E, Stepnowsky C, Strohl KP, Sutherland K, Suurna MV, Thaler E, Thapa S, Vanderveken OM, de Vries N, Weaver EM, Weir ID, Wolfe LF, Woodson BT, Won CHJ, Xu J, Yalamanchi P, Yaremchuk K, Yeghiazarians Y, Yu JL, Zeidler M, Rosen IM. International consensus statement on obstructive sleep apnea. Int Forum Allergy Rhinol. 2022 Sep 6. [Epub ahead of print] PubMed PMID: 36068685
Specialty Information
Specialties
Otolaryngology - Head & Neck Surgery, Board Certification
Sleep Surgery
Sleep Medicine, Board Certification
Conditions & Treatments
Ear, Nose, and Throat (ENT)
Ear, Nose, and Throat (ENT) - CPAP intolerance
Ear, Nose, and Throat (ENT) - Sleep Apnea Surgery
Ear, Nose, and Throat (ENT) - Snoring
Ear, Nose, and Throat (ENT) - Upper Airway Resistance Syndrome
Clinical Interests
I am interested in helping patients with a variety of ear, nose, and throat disorders; my practice focuses on the treatment of snoring and obstructive sleep apnea through the spectrum of medical, surgical, and combination treatments. I have special interest in upper airway stimulation surgery (Inspire).

Care Philosophy
My goal is to provide high-quality, patient-centric care. I strive to help patients understand the "why" of treatment, along with the "how." I believe in treating patients in an individualized fashion to address the unique complexities and challenges each person may face through the diagnosis and treatment of sleep apnea.


Personal Interests
In my spare time, I enjoy running, hiking, and skiing- especially when I can share these activities with my wonderful husband, daughter, and goldendoodle.
Public Speaking
Yes
Medical and surgical treatment options for snoring and obstructive sleep apnea
General Information
Medical Schools
:
MD, University of Virginia School of Medicine (2012)
Undergraduate Schools
:
BS, University of Virginia (VA) (2008)
Residency Programs
:
University of Pittsburgh Medical Center, Otolaryngology - Head & Neck Surgery (2017)
Fellowships
:
University of Pittsburgh Medical Center, Sleep Medicine (2018)
Languages
:
English
Department
:
Otolaryngology - Head and Neck Surgery