Jacob Walker, MD
Assistant Professor, Medicine-Geriatrics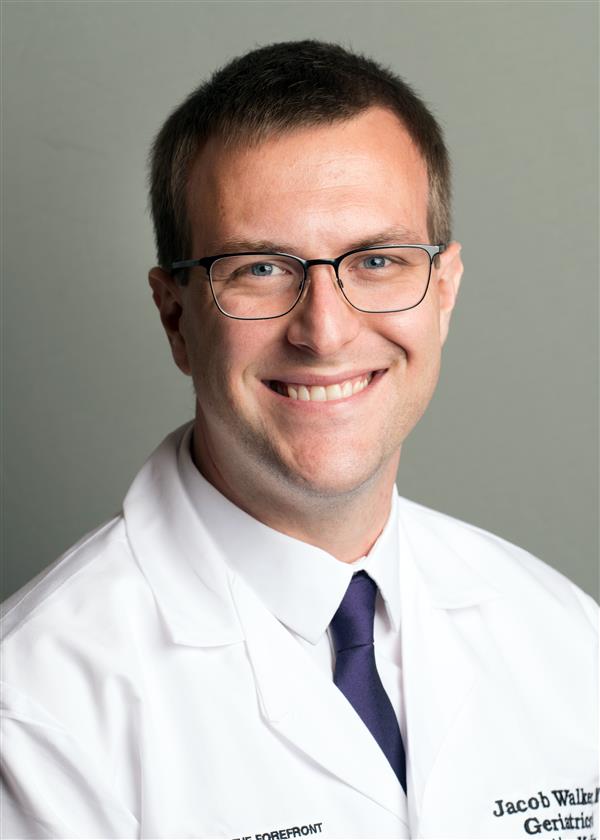 Medical School
:
MD, Boston University School of Medicine (2016)
Undergraduate School
:
BS, Indiana University–Bloomington (IN) (2012)
Residency
:
University of Colorado, Internal Medicine (2019)
Fellowships
:
University of Chicago Program, Geriatric Medicine (2020)
Languages
:
English
Department
:
Medicine-Geriatrics
Research Interests
I have a unique background and training in both geriatric team-based care and HIV specialty care and currently practice both disciplines across multiple clinical settings. My research interests are focused on the integration of geriatric principles and tools into more traditional HIV care settings through an implementation science lens. Particular areas of research interest within HIV and aging include polypharmacy, dementia/HIV-associated neurocognitive disorder, and frailty.
Publications
Beiting KJ, Huisingh-Scheetz M, Walker J, Graupner J, Martinchek M, Thompson K, Levine S, Gleason LJ. Management and outcomes of a COVID-19 outbreak in a nursing home with predominantly Black residents. J Am Geriatr Soc. 2021 May;69(5):1155-1165. PubMed PMID: 33739444
Martinchek M, Beiting KJ, Walker J, Graupner J, Huisingh-Scheetz M, Thompson K, Gleason LJ, Levine S. Weight Loss in COVID-19-Positive Nursing Home Residents. J Am Med Dir Assoc. 2021 Feb;22(2):257-258. PubMed PMID: 33352194
Gleason LJ, Beiting KJ, Walker J, Shervani S, Graupner J, Mittal K, Lee KK, Schrantz S, Johnson D, Levine S, Thompson K. Using Telementoring to Share Best Practices on COVID-19 in Post-Acute and Long-Term Care Facilities. J Am Geriatr Soc. 2020 Nov;68(11):E58-E60. PubMed PMID: 32930390
Collison M, Beiting KJ, Walker J, Huisingh-Scheetz M, Pisano J, Chia S, Marrs R, Landon E, Levine S, Gleason LJ. Three-Tiered COVID-19 Cohorting Strategy and Implications for Memory-Care. J Am Med Dir Assoc. 2020 Nov;21(11):1560-1562. PubMed PMID: 33138937
Liang JJ, Gardner IH, Walker JA, Safer JD. OBSERVED DEFICIENCIES IN MEDICAL STUDENT KNOWLEDGE OF TRANSGENDER AND INTERSEX HEALTH. Endocr Pract. 2017 Aug;23(8):897-906. PubMed PMID: 28534684
Specialty Information
Specialties
Geriatric Medicine, Board Certification (2020)
Internal Medicine, Board Certification (2019)
HIV Specialist, Certificate (2020)
Conditions & Treatments
Seniors' Health
Primary Care
Transgender Health
Clinical Interests
Dr. Walker is a geriatrician and HIV specialist with special focus on the care of older adults living with HIV. Other interests include care for transgender older adults, polypharmacy, multimorbidity, and dementia.

Care Philosophy
I seek to help my patients preserve and enhance physical and cognitive function across their lifespan through a combination of preventive care, non-medical interventions, and care coordination. I know that your time outside of the doctor's office is what matters most and strive to ensure that your medical care doesn't interfere with what's most important in your life.


General Information
Medical Schools
:
MD, Boston University School of Medicine (2016)
Undergraduate Schools
:
BS, Indiana University–Bloomington (IN) (2012)
Residency Programs
:
University of Colorado, Internal Medicine (2019)
Fellowships
:
University of Chicago Program, Geriatric Medicine (2020)
Languages
:
English
Department
:
Medicine-Geriatrics