Andrew Wolf, MD
Instructor/Fellow, Neurology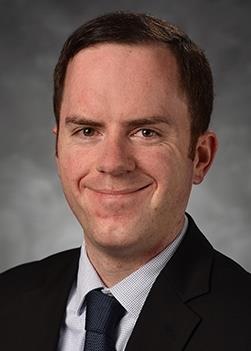 Medical School
:
MD, University of Colorado Denver School of Medicine (2018)
Graduate School
:
MS, University of Colorado Denver (2016)
Undergraduate School
:
BS, Arizona State University (AZ) (2010)
Internship
:
University of Colorado (2019)
Residency
:
University of Colorado, Chief Resident, Neurology (2022)
Languages
:
English
Department
:
Neurology
Research Interests
My academic interests include optimization of treatment sequencing in multiple sclerosis, improving the evaluation of cognitive dysfunction in multiple sclerosis, characterizing the inpatient management of neuroimmunological diseases, and fostering resident education in neuroimmunology.
Publications
Shiao JC, Wolf AB, Rabinovitch RA, Smith C, Kleinschmidt-DeMasters BK, Ney DE. Long-Term Control of Primary Cerebral ALH Amyloidoma With Focal Radiation Therapy. Adv Radiat Oncol. 2022 Mar-Apr;7(2):100831. PubMed PMID: 34934868
Wolf AB & Alvarez E. Ublituximab: A novel anti-CD20 therapy for multiple sclerosis. touchREVIEWS in Neurology. 2022. DOI: 10.17925/USN.2022.18.2.117
Shah AA, Wolf AB, Declusin A, Coleman K, Kammeyer R, Khan B, Corboy JR. Challenging Cases in Neuroimmunology. Semin Neurol. 2022 Dec;42(6):695-707. PubMed PMID: 36690027
Vollmer BL, Wolf AB, Sillau S, Corboy JR, Alvarez E. Evolution of Disease Modifying Therapy Benefits and Risks: An Argument for De-escalation as a Treatment Paradigm for Patients With Multiple Sclerosis. Front Neurol. 2021;12:799138. PubMed PMID: 35145470
Wolf A, Alvarez E. COVID-19 Vaccination in Patients With Multiple Sclerosis on Disease-Modifying Therapy. Neurol Clin Pract. 2021 Aug;11(4):358-361. PubMed PMID: 34484934
Specialty Information
Specialties
Neurology, Board Certification (2022)
Clinical Interests
My clinical practice is focused primarily on multiple sclerosis, but I also treat patients with other inflammatory disorders of the central nervous system. I believe in early aggressive treatment and comprehensive symptom management.


Volunteer Activities
DAWN Clinic


General Information
Medical Schools
:
MD, University of Colorado Denver School of Medicine (2018)
Graduate Schools
:
MS, University of Colorado Denver (2016)
Undergraduate Schools
:
BS, Arizona State University (AZ) (2010)
Internships
:
University of Colorado (2019)
Residency Programs
:
University of Colorado, Chief Resident, Neurology (2022)
Languages
:
English
Department
:
Neurology