Vinaya Manchaiah, AuD, PhD
Visiting Professor, Otolaryngology - Head and Neck Surgery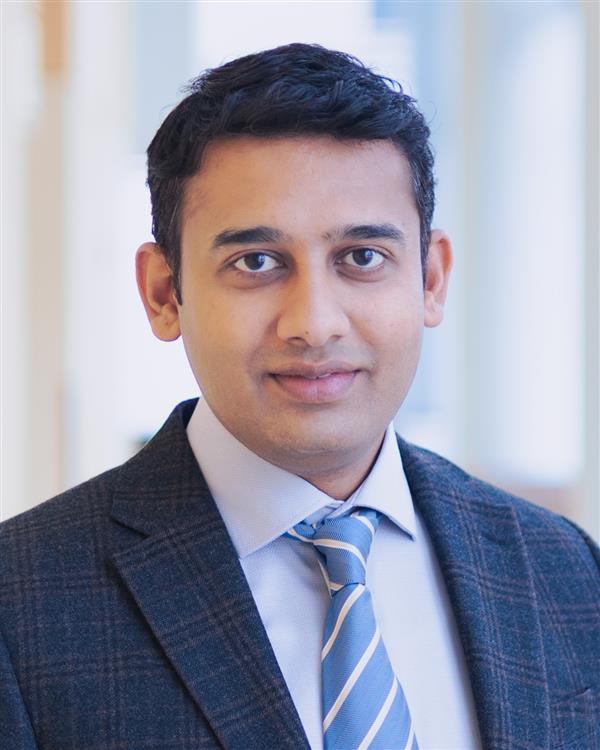 Download CV
Graduate Schools
:
PhD, Linkoping University (2013)
MBA, Swansea University (2013)
AuD, Nova Southeastern University (2010)
Other, Swansea University (2010)
MSc, University of Southampton (2006)
Undergraduate School
:
BSc, University of Mysore (2005)
Languages
:
English
Department
:
Otolaryngology - Head and Neck Surgery
Professional Titles
Professor of Otolaryngology-Head & Neck Surgery
Director of Audiology
Recognition & Awards
Rated among top 1% of experts in Audiology in the world, Expertscape.com (2022)
https://expertscape.com/ex/audiology
Innovation Award for Research, Lamar University College of Fine Arts and Communication (2021)
Erskine Fellow, University of Canterbury, Christchurch, New Zealand (2019)
Marie & Jack Shapiro Prize, British Tinnitus Association (2019)
Awarded in three consecutive years (2017, 2018, and 2019).
Bharat Samman Award, NRI Institute, Delhi, India (2017)
Research Interests
My primary research goal is to improve accessibility, affordability, and outcomes of hearing healthcare services for older adults with hearing loss by promoting self-management and also use of digital technologies. My past and current research can be summarized along the following four themes: (1) eHealth (or Telehealth); (2) Consumer Health Informatics; (3) Hearing healthcare service delivery model; and (4) Psychosocial aspects of hearing loss. I co-lead the Virtual Hearing Lab (www.virtualhearinglab.org) with Prof. De We Wet Swanepoel. The Virtual Hearing Lab is an interdisciplinary collaborative research initiative with the aim to improve hearing health access, affordability, and outcomes by capitalizing on the internet, virtual spaces, and digital health.
Publications
Knoetze M, Manchaiah V, Mothemela B, Swanepoel W. Factors Influencing Hearing Help-Seeking and Hearing Aid Uptake in Adults: A Systematic Review of the Past Decade. Trends Hear. 2023 Jan-Dec;27:23312165231157255. PubMed PMID: 36798964
Manchaiah V, Nisha KV, Prabhu P, Granberg S, Karlsson E, Andersson G, Beukes EW. Examining the consequences of tinnitus using the multidimensional perspective. Acta Otolaryngol. 2022 Jan;142(1):67-72. PubMed PMID: 34964683
Pyykkö I, Pyykkö N, Zou J, Manchaiah V. Does the Self-training in Ménière's Disease Fit the Disease Characteristics and Help Alleviate the Balance Problems?. J Int Adv Otol. 2022 Jan;18(1):25-31. PubMed PMID: 35193842
Beukes EW, Maidment DW, Andersson G, Fagleson MA, Heffernan E, Manchaiah V. Development and psychometric validation of a questionnaire assessing the impact of tinnitus on significant others. J Commun Disord. 2022 Jan-Feb;95:106159. PubMed PMID: 34894419
Eikelboom RH, Bennett RJ, Manchaiah V, Parmar B, Beukes E, Rajasingam SL, Swanepoel W. International survey of audiologists during the COVID-19 pandemic: use of and attitudes to telehealth. Int J Audiol. 2022 Apr;61(4):283-292. PubMed PMID: 34369845
Professional Memberships
American Academy of Audiology (AAA), Member
American Auditory Society (AAS), Member
American Speech-Language Hearing Association (ASHA), Member
International Society of Audiology (ISA), Member
Indian Speech & Hearing Association (ISHA), Life Member
Fellow of the Higher Education Academy (FHEA ), Fellow
Specialty Information
Specialties
Conditions & Treatments
Audiology
Audiology - Hearing Loss and Hearing Aids
Clinical Interests
Adult hearing assessment, Aural rehabilitation, Tinnitus assessment and management

Care Philosophy
I have three key priorities when I am with my patients. First, diagnose and treat hearing and balance disorders using up-to-date evidence-based approaches. Second, to educate patients about all the treatment options and their advantage/limitations and discuss how they may fit with each patient and their family members health priorities/goals. Finally, to be fully invested in serving my patients who trust me in caring for them by staying in the present moment.


Personal Interests
I love traveling, photography, and outdoor activities. I have visited 76 countries and like to go around the globe. I also like to learn new things.
Volunteer Activities
Co-founder and Senior Editor of Global Audiology initiative (www.globalaudiology.org) which is now part of the International Society of Audiology (ISA). Co-founder and served as the President of Audiology India (www.audiologyindia.org).
Public Speaking
Yes
Range of topics in hearing healthcare
General Information
Graduate Schools
:
PhD, Linkoping University (2013)
MBA, Swansea University (2013)
AuD, Nova Southeastern University (2010)
Other, Swansea University (2010)
MSc, University of Southampton (2006)
Undergraduate Schools
:
BSc, University of Mysore (2005)
Download CV
Languages
:
English
Department
:
Otolaryngology - Head and Neck Surgery