Jordan Karlitz, MD
Clinical Professor, Medicine-Gastroenterology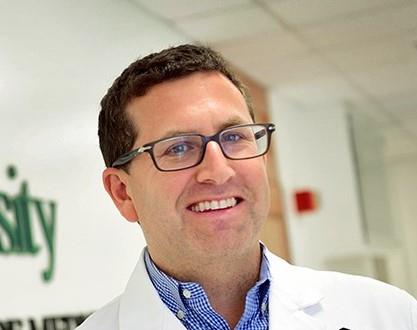 Medical School
:
MD, McGill University Faculty of Medicine (2000)
Undergraduate School
:
BA, University of California–Berkeley (CA)
Internship
:
New York Presbyterian Hospital (Columbia Campus) Program (2001)
Residency
:
New York Presbyterian Hospital (Columbia Campus) Program, Internal Medicine (2003)
Fellowships
:
Albert Einstein College of Medicine Program, Gastroenterology (2006)
Department
:
Medicine-Gastroenterology
Professional Titles
Gastroenterology/Hepatology Attending
Recognition & Awards
American College of Gastroenterology (ACG) Poster/Abstract of Distinction Award, ACG (2021)
Cost-Effectiveness of Outreach Strategies For Stool-Based Colorectal Cancer Screening in a Medicaid Population
American Gastroenterological Association, DDW, invited oral research presentation/plenary, AGA (2019)
U.S. SEER Colorectal Cancer Incidence Rate Analysis in "High-Definition" One-Year Age Increments Supports Screening Prior to Age 50 and Reveals Geographic Disparities in Early-Onset Disease Development
Presidential Abstract Award, American College of Gastroenterology (2016)
Pedigree Analysis Supports a Genotypic-phenotypic Correlation Between an AXIN2 Variant of Unknown Significance and Polyposis/Colorectal Cancer).
American Journal of Gastroenterology (AJG), National Peer Reviewer of the Year, American College of Gastroenterology (2016)
Ranked as the top scientific manuscript reviewer out of 600 reviewers nationwide for the AJG based on quality, volume and speed of reviews.
Governors' Award for Excellence in Clinical Research, American College of Gastroenterology (2014)
Population-based Microsatellite Instability Testing in Young Colorectal Cancer Patients. Award given to the top 5 research submissions at the ACG annual meeting (selected by the ACG Educational Affairs Committee and Board of Governors)
Teaching
Clinical Professor of Medicine (2021)
School of Medicine, Medicine
Early-onset colorectal cancer, hereditary colorectal cancer syndromes (including Lynch syndrome and polyposis syndromes) and cancer epidemiology.
Publications
Wang CP, Lin JJ, Shah SC, Kim MK; Colorectal Cancer Screening Working Group (Montminy EM, Rustgi SD, Karlitz JJ, Itzkowitz SH). Geographic Variation in Colorectal Cancer Incidence Among Asian Americans: A Population-Based Analysis 2006-2016. Clin Gastroenterol Hepatol. 2023 Feb;21(2):543-545.e3. doi: 10.1016/j.cgh.2022.01.026. Epub 2022 Feb 3.
Patel SG, Karlitz JJ, Yen T, Lieu CH, Boland CR. The rising tide of early-onset colorectal cancer: a comprehensive review of epidemiology, clinical features, biology, risk factors, prevention, and early detection. Lancet Gastroenterol Hepatol. 2022 Mar;7(3):262-274. PubMed PMID: 35090605
Patel SG, Karlitz JJ, Yen T, Lieu CH, Boland CR. Comparison of trends in early-onset colorectal cancer in North America and Europe - Authors' reply. Lancet Gastroenterol Hepatol. 2022 Jun;7(6):506. PubMed PMID: 35550052
Karlitz JJ, Fendrick AM, Bhatt J, Coronado GD, Jeyakumar S, Smith NJ, Plescia M, Brooks D, Limburg P, Lieberman D. Cost-Effectiveness of Outreach Strategies for Stool-Based Colorectal Cancer Screening in a Medicaid Population. Popul Health Manag. 2022 Jun;25(3):343-351. PubMed PMID: 34958279
Zhou M, Thompson TD, Lin HY, Chen VW, Karlitz JJ, Fontham ETH, Theall KP, Zhang L, Hsieh MC, Pollack LA, Wu XC. Impact of Relative Dose Intensity of FOLFOX Adjuvant Chemotherapy on Risk of Death Among Stage III Colon Cancer Patients. Clin Colorectal Cancer. 2022 Jun;21(2):e62-e75. PubMed PMID: 34756680
Practice Locations
Hospital Affiliation
Denver Health Medical Center
University of Colorado Hospital
Specialty Information
Specialties
Gastroenterology, Board Certification (2006, 2016)
General Information
Medical Schools
:
MD, McGill University Faculty of Medicine (2000)
Undergraduate Schools
:
BA, University of California–Berkeley (CA) (0001)
Internships
:
New York Presbyterian Hospital (Columbia Campus) Program (2001)
Residency Programs
:
New York Presbyterian Hospital (Columbia Campus) Program, Internal Medicine (2003)
Fellowships
:
Albert Einstein College of Medicine Program, Gastroenterology (2006)
Department
:
Medicine-Gastroenterology