Kristen Park, MD
Associate Professor, Pediatrics-Neurology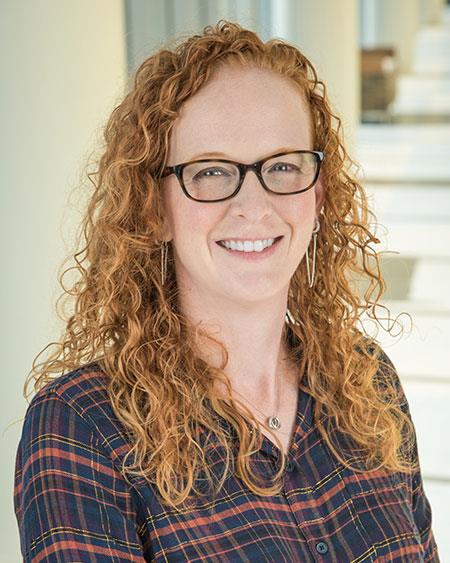 Download CV
Medical School
:
MD, Mayo Medical School (2002)
Undergraduate School
:
BA, University of North Carolina–Chapel Hill (NC) (1995)
Residencies
:
Hospital of the University of Pennsylvania, Child Neurology (2007)
Children's Hospital of Philadelphia Program, Pediatrics (2004)
Fellowships
:
Children's Memorial Hospital, Chicago, Clinical Neurophysiology, Neurophysiology (2008)
Languages
:
English
Department
:
Pediatrics-Neurology
Professional Titles
Director, Pediatric Epilepsy Fellowship
Research Interests
Genetic causes of epilepsy, neurodevelopmental disorders, and brain malformations
Publications
Diverse genetic causes of polymicrogyria with epilepsy. Epilepsia. 2021 Apr;62(4):973-983. PubMed PMID: 33818783
Pellinen J, Tafuro E, Yang A, Price D, Friedman D, Holmes M, Barnard S, Detyniecki K, Hegde M, Hixson J, Haut S, Kälviäinen R, French J. Focal nonmotor versus motor seizures: The impact on diagnostic delay in focal epilepsy. Epilepsia. 2020 Dec;61(12):2643-2652. PubMed PMID: 33078409
Pellinen J, Tafuro E, Baehr A, Barnard S, Holmes M, French J. The Impact of Clinical Seizure Characteristics on Recognition and Treatment of New-onset Focal Epilepsy in Emergency Departments. Acad Emerg Med. 2020 Aug 18. [Epub ahead of print] PubMed PMID: 32810323
Hsieh TC, Mensah MA, Pantel JT, Aguilar D, Bar O, Bayat A, Becerra-Solano L, Bentzen HB, Biskup S, Borisov O, Braaten O, Ciaccio C, Coutelier M, Cremer K, Danyel M, Daschkey S, Eden HD, Devriendt K, Wilson S, Douzgou S, Ðukic D, Ehmke N, Fauth C, Fischer-Zirnsak B, Fleischer N, Gabriel H, Graul-Neumann L, Gripp KW, Gurovich Y, Gusina A, Haddad N, Hajjir N, Hanani Y, Hertzberg J, Hoertnagel K, Howell J, Ivanovski I, Kaindl A, Kamphans T, Kamphausen S, Karimov C, Kathom H, Keryan A, Knaus A, Köhler S, Kornak U, Lavrov A, Leitheiser M, Lyon GJ, Mangold E, Reina PM, Carrascal AM, Mitter D, Herrador LM, Nadav G, Nöthen M, Orrico A, Ott CE, Park K, Peterlin B, Pölsler L, Raas-Rothschild A, Randolph L, Revencu N, Fagerberg CR, Robinson PN, Rosnev S, Rudnik S, Rudolf G, Schatz U, Schossig A, Schubach M, Shanoon O, Sheridan E, Smirin-Yosef P, Spielmann M, Suk EK, Sznajer Y, Thiel CT, Thiel G, Verloes A, Vrecar I, Wahl D, Weber I, Winter K, Wisniewska M, Wollnik B, Yeung MW, Zhao M, Zhu N, Zschocke J, Mundlos S, Horn D, Krawitz PM. PEDIA: prioritization of exome data by image analysis. Genet Med. 2019 Jun 5. [Epub ahead of print] PubMed PMID: 31164752
Helbig I, Riggs ER, Barry CA, Klein KM, Dyment D, Thaxton C, Sadikovic B, Sands TT, Wagnon JL, Liaquat K, Cilio MR, Mirzaa G, Park K, Axeen E, Butler E, Bardakjian TM, Striano P, Poduri A, Siegert RK, Grant AR, Helbig KL, Mefford HC. The ClinGen Epilepsy Gene Curation Expert Panel-Bridging the divide between clinical domain knowledge and formal gene curation criteria. Hum Mutat. 2018 Nov;39(11):1476-1484. PubMed PMID: 30311377
Specialty Information
Specialties
Child Neurology, Board Certification (2008)
Clinical Neurophysiology, Board Certification (2011)
Epilepsy, Board Certification (2013)
Conditions & Treatments
Brain and Nervous System - Epilepsy
Brain and Nervous System
Care Philosophy
Child neurology is simultaneously a challenging and rewarding field. The brain is a complex and unique organ and its organization and output are what make us each unique and human. Unfortunately, these same characteristics often make the consequences of neurologic disease devastating for patients and families, especially when it affects children. Trained as a pediatric epileptologist, I diagnose and treat patients with this common neurologic disorder every day. Seventy percent of my patients have intractable epilepsy (failure of 2-3 standard medications). In this situation, there are no right answers and the treatment of children becomes a team effort. Into the fight against this disease, parents bring their exquisite knowledge of their child, desire to obtain the best quality of life, and unfailing hope. I bring clinical knowledge, best practices, diagnostic tools, and an armamentarium of treatments. Unfortunately, the latter does not come without costs nor are the options always benign. There are a lot of tears in my clinic but each day I try to find something positive on which to focus. Sometimes the victories are small – a smile from a healthy baby and relieved parents who thought his twitching at night was seizure activity – and sometimes they are life changing – seizure freedom after an invasive operation. I remember that my job is to provide information and guidance for a situation that has too many unknowns for both sides. I try to practice medicine rationally, teaching families and patients as I go about why tests are ordered, how medications work, and the biologic basis of their disease. Ultimately, I respect the families with whom I work and strive to support them in whatever decisions we make together.


Personal Interests
I am a member of the Cherry Creek Chorale and play several musical instruments.
Volunteer Activities
I completed the Avon 39 in 2017 (New York, NY).
Public Speaking
Yes
I have spoken about a variety of epilepsy educational topics.
General Information
Medical Schools
:
MD, Mayo Medical School (2002)
Undergraduate Schools
:
BA, University of North Carolina–Chapel Hill (NC) (1995)
Residency Programs
:
Hospital of the University of Pennsylvania, Child Neurology (2007)
Children's Hospital of Philadelphia Program, Pediatrics (2004)
Fellowships
:
Children's Memorial Hospital, Chicago, Clinical Neurophysiology, Neurophysiology (2008)
Download CV
Languages
:
English
Department
:
Pediatrics-Neurology