Mark Greyson, MD
Assistant Professor, Surgery-Plastic/Reconstructive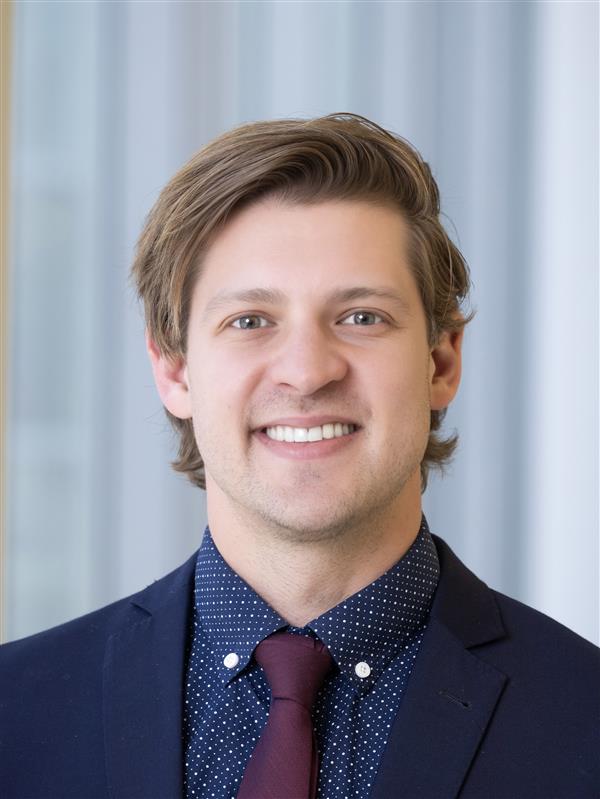 Medical School
:
MD, University of Virginia School of Medicine (2012)
Undergraduate School
:
BA, University of Virginia (VA) (2008)
Internship
:
Hospital of the University of Pennsylvania (2013)
Residency
:
University of California (San Francisco) Program, Chief Resident, Surgery (2017)
Fellowships
:
Brigham and Women's Hospital/Harvard Medical School Program, Plastic Surgery (2020)
UCLA Medical Center Program, Hand Surgery (2021)
Department
:
Surgery-Plastic/Reconstructive
Professional Titles
Assistant Professor
Co-Director, Extremity Microsurgery and TMR
Research Interests
I have a clinical interest in Dupuytren's disease, hand, wrist and forearm fractures, restoring limb function after severe trauma, targeted muscle re-innervation after amputations, peripheral nerve transfers to restore function after injury, Kienbock's disease, and optimal methods of ligament reconstruction in the wrist.
Teaching
Assistant Professor (2021)
School of Medicine, Surgery
Publications
Greyson, M., Jones, N. "The integrity or deficiency of the soft tissue envelope predicates the 10 decisions for reconstruction of the mangled hand." J Orthoplastic Surg. 2022 Jun; 8: 26-33
McNamara, CT, Greyson M. "Digital ischemia after lidocaine with epinephrine injection in a patient with primary Raynaud's phenomena." Case Reports Plast Surg Hand Surg. 2022 Sep 4;9 (1): 193-196. PMID 36082186
Le, Elliot LH, Greyson MA, Constantine RS, Iorio ML. "A review of pain outcomes following targeted muscle reinnervation in lower extremity limb pain." Plast Aesthet Res. 2022 Sep 28; 9:55
Hamdi OA, Dougherty MI, Rasamny JJ, Greyson MA, Christophel JJ, Shonka DC Jr, Fedder KL, Jameson MJ, Garneau JC. "The Clinical Utility and Cost of Routine Staging Exam under Anesthesia for Oral Cavity Squamous Cell Carcinoma." ORL J Otorhinolaryngol Relat Spec. 2022 Dec 13:1-8. PMID 36513031
Greyson, MA, Mugdal, C and Bhatt, R. "Staying on the Bone – AO principles". Podium presentation. October 30, 2022. Plastic Surgery the Meeting, Boston, MA.
Specialty Information
Specialties
Surgery, Board Certification (2017)
Hand Surgery
Plastic Surgery
Conditions & Treatments
Surgery
Surgery - Arm and hand injuries and disorders
Surgery - Plastic, Reconstructive and Aesthetic Surgery
Surgery - Cranio-Maxillofacial Surgery
Surgery - Fracture nonunions
Surgery - Free flaps and limb salvage
Surgery - Hand Surgery
Surgery - Leg injuries and disorders
Surgery - Limb Salvage
Surgery - Nerve surgery
Surgery - Peripheral Vascular Intervention
Surgery - Targeted Muscle Reinnervation (TMR) for chronic pain
Surgery - Wrist fractures
Surgery - Thoracic Outlet Decompression
Surgery - Eye and/or Orbital Surgery
Surgery - Amputation
Surgery - Robotic Surgery
Bones, Joints and Muscles - Carpal Tunnel Syndrome
Bones, Joints and Muscles
Bones, Joints and Muscles - Facial Fractures
Bones, Joints and Muscles - Fractures
Bones, Joints and Muscles - Sprains and Strains
Bones, Joints and Muscles - Leg Injuries and Disorders
Bones, Joints and Muscles - Bone Infections
Clinical Interests
My many clinical interests include hand, wrist and forearm fractures, peripheral nerve injuries, carpal tunnel, cubital tunnel, tendon injuries, Kienbock's disease, lower extremity trauma and reconstruction (saving limbs) and Dupuytren's disease. I believe in restoring both the appearance and function of the hands and other body parts that are injured.

Care Philosophy
I will treat you with the same time, dedication and commitment I would give to my family and friends. I will listen closely, honestly evaluate your condition, and carefully weigh your needs and desires as a complex individual in order for us to make a treatment plan together.


Personal Interests
I enjoy hiking, skiing, and many more of the great outdoor activities that Colorado has to offer
Public Speaking
Yes
General Information
Medical Schools
:
MD, University of Virginia School of Medicine (2012)
Undergraduate Schools
:
BA, University of Virginia (VA) (2008)
Internships
:
Hospital of the University of Pennsylvania (2013)
Residency Programs
:
University of California (San Francisco) Program, Chief Resident, Surgery (2017)
Fellowships
:
Brigham and Women's Hospital/Harvard Medical School Program, Plastic Surgery (2020)
UCLA Medical Center Program, Hand Surgery (2021)
Department
:
Surgery-Plastic/Reconstructive