Lohit Garg, MBBS
Assistant Professor, Medicine-Cardiology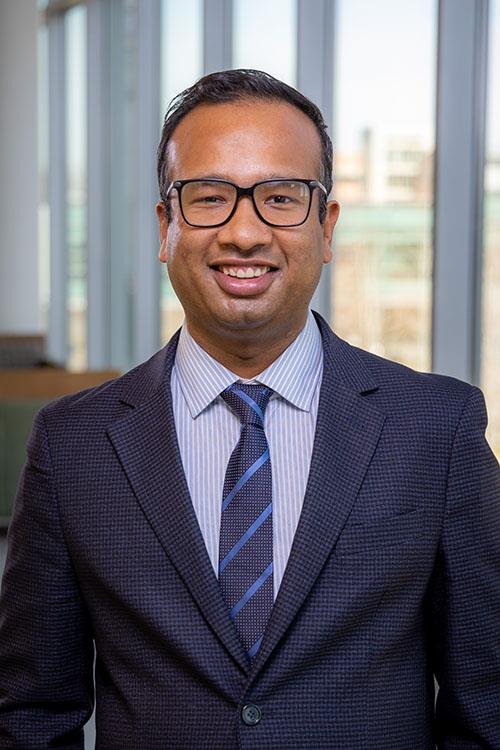 Internship
:
William Beaumont Hospital Program (2014)
Residency
:
William Beaumont Hospital Program, Internal Medicine (2016)
Fellowships
:
Lehigh Valley Hospital Network Program, Cardiology (2019)
Hospital of the University of Pennsylvania, Clinical Cardiac Electrophysiology (2021)
Languages
:
English, Hindi
Department
:
Medicine-Cardiology
Publications
Eberly LA, Lin A, Park J, Khoshnab M, Garg L, Chee J, Kallan MJ, Walsh K, Supple GE, Schaller RD, Santangeli P, Riley MP, Nazarian S, Arkles J, Hyman M, Lin D, Guandalini G, Kumareswaran R, Deo R, Zado ES, Epstein A, Frankel DS, Callans DJ, Marchlinski FE, Dixit S. Presence of sinus rhythm at time of ablation in patients with persistent atrial fibrillation undergoing pulmonary vein isolation is associated with improved long-term arrhythmia outcomes. J Interv Card Electrophysiol. 2022 Dec 16. [Epub ahead of print] PubMed PMID: 36525168
Garg L, Tzou WS. A Force Awakens: Return of Needle Catheter Radiofrequency Ablation for Targeting Intramural Ventricular Arrhythmias. Circ Arrhythm Electrophysiol. 2022 Sep;15(9):e011309. PubMed PMID: 36006297
Sabzwari SRA, Rosenberg MA, Mann J, Cerbin L, Barrett C, Garg L, Aleong RG, Sandhu A, West J, Tumolo AZ, Varosy PD, Sauer WH, Zipse MM, Tzou WS. Limitations of Unipolar Signals in Guiding Successful Outflow Tract Premature Ventricular Contraction Ablation. JACC Clin Electrophysiol. 2022 Jul;8(7):843-853. PubMed PMID: 35643806
Cerbin LP, Garg L. Lowering the threshold for left bundle branch area pacing. J Cardiovasc Electrophysiol. 2022 Jul;33(7):1537-1539. PubMed PMID: 35578129
Garg L, Daubert T, Lin A, Dhakal B, Santangeli P, Schaller R, Hyman MC, Kumareswaran R, Arkles J, Nazarian S, Lin D, Riley MP, Supple GE, Frankel DS, Zado E, Callans DJ, Marchlinski FE, Dixit S. Utility of Prolonged Duration Endocardial Ablation for Ventricular Arrhythmias Originating From the Left Ventricular Summit. JACC Clin Electrophysiol. 2022 Apr;8(4):465-476. PubMed PMID: 35450601
Specialty Information
Specialties
Cardiology, Board Certification (2019)
Clinical Cardiac Electrophysiology, Board Certification (2021)
Internal Medicine, Board Certification (2016)
Conditions & Treatments
Heart and Circulation - Arrhythmia
Heart and Circulation
Heart and Circulation - Cardiomyopathy
Heart and Circulation - Heart Diseases
Clinical Interests
My clinical interests include treatment of ventricular arrhythmias, atrial fibrillation, atrial flutter, prevention of stroke from atrial arrhythmias, and prevention of sudden cardiac death.


General Information
Internships
:
William Beaumont Hospital Program (2014)
Residency Programs
:
William Beaumont Hospital Program, Internal Medicine (2016)
Fellowships
:
Lehigh Valley Hospital Network Program, Cardiology (2019)
Hospital of the University of Pennsylvania, Clinical Cardiac Electrophysiology (2021)
Languages
:
English, Hindi
Department
:
Medicine-Cardiology