Michele Yang, MD
Associate Professor, Pediatrics-Neurology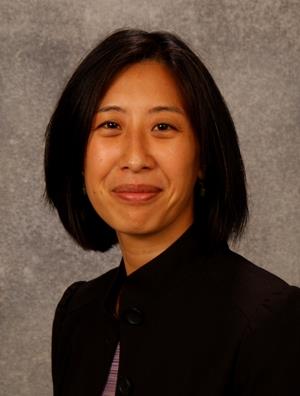 Medical School
:
MD, University of Pittsburgh School of Medicine (1999)
Undergraduate School
:
BS, Yale University (CT) (1995)
Internship
:
University of Pittsburgh Medical Center/Children's Hospital of Pittsburgh (2000)
Residency
:
University of Pittsburgh Medical Center/Children's Hospital of Pittsburgh, Pediatrics (2002)
Fellowships
:
University of Pittsburgh Medical Center/Children's Hospital of Pittsburgh, child neurology (2005)
Beth Israel Deaconess Medical Center Program, EMG (2007)
University of Pennsylvania/Children's Hospital of Philadelphia Program, pediatric neuromuscular disease (2008)
Languages
:
English
Department
:
Pediatrics-Neurology
Publications
Guglieri M, Clemens PR, Perlman SJ, Smith EC, Horrocks I, Finkel RS, Mah JK, Deconinck N, Goemans N, Haberlova J, Straub V, Mengle-Gaw LJ, Schwartz BD, Harper AD, Shieh PB, De Waele L, Castro D, Yang ML, Ryan MM, McDonald CM, Tulinius M, Webster R, McMillan HJ, Kuntz NL, Rao VK, Baranello G, Spinty S, Childs AM, Sbrocchi AM, Selby KA, Monduy M, Nevo Y, Vilchez-Padilla JJ, Nascimento-Osorio A, Niks EH, de Groot IJM, Katsalouli M, James MK, van den Anker J, Damsker JM, Ahmet A, Ward LM, Jaros M, Shale P, Dang UJ, Hoffman EP. Efficacy and Safety of Vamorolone vs Placebo and Prednisone Among Boys With Duchenne Muscular Dystrophy: A Randomized Clinical Trial. JAMA Neurol. 2022 Oct 1;79(10):1005-1014. PubMed PMID: 36036925
Joshi CN, Yang ML, Eschbach K, Tong S, Jacobson MP, Stillman C, Kropp AE, Shea SA, Frunzi GM, Thomas JF, Olson CA. Quality and Safety Analysis of 2,999 Telemedicine Encounters During the COVID-19 Pandemic. Neurol Clin Pract. 2021 Apr;11(2):e73-e82. PubMed PMID: 33842074
Joshi C, Jacobson M, Silveira L, Shea S, Yang M, Eschbach K. Risk of Admission to the Emergency Room/Inpatient Service After a Neurology Telemedicine Visit During COVID-19 Pandemic. Pediatr Neurol. 2021 Sep;122:15-19. PubMed PMID: 34243046
Kour S, Rajan DS, Fortuna TR, Anderson EN, Ward C, Lee Y, Lee S, Shin YB, Chae JH, Choi M, Siquier K, Cantagrel V, Amiel J, Stolerman ES, Barnett SS, Cousin MA, Castro D, McDonald K, Kirmse B, Nemeth AH, Rajasundaram D, Innes AM, Lynch D, Frosk P, Collins A, Gibbons M, Yang M, Desguerre I, Boddaert N, Gitiaux C, Rydning SL, Selmer KK, Urreizti R, Garcia-Oguiza A, Osorio AN, Verdura E, Pujol A, McCurry HR, Landers JE, Agnihotri S, Andriescu EC, Moody SB, Phornphutkul C, Sacoto MJG, Begtrup A, Houlden H, Kirschner J, Schorling D, Rudnik-Schöneborn S, Strom TM, Leiz S, Juliette K, Richardson R, Yang Y, Zhang Y, Wang M, Wang J, Wang X, Platzer K, Donkervoort S, Bönnemann CG, Wagner M, Issa MY, Elbendary HM, Stanley V, Maroofian R, Gleeson JG, Zaki MS, Senderek J, Pandey UB. Loss of function mutations in GEMIN5 cause a neurodevelopmental disorder. Nat Commun. 2021 May 7;12(1):2558. PubMed PMID: 33963192
Leitner ML, Kapur K, Darras BT, Yang M, Wong B, Pazze LD, Florence J, Buck M, freedman L, Bohorquez J, Rutkove S, Zaidman C. Electrical impedance myography for reducing sampe size in Duchenne muscular dystrophy trials. Annal of Clinical and Translational Neurology 2020; 7(10)-4-14.
Specialty Information
Specialties
Child Neurology, Board Certification (2006)
Neuromuscular Medicine, Board Certification (2011)
ABEM Electrodiagnostic Medicine, Board Certification (2009)
Conditions & Treatments
General Information
Medical Schools
:
MD, University of Pittsburgh School of Medicine (1999)
Undergraduate Schools
:
BS, Yale University (CT) (1995)
Internships
:
University of Pittsburgh Medical Center/Children's Hospital of Pittsburgh (2000)
Residency Programs
:
University of Pittsburgh Medical Center/Children's Hospital of Pittsburgh, Pediatrics (2002)
Fellowships
:
University of Pittsburgh Medical Center/Children's Hospital of Pittsburgh, child neurology (2005)
Beth Israel Deaconess Medical Center Program, EMG (2007)
University of Pennsylvania/Children's Hospital of Philadelphia Program, pediatric neuromuscular disease (2008)
Languages
:
English
Department
:
Pediatrics-Neurology