Kristin Furfari, MD
Associate Professor, Medicine-Hospital Medicine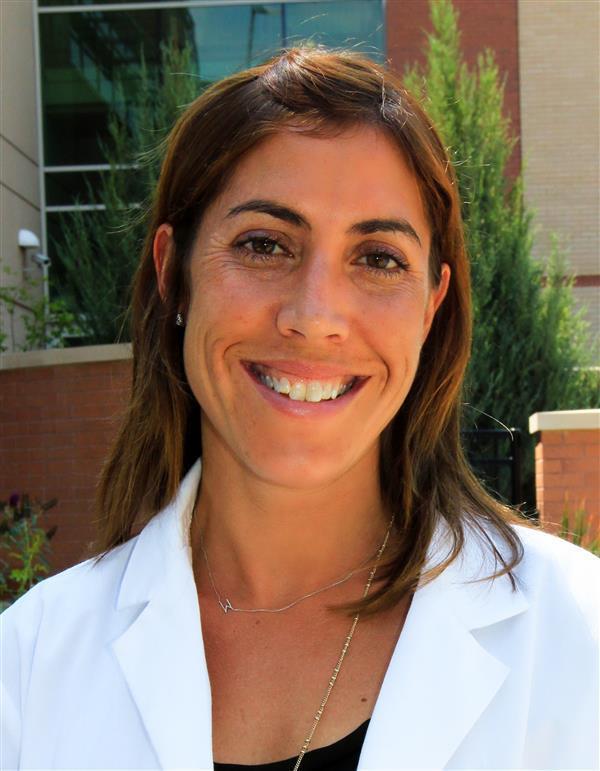 Medical School
:
MD, University of Colorado Denver School of Medicine (2004)
Undergraduate School
:
BS, Creighton University (NE) (2000)
Residency
:
University of Colorado (University Hospital) Program, Family Medicine (2007)
Fellowships
:
University of Colorado (University Hospital) Program, Internal Medicine (2008)
Languages
:
English
Department
:
Medicine-Hospital Medicine
Professional Titles
Associate Director for Preceptoship, Foundations of Doctoring Program
Co-Director, CUSOM Mini Medical School
SOM Liaison, Academic Leadership Council, Center for Bioethics and Humanities
Recognition & Awards
Leadership in Education Administration Program, Academy of Medical Educators (2016)
Presidents Teaching and Learning Collaborative, University of Colorado (2015)
Teaching Scholars Program, Academy of Medical Educators (2012)
Peak Performers Award in Hospital Medicine , Rocky Mountain Hospital Medicine Symposium (2010)

Teaching
Associate Director for Preceptorship, Foundations of Doctoring (2013)
School of Medicine, Other
SOM Faculty Advisor, Advisory College Program (2012)
School of Medicine, Other
Publications
Grentz L, Furfari K, Keifer R, Potter NL. Appetite-guided approach to pediatric enteral tube weaning in the home setting: A pilot study. JPEN J Parenter Enteral Nutr. 2022 Sep;46(7):1725-1730. PubMed PMID: 35526140
Daniel N. Ricotta, Jeremy B. Richards, K. Meredith Atkins, Margaret M. Hayes, Katherine McOwen, Morgan I. Soffler, Carrie D. Tibbles, Alison J. Whelan, Richard M. Schwartzstein & (on behalf of Millennium Conference 2019 writing group) (2022) Self-Directed Learning in Medical Education: Training for a Lifetime of Discovery, Teaching and Learning in Medicine, 34:5, 530-540, DOI: 10.1080/10401334.2021.1938074
Furfari K. Medical Decision Making for Unrepresented Patients: A Reflection on Colorado's Approach with Implications for Elsewhere. J Clin Ethics. 2022 Winter;33(4):297-302. PubMed PMID: 36548233
Furfari, K. The Ethics Ambassador Program: A Grassroots Approach. J Clin Ethics;31(3):252-258. Fall 2020. PMID: 32960807.
Leslie L, Cherry RF, Mulla A, Abbott J, Furfari K, Glover JJ, Harnke B, Wynia MK. Domains of quality for clinical ethics case consultation: a mixed-method systematic review. Syst Rev. 2016 Jun 7;5:95. PubMed PMID: 27267765
Specialty Information
Specialties
Hospital Medicine, Board Certification (2007)
Hospitalist Service, Other (0001)
Clinical Interests
This physician treats inpatients only and does not make office appointments.


General Information
Medical Schools
:
MD, University of Colorado Denver School of Medicine (2004)
Undergraduate Schools
:
BS, Creighton University (NE) (2000)
Residency Programs
:
University of Colorado (University Hospital) Program, Family Medicine (2007)
Fellowships
:
University of Colorado (University Hospital) Program, Internal Medicine (2008)
Languages
:
English
Department
:
Medicine-Hospital Medicine