Emily Forbes, DO
Assistant Professor, Neurology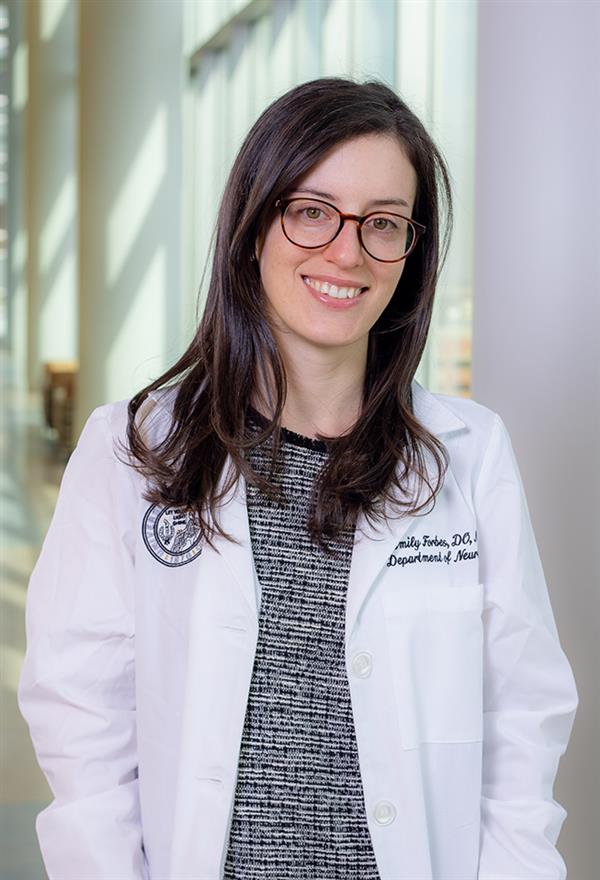 Download CV
Medical School
:
DO, New York College of Osteopathic Medicine of New York Institute of Technology (2014)
Undergraduate School
:
BA, New York University (NY) (2007)
Internship
:
University of Colorado (2015)
Residency
:
University of Colorado, Neurology (2018)
Fellowships
:
Hospital of the University of Pennsylvania, Neurology (2020)
Department
:
Neurology
Professional Titles
Assistant Professor, Neurology
Publications
Forbes E, Smith K, Petluru M, Nystrom J, Fridman V. Adult-onset Krabbe disease presenting as isolated sensorimotor demyelinating polyneuropathy: A case report. J Peripher Nerv Syst. 2022 Sep 3
Forbes E, Tropea TF, Mantri S, Xie SX, Morley JF. Modifiable comorbidities associated with cognitive decline in Parkinson's Disease. Movement Disorders Clinical Practice. 2021 Feb;8(2):254-63.
Forbes E, Vaswani PA, Duda JE, Morley JF. Uremic striatopallidal syndrome manifesting as acute onset chorea. Movement disorders clinical practice. 2021 Aug;8:S55-7.
Lang, Anthony E., Emily Forbes, Pavan A. Vaswani, John E. Duda, James F. Morley, and Kapil D. Sethi. "Commentary: Uremic Striatopallidal Syndrome Manifesting as Acute Onset Chorea." (2021): S58-S59.
Forbes, E., Tropea, T., Mantri, S., Morley, J. "Modifiable Comorbidities Associated with Rate of Cognitive Decline in Parkinson's Disease" Abstract 398. Movement Disorders Society International Congress, 2020.
Practice Locations
UCHealth Neurosciences Center - Anschutz Medical Campus
1635 Aurora Ct
4th Floor
Aurora
, CO
80045
720-848-2080
Hospital Affiliation
University of Colorado Hospital
Center Affiliations
Specialty Information
Specialties
Neurology, Board Certification
General Information
Medical Schools
:
DO, New York College of Osteopathic Medicine of New York Institute of Technology (2014)
Undergraduate Schools
:
BA, New York University (NY) (2007)
Internships
:
University of Colorado (2015)
Residency Programs
:
University of Colorado, Neurology (2018)
Fellowships
:
Hospital of the University of Pennsylvania, Neurology (2020)
Download CV
Department
:
Neurology