Laura McLaughlin, MD
Assistant Professor, Pediatrics-Heme/Onc and Bone Marrow Transplantation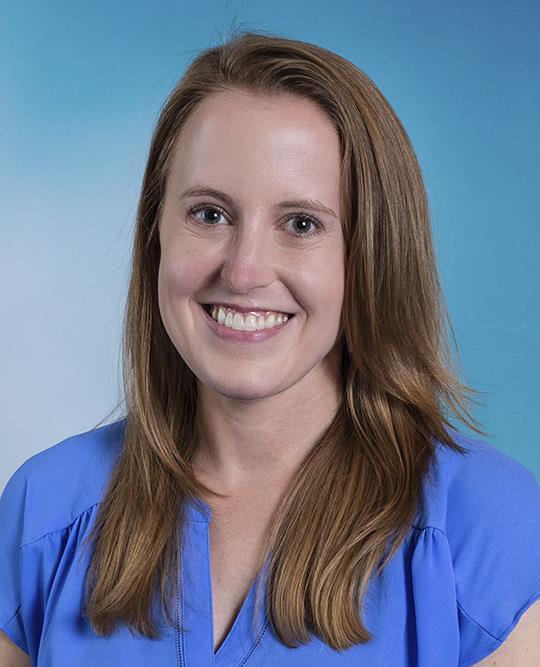 Medical School
:
MD, Florida State University College of Medicine (2015)
Undergraduate School
:
BS, University of Florida (FL) (2009)
Residency
:
Baylor College of Medicine Program, Pediatrics (2018)
Fellowships
:
University of Colorado (Children's Hospital Colorado) Program, Pediatric Hematology / Oncology (2021)
University of Colorado (Children's Hospital Colorado) Program, Pediatric Bone Marrow Transplantation & Cellular Therapeutics (2022)
Languages
:
English
Department
:
Pediatrics-Heme/Onc and Bone Marrow Transplantation
Professional Titles
Assistant Professor of Pediatrics
Research Interests
My research interests include the development of novel, less-toxic conditioning regimens and improving transplant outcomes in pediatric patients with non-malignant diseases.
Publications
Shim SH, Tufa D, Woods R, George TD, Shank T, Yingst A, Lake J, Cobb L, Jones D, Jones K, Verneris MR. SAHA Enhances Differentiation of CD34+CD45+ Hematopoietic Stem and Progenitor Cells from Pluripotent Stem Cells Concomitant with an Increase in Hemogenic Endothelium. Stem Cells Transl Med. 2022 May 27;11(5):513-526. PubMed PMID: 35349707
McLaughlin L and Knight-Perry J. Graft versus host disease. In: Cabana MD (ed). The 5-Minute Pediatric Consult. 9th ed. Philadelphia, PA: Wolters Kluwer; 2022. In review.
McLaughlin L, DeZoeten E, Verneris MR. Can allogeneic haematopoietic cell transplantation be curative in classical Crohn's disease?. Br J Haematol. 2022 Nov 9. [Epub ahead of print] PubMed PMID: 36352551
Cobb LM, Verneris MR. Therapeutic manipulation of innate lymphoid cells. JCI Insight. 2021 Mar 22;6(6). PubMed PMID: 33749662
Tufa DM, Yingst AM, Trahan GD, Shank T, Jones D, Shim S, Lake J, Winkler K, Cobb L, Woods R, Jones K, Verneris MR. Human innate lymphoid cell precursors express CD48 that modulates ILC differentiation through 2B4 signaling. Sci Immunol. 2020 Nov 20;5(53). PubMed PMID: 33219153
Professional Memberships
American Society of Transplantation and Cellular Therapy, Member
Alpha Omega Alpha Honor Society, Inductee
American Society of Hematology, Member
Pediatric Transplantation & Cellular Therapy Consortium, Member
Castleman Disease Collaborative Network, Member
Histiocytosis Association, Member
Specialty Information
Specialties
Pediatrics, Board Certification (2018)
American Board of Pediatrics, Pediatric Hematology/Oncology, Board Certification (2023)
New Mexico Telemedicine, License (2023)
Colorado Medical, License (2018)
Conditions & Treatments
Cancers - Aplastic Anemia
Cancers
Cancers - Blood and Marrow Transplant
Cancers - Pediatric Cancer
Blood / Lymphatic System - Blood Disorders
Blood / Lymphatic System
Immune System - Autoimmune Disorders
Immune System
Immune System - Immunodeficiency
Clinical Interests
I specialize in the use of bone marrow transplantation and cellular therapies for children and young adults. I'm primarily interested in treating patients with non-malignant diseases, including immune dysregulation disorders, bone marrow failure syndromes, immunodeficiencies and autoimmune diseases. I'm also interested in other rare diagnoses affecting the immune system, including Castleman disease.

Care Philosophy
I'm committed to providing compassionate, high-quality, patient-centered care as part of a patient's team.


Personal Interests
In my free time, I enjoy hiking, skiing, traveling and spending time with friends, family, my husband and our 2 dogs.
Public Speaking
Yes
General Information
Medical Schools
:
MD, Florida State University College of Medicine (2015)
Undergraduate Schools
:
BS, University of Florida (FL) (2009)
Residency Programs
:
Baylor College of Medicine Program, Pediatrics (2018)
Fellowships
:
University of Colorado (Children's Hospital Colorado) Program, Pediatric Hematology / Oncology (2021)
University of Colorado (Children's Hospital Colorado) Program, Pediatric Bone Marrow Transplantation & Cellular Therapeutics (2022)
Languages
:
English
Department
:
Pediatrics-Heme/Onc and Bone Marrow Transplantation