Marina Mutter, MD
Assistant Professor, Medicine-Hospital Medicine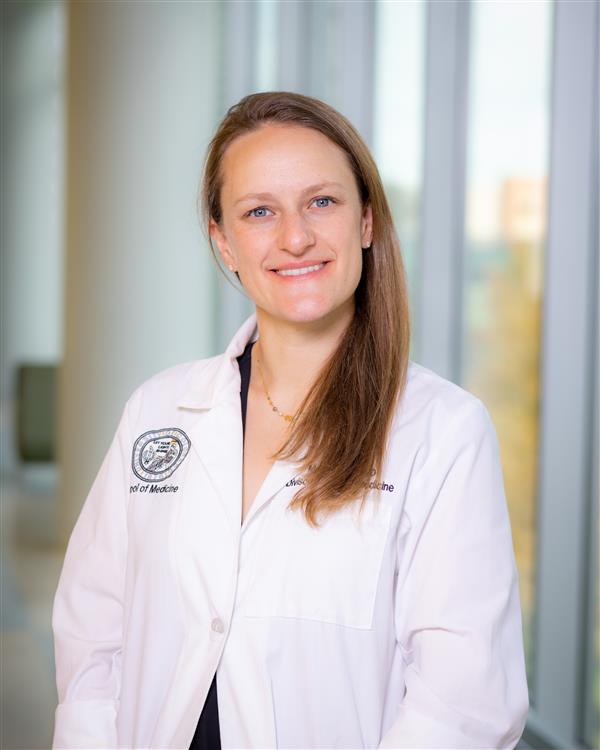 Medical School
:
MD, University of Rochester School of Medicine and Dentistry (2015)
Graduate School
:
MS, University of Pittsburgh (2020)
Residency
:
Yale-New Haven Medical Center Program, Internal Medicine (2018)
Fellowships
:
University of Pittsburgh Medical Center, General Internal Medicine (2020)
Department
:
Medicine-Hospital Medicine
Publications
Mutter M, Lampe M, Guth TA. A clinical skills dashboard for medical student assessment. Med Educ. 2022 Nov;56(11):1119-1120. PubMed PMID: 35989362
Mutter M, Kyle JR, Yecies E, Hamm M, DiNardo D. Use of Chart-Stimulated Recall to Explore Uncertainty in Medical Decision-Making Among Senior Internal Medicine Residents. J Gen Intern Med. 2022 Sep;37(12):3114-3120. PubMed PMID: 35141852
Elledge, R, Mutter, M. Progressive Multi-focal leukoencephalopathy: An Uncommon Cause of Confusion in a Patient with Schizophrenia and Acquired Immunodeficiency Syndrome. Accepted for presentation at the Hospital Medicine Summit of the Rockies virtual conference. January 2021.
Freifeld A, Mutter M, Ururahy R, Jackson C. (2021-05-07). 58-yo woman with bilateral ear pain and facial paralysis. The Human Diagnosis Project, Global Morning Report. Available online at: https://www.humandx.org/o/0xsto23g87phaf8k6zb5z04nn
Freifeld, A, Mutter, M. Delayed Diagnosis of Vasculitis in a Patient with Chronic Mastoiditis. Poster presented at the virtual Society of General Internal Medicine Meeting. May 2021.
Specialty Information
Specialties
Hospital Medicine, Board Certification
Clinical Interests
Hospital medicine


General Information
Medical Schools
:
MD, University of Rochester School of Medicine and Dentistry (2015)
Graduate Schools
:
MS, University of Pittsburgh (2020)
Residency Programs
:
Yale-New Haven Medical Center Program, Internal Medicine (2018)
Fellowships
:
University of Pittsburgh Medical Center, General Internal Medicine (2020)
Department
:
Medicine-Hospital Medicine