Ara Metjian, MD
Visiting Associate Professor, Medicine-Hematology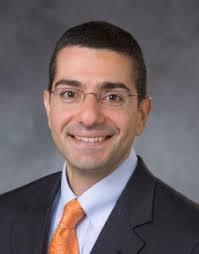 Medical School
:
MD, Drexel University College of Medicine (2001)
Undergraduate School
:
BA, Bucknell University (PA) (1995)
Internship
:
University of North Carolina at Chapel Hill Program (2001)
Residency
:
University of North Carolina at Chapel Hill Program, Internal Medicine (1999)
Fellowships
:
University of Pennsylvania Program, Hematology and Oncology (2005)
Duke University Hospital Program, Hematology (2008)
Department
:
Medicine-Hematology
Research Interests
I have an active interest in all aspects of Benign Hematology, particularly in congenital bleeding disorders and acquired diseases of hemostasis, such as thrombotic microangiopathies and immune-mediated cytopenias. These conditions are rare and often occur in under-represented populations, which makes their research and development even more necessary. By offering a wide array of clinical trials for these disease states, we can move care forward and offer improved therapies
Publications
Metjian A. iTTP: more long-term consequences. Blood. 2023 Jan 19;141(3):216-217. PubMed PMID: 36656614
Scully M, de la Rubia J, Pavenski K, Metjian A, Knöbl P, Peyvandi F, Cataland S, Coppo P, Kremer Hovinga JA, Minkue Mi Edou J, De Passos Sousa R, Callewaert F, Gunawardena S, Lin J. Long-term follow-up of patients treated with caplacizumab and safety and efficacy of repeat caplacizumab use: Post-HERCULES study. J Thromb Haemost. 2022 Dec;20(12):2810-2822. PubMed PMID: 36138517
Shah H, Chen H, Pan XZ, Metjian A, Brodsky RA, Braunstein EM, Chaturvedi S. C5 inhibition allows continued antineoplastic therapy in cancer- and chemotherapy-associated thrombotic microangiopathy. Blood Adv. 2022 Dec 13;6(23):6071-6074. PubMed PMID: 35914225
Chaturvedi S, Antun AG, Farland AM, Woods R, Metjian A, Park YA, de Ridder G, Gibson B, Kasthuri RS, Liles DK, Akwaa F, Clover T, Baumann Kreuziger L, Sadler JE, Sridharan M, Go RS, McCrae KR, Upreti HV, Liu A, Lim MY, Gangaraju R, Zheng XL, Raval JS, Masias C, Cataland SR, Johnson A, Davis E, Evans MD, Mazepa MA. Race, rituximab, and relapse in TTP. Blood. 2022 Sep 22;140(12):1335-1344. PubMed PMID: 35797471
Josephson CD, Goldstein S, Askenazi D, Cohn CS, Spinella PC, Metjian A, Fasano RM, Music-Aplenc L. Safety and tolerability of solvent/detergent-treated plasma for pediatric patients requiring therapeutic plasma exchange: An open-label, multicenter, postmarketing study. Transfusion. 2022 Feb;62(2):396-405. PubMed PMID: 34931321
Specialty Information
Specialties
Hematology, Board Certification
Conditions & Treatments
Blood / Lymphatic System - Bleeding Disorders
Blood / Lymphatic System
Blood / Lymphatic System - Blood Disorders
Blood / Lymphatic System - Clotting Disorders
Care Philosophy
In order to provide the best-level of care, exquisite attention to detail is needed, as there are many factors that are often overlooked or disregarded in patients with bleeding or thrombotic disorders. I strive to know these facts about a patient's history so that clinically relevant information is not missed.


Public Speaking
Yes
I have been invited to speak on local, regional, and national levels, to both physicians, as well as patients. This includes invitations from Physician Offices, Schools, Pharmaceutical Companies, and national and international physician organizations.
General Information
Medical Schools
:
MD, Drexel University College of Medicine (2001)
Undergraduate Schools
:
BA, Bucknell University (PA) (1995)
Internships
:
University of North Carolina at Chapel Hill Program (2001)
Residency Programs
:
University of North Carolina at Chapel Hill Program, Internal Medicine (1999)
Fellowships
:
University of Pennsylvania Program, Hematology and Oncology (2005)
Duke University Hospital Program, Hematology (2008)
Department
:
Medicine-Hematology