Louise Helander, MBBS
Assistant Professor, Medicine-Allergy/Clinical Immunology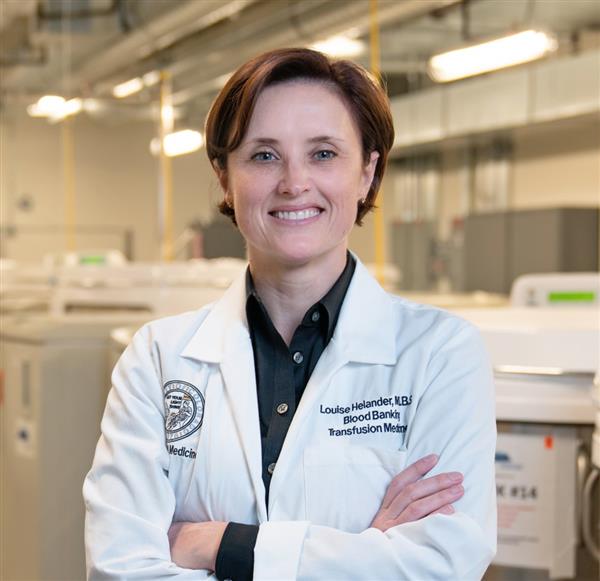 Undergraduate School
:
BA, Johns Hopkins University (MD) (2001)
Residency
:
Louisiana State University Program, Chief Resident, Anatomic and Clinical (2019)
Fellowships
:
University of Colorado, Blood Banking / Transfusion Medicine (2020)
Languages
:
English
Department
:
Medicine-Allergy/Clinical Immunology
Recognition & Awards
Summit Award for Excellence in Teaching and the Education of Pathologists, Department of Pathology, University of Colorado (2022)
Teaching award for the education of pathology residents.
Teaching
Assistant Professor (2022)
School of Medicine, Medicine
Publications
Helander L, McKinney C, Kelly K, Mack S, Sanders M, Gurley J, Dumont LJ, Annen K. Chronic granulomatous disease and McLeod syndrome: Stem cell transplant and transfusion support in a 2-year-old patient-a case report. Front Immunol. 2022;13:994321. PubMed PMID: 36081507
Helander L, Mack S, Stanley C, Luong P, Dumont LJ, Berg M. Platelet Swirling: a useful viability marker or just and interesting phenomenon? [abstract] Abstract Presentations from the 2022 AABB Virtual Annual Meeting, November 6-7, 2022. Abstract no. P-BB-62.
Pasko BE, DomBourian M, Helander L, Sanders M, Annen K. Safe peripheral blood stem cell collection in patients less than 10kg: A single-center review. J Clin Apher. 2022 Dec 7. [Epub ahead of print] PubMed PMID: 36477903
Kelly K, Helander L, Hazegh K, Stanley C, Moss R, Mack S, Sanders ML, Gurley J, McKinney C, Dumont LJ, Annen K. Cryopreservation of rare pediatric red blood cells for support following bone marrow transplant. Transfusion. 2022 May;62(5):954-960. PubMed PMID: 35403731
Helander L & Alquist CR. Modern Blood Banking. In: C. S. Scherf, A. D. Kaye, H. Liu, S. Perelman & S. Leavitt, editors. Essentials of Blood Product Management in Anesthesia Practice. Springer Nature; 2021. p. 11-19.
Specialty Information
Specialties
Allergy and Immunology
Pathology - Blood Banking/Transfusion Medicine, Board Certification (0001)
Pathology - Anatomic & Clinical, Board Certification (0001)
General Information
Undergraduate Schools
:
BA, Johns Hopkins University (MD) (2001)
Residency Programs
:
Louisiana State University Program, Chief Resident, Anatomic and Clinical (2019)
Fellowships
:
University of Colorado, Blood Banking / Transfusion Medicine (2020)
Languages
:
English
Department
:
Medicine-Allergy/Clinical Immunology