Nikhil Madhuripan, MD
Assistant Professor, Radiology-Diagnostics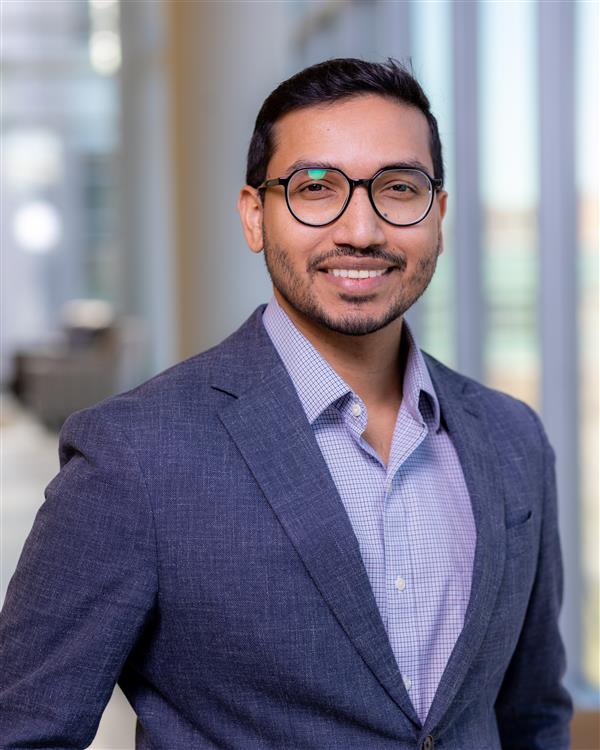 Residency
:
Baystate Medical Center/Tufts University School of Medicine Program, Chief Resident, Radiology
Fellowships
:
Stanford University Program, Abdominal Radiology
Department
: Radiology-Diagnostics
Professional Titles
Interim Section Chief, Abdominal Imaging
Fellowship Director, Abdominal Imaging Fellowship
Recognition & Awards
John C. Stears Faculty Teaching Award, University of Colorado- Department of Radiology (2022)
John C. Stears Faculty Teaching Award, University of Colorado- Department of Radiology (2021)
Roentgen Resident/Fellow Research Award, Program Director, Radiology Residency (2019)
Recognition for research advancing radiologic science, nominated by the program director.
Resident Mentorship Award, Program Director, Radiology Residency (2019)
Recognition for mentoring junior residents.
Residency program top score on the ACR In-service exam, Program Director, Radiology Residency (2019)
Teaching
Assistant Professor (2020)
School of Medicine, Radiology
Introduction to radiology for medical students. Resident education and graduated growth to mastery of abdominal imaging.
Publications
Karandikar A, Solberg A, Fung A, Lee AY, Farooq A, Taylor AC, Oliveira A, Narayan A, Senter A, Majid A, Tong A, McGrath AL, Malik A, Brown AL, Roberts A, Fleischer A, Vettiyil B, Zigmund B, Park B, Curran B, Henry C, Jaimes C, Connolly C, Robson C, Meltzer CC, Phillips CH, Dove C, Glastonbury C, Pomeranz C, Kirsch CFE, Burgan CM, Scher C, Tomblinson C, Fuss C, Santillan C, Daye D, Brown DB, Young DJ, Kopans D, Vargas D, Martin D, Thompson D, Jordan DW, Shatzkes D, Sun D, Mastrodicasa D, Smith E, Korngold E, Dibble EH, Arleo EK, Hecht EM, Morris E, Maltin EP, Cooke EA, Schwartz ES, Lehrman E, Sodagari F, Shah F, Doo FX, Rigiroli F, Vilanilam GK, Landinez G, Kim GG, Rahbar H, Choi H, Bandesha H, Ojeda-Fournier H, Ikuta I, Dragojevic I, Schroeder JLT, Ivanidze J, Katzen JT, Chiang J, Nguyen J, Robinson JD, Broder JC, Kemp J, Weaver JS, Conyers JM, Robbins JB, Leschied JR, Wen J, Park J, Mongan J, Perchik J, Barbero JPM, Jacob J, Ledbetter K, Macura KJ, Maturen KE, Frederick-Dyer K, Dodelzon K, Cort K, Kisling K, Babagbemi K, McGill KC, Chang KJ, Feigin K, Winsor KS, Seifert K, Patel K, Porter KK, Foley KM, Patel-Lippmann K, McIntosh LJ, Padilla L, Groner L, Harry LM, Ladd LM, Wang L, Spalluto LB, Mahesh M, Marx MV, Sugi MD, Sammer MBK, Sun M, Barkovich MJ, Miller MJ, Vella M, Davis MA, Englander MJ, Durst M, Oumano M, Wood MJ, McBee MP, Fischbein NJ, Kovalchuk N, Lall N, Eclov N, Madhuripan N, Ariaratnam NS, Vincoff NS, Kothary N, Yahyavi-Firouz-Abadi N, Brook OR, Glenn OA, Woodard PK, Mazaheri P, Rhyner P, Eby PR, Raghu P, Gerson RF, Patel R, Gutierrez RL, Gebhard R, Andreotti RF, Masum R, Woods R, Mandava S, Harrington SG, Parikh S, Chu S, Arora SS, Meyers SM, Prabhu S, Shams S, Pittman S, Patel SN, Payne S, Hetts SW, Hijaz TA, Chapman T, Loehfelm TW, Juang T, Clark TJ, Potigailo V, Shah V, Planz V, Kalia V, DeMartini W, Dillon WP, Gupta Y, Koethe Y, Hartley-Blossom Z, Wang ZJ, McGinty G, Haramati A, Allen LM, Germaine P. Radiologists staunchly support patient safety and autonomy, in opposition to the SCOTUS decision to overturn Roe v Wade. Clin Imaging. 2023 Jan;93:117-121. PubMed PMID: 36064645
Yamashita R, Kapoor T, Alam MN, Galimzianova A, Syed SA, Ugur Akdogan M, Alkim E, Wentland AL, Madhuripan N, Goff D, Barbee V, Sheybani ND, Sagreiya H, Rubin DL, Desser TS. Toward Reduction in False-Positive Thyroid Nodule Biopsies with a Deep Learning-based Risk Stratification System Using US Cine-Clip Images. Radiol Artif Intell. 2022 May;4(3):e210174. PubMed PMID: 35652118
Mastrodicasa D, Willemink MJ, Madhuripan N, Chima RS, Ho AA, Ding Y, Marin D, Patel BN. Diagnostic performance of single-phase dual-energy CT to differentiate vascular and nonvascular incidental renal lesions on portal venous phase: comparison with CT. Eur Radiol. 2021 Dec;31(12):9600-9611. PubMed PMID: 34114058
Sood RR, Shao W, Kunder C, Teslovich NC, Wang JB, Soerensen SJC, Madhuripan N, Jawahar A, Brooks JD, Ghanouni P, Fan RE, Sonn GA, Rusu M. 3D Registration of pre-surgical prostate MRI and histopathology images via super-resolution volume reconstruction. Med Image Anal. 2021 Apr;69:101957. PubMed PMID: 33550008
Shao W, Banh L, Kunder CA, Fan RE, Soerensen SJC, Wang JB, Teslovich NC, Madhuripan N, Jawahar A, Ghanouni P, Brooks JD, Sonn GA, Rusu M. ProsRegNet: A deep learning framework for registration of MRI and histopathology images of the prostate. Med Image Anal. 2021 Feb;68:101919. PubMed PMID: 33385701
Clinical Interests
Hepatobiliary Imaging, Neuroendocrine tumor, Pancreatic cancer, Prostate cancer, Pelvic floor dysfunction, Endometriosis.


General Information
Residency Programs
:
Baystate Medical Center/Tufts University School of Medicine Program, Chief Resident, Radiology (0001)
Fellowships
:
Stanford University Program, Abdominal Radiology (0001)
Department
: Radiology-Diagnostics