Sunnie Kim, MD
Associate Professor, Medicine-Medical Oncology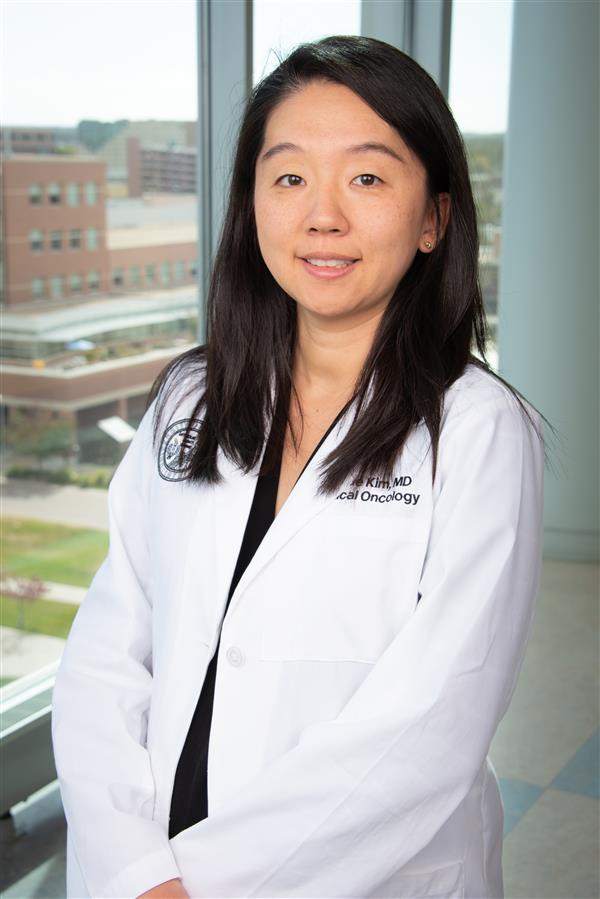 Medical School
:
MD, Columbia University College of Physicians and Surgeons (2009)
Undergraduate School
:
BA, Columbia University (NY) (2002)
Residency
:
New York University School of Medicine Program, Internal Medicine (2012)
Fellowships
:
New York Presbyterian Hospital (Cornell Campus) Program, Hematology and Oncology (2016)
Languages
:
English
Department
:
Medicine-Medical Oncology
Publications
Kim S. The role of antiangiogenesis agents in refractory metastatic colorectal cancer. Clin Adv Hematol Oncol. 2023 Apr;21(4):209-212. PubMed PMID: 37039731
Catenacci DV, Kang YK, Uronis HE, Lee KW, Ng MC, Enzinger PC, Park SH, Gold PJ, Lacy J, Hochster HS, Oh SC, Kim YH, Marrone KA, Kelly RJ, Juergens RA, Kim JG, Alcindor T, Sym SJ, Song EK, Chee CE, Chao Y, Kim S, Oh DY, Yen J, Odegaard JI, Lagow E, Li D, Sun J, Kaminker P, Moore PA, Rosales MK, Park H. Circulating Tumor DNA as a Predictive Biomarker for Clinical Outcomes With Margetuximab and Pembrolizumab in Pretreated HER2-Positive Gastric/ Gastroesophageal Adenocarcinoma. Oncology (Williston Park). 2023 Apr 25;37(4):176-183. PubMed PMID: 37104758
Pandey A, Lieu CH, Kim SS. The Local Microbiome in Esophageal Cancer and Treatment Response: A Review of Emerging Data and Future Directions. Cancers (Basel). 2023 Jul 10;15(14). PubMed PMID: 37509225
Cerniglia M, Klepadlo M, Sheneman D, Kim SS. Response to PD-1 inhibitor after progression on PD-L1 inhibitor in advanced HCC. BMJ Case Rep. 2022 Aug 12;15(8). PubMed PMID: 35961684
Redman JM, Tsai YT, Weinberg BA, Donahue RN, Gandhy S, Gatti-Mays ME, Abdul Sater H, Bilusic M, Cordes LM, Steinberg SM, Marte JL, Jochems C, Kim SS, Marshall JL, McMahon S, Redmond E, Schlom J, Gulley JL, Strauss J. A Randomized Phase II Trial of mFOLFOX6 Bevacizumab Alone or with AdCEA Vaccine Avelumab Immunotherapy for Untreated Metastatic Colorectal Cancer. Oncologist. 2022 Mar 11;27(3):198-209. PubMed PMID: 35274710
Specialty Information
Specialties
Internal Medicine, Board Certification (2012)
Medical Oncology, Board Certification (2016)
Conditions & Treatments
Cancers - Anal Cancer
Cancers
Cancers - Biliary Cancer
Cancers - Colorectal Cancer
Cancers - Gastroenterologic Cancer (Colon, Stomach, Esophageal, Liver)
Cancers - Pancreatic Cancer
Clinical Interests
Gastrointestinal Medical Oncology

Care Philosophy
I strive to provide patients with individualized care after careful and thoughtful discussion. I strongly believe that my job is to present all options to patients so that we can make the best possible treatment decisions, together. To that end, I am dedicated to contributing to the field by leading research to advance our understanding of gastrointestinal cancers to uncover more effective treatment options. I serve as the Principal Investigator on multiple investigator initiated and industry sponsored clinical trials. I also sit on several national committees including National Comprehensive Cancer Network (NCCN) Gastric and Esophageal Cancers Guidelines and American Society of Clinical Oncology (ASCO) Evidence Based Medicine Committee.


General Information
Medical Schools
:
MD, Columbia University College of Physicians and Surgeons (2009)
Undergraduate Schools
:
BA, Columbia University (NY) (2002)
Residency Programs
:
New York University School of Medicine Program, Internal Medicine (2012)
Fellowships
:
New York Presbyterian Hospital (Cornell Campus) Program, Hematology and Oncology (2016)
Languages
:
English
Department
:
Medicine-Medical Oncology