Muhammad Riaz, MD
Assistant Professor, Neurosurgery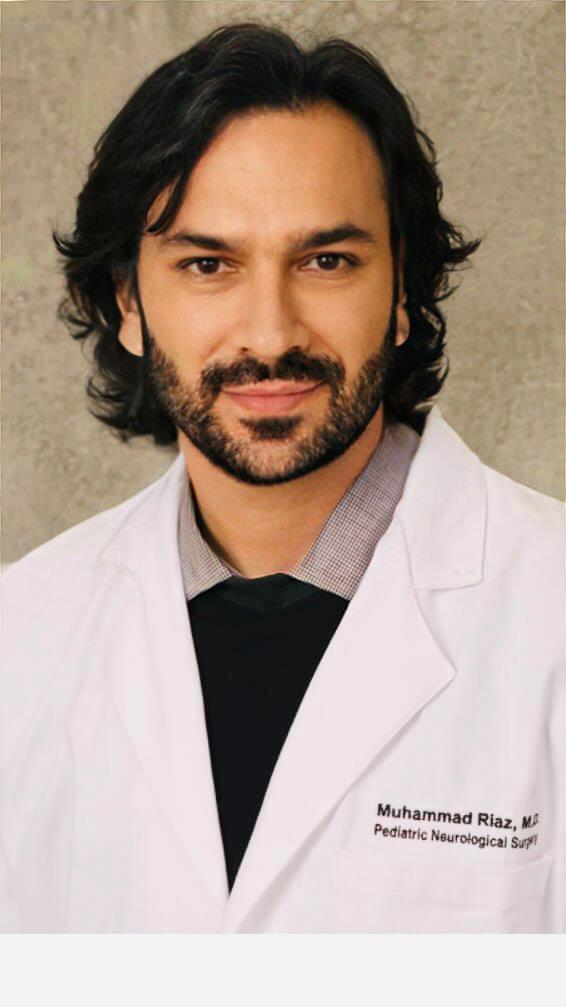 Fellowships
:
University of Colorado (Children's Hospital Colorado) Program, Neurological Surgery (2019)
Louisiana State University (Shreveport) Program, Neurological Surgery (2018)
Languages
:
English, Hindi, Urdu, Pashto
Department
:
Neurosurgery
Professional Titles
Assistant professor of Neurosurgery
Recognition & Awards
Top Doctor, 5280 (2022)
Top Neurological surgeon Denver
Top Neurosurgeon, DocSpot (2021)
Top Neurosurgeon Denver
AANS grant, American association of Neurological surgeons (2017)
Teaching
Assistant professor (2019)
School of Medicine, Neurosurgery
Pediatric brain and spine
Publications
Pediatric craniocerebral firearm injuries: literature review, best practices in medical and surgical management, and case report D J Calame 1 2, M Riaz 3 Childs Nerv Syst 2023 Apr 27. doi: 10.1007/s00381-02305968-3. Online ahead of print. Affiliations expand PMID: 37100970 DOI: 10.1007/s00381-023-05968-3
Neurosurgical Consequences of e-Scooter Use: Strategies to Prevent Neurological Injury William McKay, 1 , * William Kerscher, 1 , 2 Muhammad Riaz, 1 and Alexander Mason 1 Neurotrauma Rep. 2023; 4(1): 218–224. Published online April 2023. doi: 10.1089/neur.2022.0073.PMCID: PMC10122265.PMID: 37095857
Early versus delayed flow diversion for ruptured intracranial aneurysms: A systematic review and meta-analysis: World Neurosurgery 2019, Jun; 126:41-52; Corresponding Author: Rimal Dossani Co-Authors: Devi P Patra, MD; Jennifer Kosty, MD; Fareed Jumah, MD; Okkes Kuybu, MD; Nasser Mohammad, MD; Muhammad Waqas, MBBS; Muhammad Riaz, MD; Hugo Cuellar, MD
Sovereign immunity and its implications for neurosurgery Neurosurg Focus 2020 Nov;49(5):E15. Rimal H Dossani, Muhammad Waqas, Michael J Meyer, Felix Chin, Hamid H Rai, Rameez Dossani, Anshara Munir Dossani, Muhammad Riaz.
Safety profile of superior petrosal vein (the vein of Dandy) sacrifice in neurosurgical procedures: a systematic review. International Journal of Surgery; Volume 26, February 2016, Pages 69-72. Narayan V1, Savardekar AR1, Patra DP1, Mohammed N1, Thakur JD1, Riaz M, Nanda A1.
Practice Locations
Denver Health
777 Bannock St
Denver
, CO
80204
303-436-6000
Children's Hospital Colorado - Colorado Springs
4090 Briargate Pkwy
Colorado Springs
, CO
80920
719-305-1234
Hospital Affiliation
University of Colorado Hospital
Denver Health Medical Center
Children's Hospital Colorado
Specialty Information
Conditions & Treatments
Brain and Nervous System
Brain and Nervous System - Brain Abscess
Brain and Nervous System - Brain Tumors
Brain and Nervous System - Chiari Malformation
Brain and Nervous System - Concussion Assessment
Brain and Nervous System - General Neurosurgery
Brain and Nervous System - Hydrocephalus
Brain and Nervous System - Meningitis
Brain and Nervous System - Trigeminal Neuralgia
Brain and Nervous System - Traumatic and Acquired Brain Injuries
Brain and Nervous System - Trauma / Nerve Injuries
Brain and Nervous System - Stroke
Brain and Nervous System - Spine Diseases and Conditions
Brain and Nervous System - Pituitary Disorders
Brain and Nervous System - Peripheral Nerve Repair
Spine
Spine - Cervical disc herniation
Spine - Cervical Myelopathy
Spine - Cervical spinal stenosis
Spine - Degenerative Disc Disease
Spine - Myelopathy
Spine - Lumbar spinal stenosis
Spine - Lumbar disc herniation
Spine - Radiculopathy
Spine - Sacroiliac Joint
Spine - Sciatica
Spine - Slipped Disc
Spine - Spinal tumors
Spine - Spondylolisthesis
Spine - Spondylolysis
Personal Interests
Pediatric brain tumors, congenital spinal anomalies, Selective dorsal root rhizomes, Moya Moya disease
Public Speaking
Yes
General Information
Fellowships
:
University of Colorado (Children's Hospital Colorado) Program, Neurological Surgery (2019)
Louisiana State University (Shreveport) Program, Neurological Surgery (2018)
Languages
:
English, Hindi, Urdu, Pashto
Department
:
Neurosurgery