Christodoulos Kaoutzanis, MD
Associate Professor, Surgery-Plastic/Reconstructive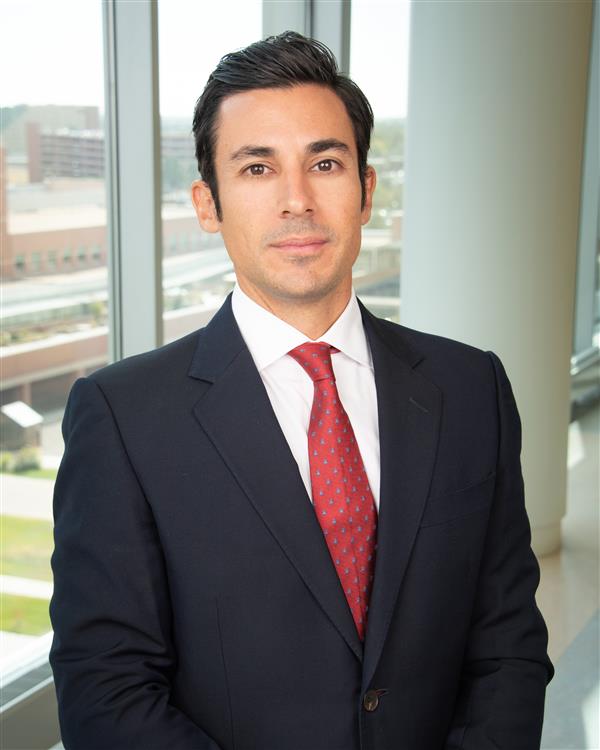 Medical School
:
MBBS, St. George's University of London (2008)
Residencies
:
Vanderbilt University Medical Center Program, Plastic Surgery (2018)
St Joseph Mercy Hospital Program, Surgery (2015)
Fellowships
:
New York University School of Medicine Program, Microsurgery (2019)
Languages
:
English, Greek
Department
:
Surgery-Plastic/Reconstructive
Professional Titles
Assistant Professor, Plastic & Reconstructive Surgery
Research Interests
I have a special interest in clinical outcomes research aiming to improve safety, patient outcomes, and patient satisfaction.
Publications
Rhee DH, Constantine RS, Colakoglu S, Karimpour-Fard A, Kaoutzanis C, Mathes DW, Chong TW. Clinical outcomes of intraoperative dopamine infusion for hypotensive patients during breast reconstruction with deep inferior epigastric perforator (DIEP) flaps. J Plast Reconstr Aesthet Surg. 2022 Sep;75(9):2982-2990. PubMed PMID: 35915016
Colakoglu S, Yang J, French MM, Winocour J, Um GT, Blumenauer B, Siddikoglu D, Mureau MAM, Chong T, Higdon K, Perdikis G, Inchauste SM, Kaoutzanis C, Mathes DW. Importance of Incidental Findings in Preoperative Computed Tomography Angiography for Abdominally Based Free Flap Breast Reconstruction: A Multi-Institutional Study. Plast Reconstr Surg. 2022 Sep 1;150(3):527-535. PubMed PMID: 35748758
Aravind P, Colakoglu S, Bhoopalam M, Ibrahim A, Mathes D, Kaoutzanis C, Mureau M, Reddy S. Perforator Characteristics and Impact on Postoperative Outcomes in DIEP Flap Breast Reconstruction: A Systematic Review and Meta-Analysis. J Reconstr Microsurg. 2022 Jun 17. [Epub ahead of print] PubMed PMID: 35714621
Makhoul AT, Morrison SD, Mundra LS, Kaoutzanis C, Satterwhite T, Winocour JS, Al Kassis S, Drolet BC. Improving Gender-Affirming Surgery Terminology: A Multicenter Patient Survey. Ann Plast Surg. 2022 Jun 1;88(5 Suppl 5):S478-S480. PubMed PMID: 35690942
Johnson AC, Colakoglu S, Siddikoglu D, Li A, Kaoutzanis C, Cohen JB, Chong TW, Mathes DW. Impact of Dermal Matrix Brand in Implant-Based Breast Reconstruction Outcomes. Plast Reconstr Surg. 2022 Jul 1;150(1):17-25. PubMed PMID: 35499525
Specialty Information
Specialties
Plastic Surgery, Board Certification
Surgery, Board Certification (2015)
Conditions & Treatments
Surgery
Surgery - Free flaps and limb salvage
Surgery - Plastic, Reconstructive and Aesthetic Surgery
Transgender Health
Surgery - Breast Surgery
Cancers - Breast Cancer
Cancers
Failed Prior Surgery
Surgery - Gender Affirmation Surgery
Clinical Interests
I perform both aesthetic and reconstructive surgery. My clinical areas of interest include breast reconstruction, aesthetic surgery, transgender surgery, and reconstructive microsurgery including the surgical management of lymphedema. Using the most advanced techniques I reconstruct oncologic, traumatic, and congenital defects throughout the body. I also perform cosmetic surgery of the face, eyes, neck, breasts, abdomen, body, and genitalia. In addition, I work very closely with a multidisciplinary team to provide the whole spectrum of gender-affirming surgeries (both feminizing and masculinizing).

Care Philosophy
I strive to provide safe, compassionate, comprehensive, and state of the art care in the most comfortable environment possible. It is important to treat all patients with dignity and respect, and recognize they are unique individuals with physical, psychosocial, and philosophical differences that may affect treatment choices. Working very closely with every patient to establish the best plan allows me to deliver exceptional personalized results that will meet each patient's goals and expectations.


General Information
Medical Schools
:
MBBS, St. George's University of London (2008)
Residency Programs
:
Vanderbilt University Medical Center Program, Plastic Surgery (2018)
St Joseph Mercy Hospital Program, Surgery (2015)
Fellowships
:
New York University School of Medicine Program, Microsurgery (2019)
Languages
:
English, Greek
Department
:
Surgery-Plastic/Reconstructive