Allison Hicks, MD
Assistant Professor, Pediatrics-Allergy/Immunology/Rheumatology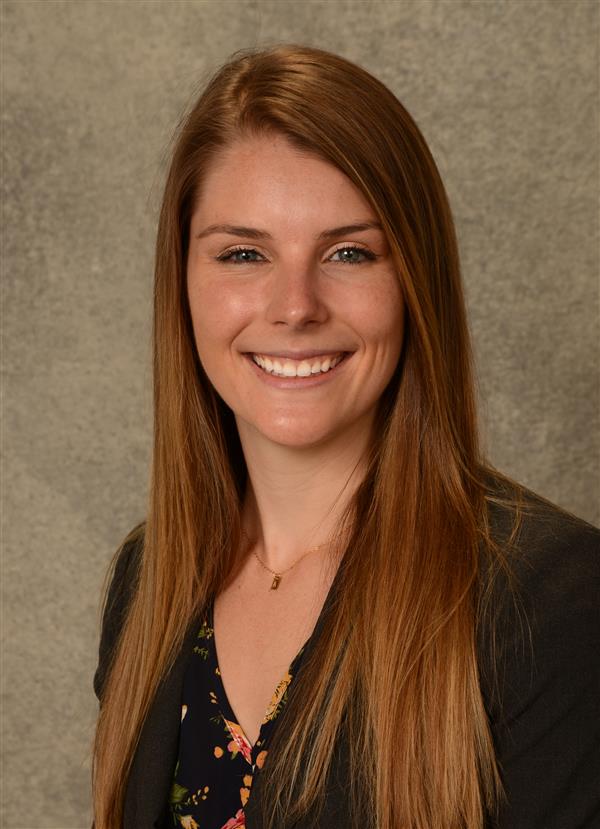 Medical School
:
MD, Creighton University School of Medicine (2014)
Undergraduate School
:
BA, University of Colorado - Boulder (CO) (2010)
Residency
:
University of Colorado (Children's Hospital Colorado) Program, Pediatrics (2017)
Fellowships
:
University of Colorado (Children's Hospital Colorado) Program, Allergy and Immunology (2019)
Department
:
Pediatrics-Allergy/Immunology/Rheumatology
Research Interests
Food Allergy, Drug Allergy, Quality Improvement, Patient Education
Publications
Hicks AG, Pickett K, Casale TB, Cassimos D, Elverson W, Gerdts J, Gray S, Jones C, LeBovidge J, Levin M, Mack DP, Minshall E, Nowak-Wegrzyn A, Pistiner M, Protudjer JL, Said M, Schaible A, Smith P, Vassilopoulou E, Venter C. Educational resources received by families after successful baked egg/baked milk oral food challenge -an international survey. J Allergy Clin Immunol Pract. 2022 Sep 29. [Epub ahead of print] PubMed PMID: 36184022
Tanverdi MS, Wiersma A, Kim KM, Hicks AG, Mistry RD. Anaphylaxis in Children. Pediatr Emerg Care. 2022 Sep 1;38(9):456-461. PubMed PMID: 36040466
Hicks A, Palmer C, Bauer M, Venter C. Accidental ingestions to known allergens by food allergic children and adolescents. Pediatr Allergy Immunol. 2021 Jun 6. [Epub ahead of print] PubMed PMID: 34091961
Bauer ME, MacBrayne C, Stein A, Searns J, Hicks A, Sarin T, Lin T, Duffey H, Rannie M, Wickstrom K, Yang C, Bajaj L, Carel K. A Multidisciplinary Quality Improvement Initiative to Facilitate Penicillin Allergy Delabeling Among Hospitalized Pediatric Patients. Hosp Pediatr. 2021 May;11(5):427-434. PubMed PMID: 33849960
Stein, Amy, et al. "Clinical Pathway to Increase Rates of Penicillin Allergy De-Labeling." Journal of Allergy and Clinical Immunology, vol. 145, no. 2, 2020, doi:10.1016/j.jaci.2019.12.664.
Specialty Information
Conditions & Treatments
Food, Nutrition and Metabolism - Food Allergies
Food, Nutrition and Metabolism
Immune System - Eczema
Immune System
Immune System - Rhinitis
Immune System - Urticaria (Hives)
Immune System - Anaphylaxis
Immune System - Angioedema
Immune System - Allergies
Lungs and Breathing - Asthma
Lungs and Breathing
Clinical Interests
My clinical interests span the specialty of Allergy and Immunology and in particular include food allergy, drug allergy, atopic dermatitis, allergic rhinitis and asthma.

Care Philosophy
I enjoy creating relationships with my patients and their families and becoming a partner in the treatment of their allergic diseases. I enjoy patient/parental education and strive to help my patients and families understand their diseases and my recommended treatments.


Personal Interests
I enjoy traveling, baking and cooking, gardening and exploring the great outdoors including hiking, snowshoeing and cross-country skiing.

Volunteer Activities
I serve on the Young Professional Board for the Colorado Ballet.


General Information
Medical Schools
:
MD, Creighton University School of Medicine (2014)
Undergraduate Schools
:
BA, University of Colorado - Boulder (CO) (2010)
Residency Programs
:
University of Colorado (Children's Hospital Colorado) Program, Pediatrics (2017)
Fellowships
:
University of Colorado (Children's Hospital Colorado) Program, Allergy and Immunology (2019)
Department
:
Pediatrics-Allergy/Immunology/Rheumatology