Tyler Robin, MD, PhD
Assistant Professor, Radiation Oncology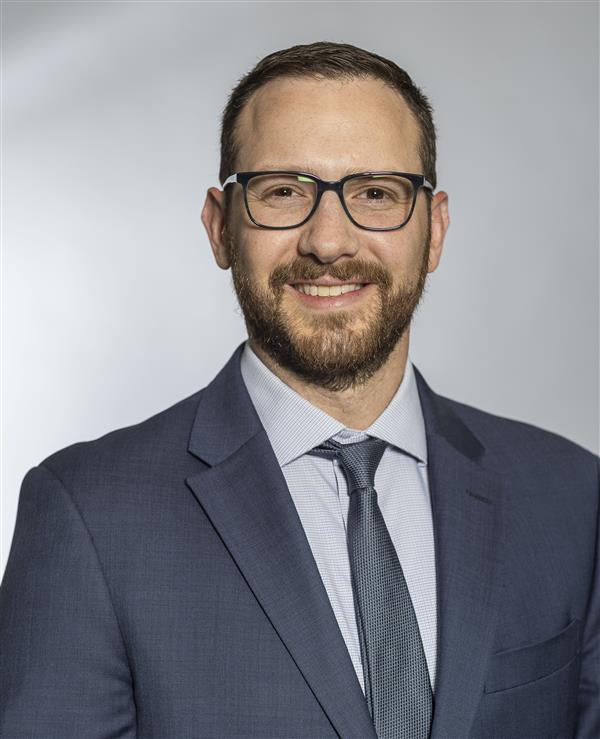 Medical School
:
MD, University of Colorado Denver School of Medicine
Graduate School
:
PhD, University of Colorado Health Sciences Center
Undergraduate School
:
BA, Colorado College (CO)
Residency
:
University of Colorado, Chief Resident, Radiation Oncology
Languages
:
English
Department
:
Radiation Oncology
Professional Titles
Assistant Professor, Radiation Oncology
Director of Genitourinary Radiation Oncology
Publications
Wandrey NE, Gao D, Robin TP, Contessa JN, Singh C, Chiang V, Li J, Chen A, Wang Y, Sheehan JP, Dutta SW, Weiss SE, Paly J, Rusthoven CG. Multicenter analysis of stereotactic radiosurgery for multiple brain metastases from EGFR and ALK driven non-small cell lung cancer. Lung Cancer. 2023 Feb;176:144-148. PubMed PMID: 36641932
Ladbury C, Li R, Shiao J, Liu J, Cristea M, Han E, Dellinger T, Lee S, Wang E, Fisher C, Chen YJ, Amini A, Robin T, Glaser S. Characterizing impact of positive lymph node number in endometrial cancer using machine-learning: A better prognostic indicator than FIGO staging?. Gynecol Oncol. 2022 Jan;164(1):39-45. PubMed PMID: 34794840
Zakem SJ, Cost CR, Cost NG, Robin TP, Milgrom SA. Brachytherapy in children, adolescents, and young adults: An underutilized modality in the United States?. Pediatr Blood Cancer. 2022 Mar;69(3):e29412. PubMed PMID: 34699136
Fakhoury KR, Schubert LK, Coyne MD, Aldridge W, Zeiler S, Stuhr K, Waxweiler TV, Robin TP, Schefter TE, Kavanagh BD, Nath SK. Practical Implementation of Emergent After-Hours Radiation Treatment Process Using Remote Treatment Planning on Optimized Diagnostic CT Scans. Cureus. 2022 Dec;14(12):e33100. PubMed PMID: 36721584
Schaeffer EM, Srinivas S, Adra N, An Y, Barocas D, Bitting R, Bryce A, Chapin B, Cheng HH, D'Amico AV, Desai N, Dorff T, Eastham JA, Farrington TA, Gao X, Gupta S, Guzzo T, Ippolito JE, Kuettel MR, Lang JM, Lotan T, McKay RR, Morgan T, Netto G, Pow-Sang JM, Reiter R, Roach M, Robin T, Rosenfeld S, Shabsigh A, Spratt D, Teply BA, Tward J, Valicenti R, Wong JK, Berardi RA, Shead DA, Freedman-Cass DA. NCCN Guidelines® Insights: Prostate Cancer, Version 1.2023. J Natl Compr Canc Netw. 2022 Dec;20(12):1288-1298. PubMed PMID: 36509074
Specialty Information
Specialties
Radiation Oncology, Board Certification
Conditions & Treatments
Cancers
Cancers - Brachytherapy
Cancers - Cervical Cancer
Cancers - Bladder Cancer
Cancers - Gynecologic Cancer
Cancers - Uterine Cancer
Cancers - Urologic Cancer
Cancers - Radiation Therapy
Cancers - Prostate Cancer
Cancers - Kidney Cancer
Cancers - Colorectal Cancer
Cancers - Anal Cancer
Clinical Interests
Genitourinary cancers including prostate, bladder, and kidney cancer; Gynecologic cancers including cervical cancer, uterine cancer, vulvar cancer, and vaginal cancer; Brachytherapy; Stereotactic Body Radiation Therapy (SBRT); Stereotactic Radiosurgery (SRS)

Care Philosophy
I am committed to providing personalized, compassionate, patient-centered care, and I strive to prioritize effective communication and shared decision-making with patients and their families.


General Information
Medical Schools
:
MD, University of Colorado Denver School of Medicine (0001)
Graduate Schools
:
PhD, University of Colorado Health Sciences Center (0001)
Undergraduate Schools
:
BA, Colorado College (CO) (0001)
Residency Programs
:
University of Colorado, Chief Resident, Radiation Oncology (0001)
Languages
:
English
Department
:
Radiation Oncology