David Douin, MD
Assistant Professor, Anesthesiology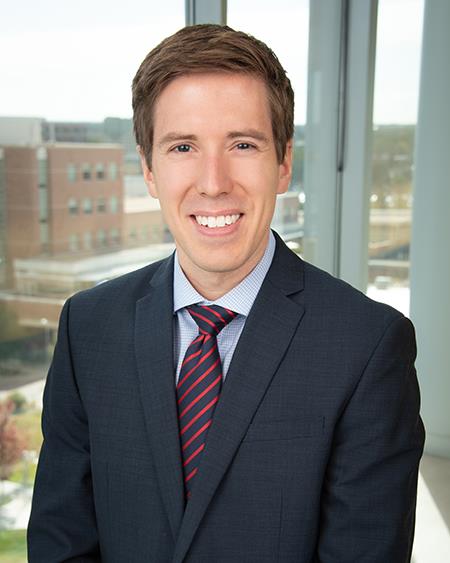 Medical School
:
MD, Tufts University School of Medicine (2014)
Undergraduate School
:
BS, Bucknell University (PA) (2010)
Residency
:
University of Colorado, Anesthesiology (2018)
Fellowships
:
University of Colorado, Critical Care Medicine (2019)
Languages
:
English
Department
:
Anesthesiology
Professional Titles
Assistant Professor, Department of Anesthesiology
Recognition & Awards
Rising Star Research Award, University of Colorado (2022)
UCHealth Values in Action Peer-Recognized Award, University of Colorado Health (UCHealth) (2021)
Commended for expert handling of an extremely challenging clinical situation
Outstanding Teacher of the Year, 2019-2020, Department of Anesthesiology (2020)
Research Interests
My research focuses on epidemiological and clinical trials of critically ill patients, particularly on oxygen delivery, transfusion, and injured/trauma patients. I have extensive experience designing, overseeing, and implementing multicenter randomized clinical trials in critical care environments, particularly in acute respiratory failure, oxygen delivery, and traumatic injury. I have been the site Co-PI of two trials assessing the effects of hyperoxemia in critically injured trauma (NCT04534959) and burn (NCT04534972) patients. National leadership in clinical trials networks includes the NIH Accelerating COVID-19 Therapeutic Interventions and Vaccines (ACTIV)-3/4 and the CDC-funded Investigating Respiratory Viruses in the Acutely Ill (IVY). Funding for my research includes NIH (NIGMS), DoD, and CDC. I have published over 45 original research articles in leading medical journals.
Teaching
Director, Critical Care Ground Rounds (2022)
School of Medicine, Anesthesiology
Director, Anesthesia Rotation for Emergency Medicine Critical Care Fellows (2020)
School of Medicine, Anesthesiology
Publications
Douin DJ, Fernandez-Bustamante A. Adjust Intraoperative Oxygen Therapy for Oxygenation Reasons Only!. Anesthesiology. 2023 Jan 1;138(1):10-12. PubMed PMID: 36520076
Lewis NM, Murray N, Adams K, Surie D, Gaglani M, Ginde AA, McNeal T, Ghamande S, Douin DJ, Talbot HK, Casey JD, Mohr NM, Zepeski A, Shapiro NI, Gibbs KW, Files DC, Hager DN, Ali H, Prekker ME, Frosch AE, Exline MC, Gong MN, Mohamed A, Johnson NJ, Srinivasan V, Steingrub JS, Peltan ID, Brown SM, Martin ET, Monto AS, Lauring AS, Khan A, Hough CL, Busse LW, Bender W, Duggal A, Wilson JG, Gordon AJ, Qadir N, Chang SY, Mallow C, Rivas C, Babcock HM, Kwon JH, Chappell JD, Halasa N, Grijalva CG, Rice TW, Stubblefield WB, Baughman A, Lindsell CJ, Hart KW, Rhoads JP, McMorrow ML, Tenforde MW, Self WH, Patel MM. Absolute and Relative Vaccine Effectiveness of Primary and Booster Series of COVID-19 Vaccines (mRNA and Adenovirus Vector) Against COVID-19 Hospitalizations in the United States, December 2021-April 2022. Open Forum Infect Dis. 2023 Jan;10(1):ofac698. PubMed PMID: 36695662
Siddiqui S, Warner MA, Kelly L, Monteith E, Douin DJ, Mladinov D, Shaefi S, Stevens RD, Tung A, Sladen RN. Determinants of Professional Fulfillment and Burnout Among Intensivists: A National Survey by the Society of Critical Care Anesthesiologists in 2022. Anesth Analg. 2023 Feb 15. [Epub ahead of print] PubMed PMID: 36791019
Tenforde MW, Patel MM, Gaglani M, Ginde AA, Douin DJ, Talbot HK, Casey JD, Mohr NM, Zepeski A, McNeal T, Ghamande S, Gibbs KW, Files DC, Hager DN, Shehu A, Prekker ME, Erickson HL, Gong MN, Mohamed A, Johnson NJ, Srinivasan V, Steingrub JS, Peltan ID, Brown SM, Martin ET, Monto AS, Khan A, Hough CL, Busse LW, Duggal A, Wilson JG, Qadir N, Chang SY, Mallow C, Rivas C, Babcock HM, Kwon JH, Exline MC, Botros M, Lauring AS, Shapiro NI, Halasa N, Chappell JD, Grijalva CG, Rice TW, Jones ID, Stubblefield WB, Baughman A, Womack KN, Rhoads JP, Lindsell CJ, Hart KW, Zhu Y, Naioti EA, Adams K, Lewis NM, Surie D, McMorrow ML, Self WH. Effectiveness of a Third Dose of Pfizer-BioNTech and Moderna Vaccines in Preventing COVID-19 Hospitalization Among Immunocompetent and Immunocompromised Adults - United States, August-December 2021. MMWR Morb Mortal Wkly Rep. 2022 Jan 28;71(4):118-124. PubMed PMID: 35085218
Lewis NM, Naioti EA, Self WH, Ginde AA, Douin DJ, Keipp Talbot H, Casey JD, Mohr NM, Zepeski A, Gaglani M, Ghamande SA, McNeal TA, Shapiro NI, Gibbs KW, Clark Files D, Hager DN, Shehu A, Prekker ME, Erickson HL, Gong MN, Mohamed A, Henning DJ, Steingrub JS, Peltan ID, Brown SM, Martin ET, Hubel K, Hough CL, Busse LW, Ten Lohuis CC, Duggal A, Wilson JG, Gordon AJ, Qadir N, Chang SY, Mallow C, Rivas C, Babcock HM, Kwon JH, Exline MC, Halasa N, Chappell JD, Lauring AS, Grijalva CG, Rice TW, Rhoads JP, Stubblefield WB, Baughman A, Womack KN, Lindsell CJ, Hart KW, Zhu Y, Schrag SJ, Kobayashi M, Verani JR, Patel MM, Tenforde MW. Effectiveness of mRNA Vaccines Against COVID-19 Hospitalization by Age and Chronic Medical Conditions Burden Among Immunocompetent US Adults, March-August 2021. J Infect Dis. 2022 May 16;225(10):1694-1700. PubMed PMID: 34932114
Specialty Information
Specialties
Critical Care Medicine, Board Certification (2019)
Anesthesiology, Board Certification (2019)
Conditions & Treatments
Clinical Interests
Anesthesiology Critical Care Medicine


Public Speaking
Yes
Oxygenation Targets in Critically Ill Patients
General Information
Medical Schools
:
MD, Tufts University School of Medicine (2014)
Undergraduate Schools
:
BS, Bucknell University (PA) (2010)
Residency Programs
:
University of Colorado, Anesthesiology (2018)
Fellowships
:
University of Colorado, Critical Care Medicine (2019)
Languages
:
English
Department
:
Anesthesiology