Bridget Graney, MD
Assistant Professor, Medicine-Pulmonary Sciences & Critical Care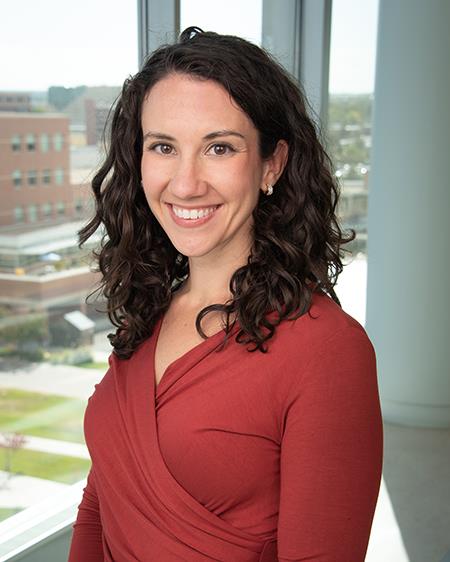 Medical School
:
MD, University of Nebraska College of Medicine
Undergraduate School
:
BS, Northwestern University (IL)
Internship
:
Indiana University School of Medicine Program
Residency
:
Indiana University School of Medicine Program, Chief Resident, Internal Medicine - Pediatrics
Fellowships
:
University of Colorado, Pulmonary Disease and Critical Care Medicine
Department
:
Medicine-Pulmonary Sciences & Critical Care
Research Interests
My research goals are to improve quality of life for patients living with interstitial lung disease and their caregivers. To achieve this goal, I am trying to understand the impact of caregiver burden in this disease and implement a caregiver-based intervention to lessen caregiver burden. By lessening caregiver burden, we may improve outcomes including quality of life for both caregivers and patients.
Publications
Portz JD, Graney BA, Bekelman DB. "Made Me Realize That Life Is Worth Living": A Qualitative Study of Patient Perceptions of a Primary Palliative Care Intervention. J Palliat Med. 2022 Jan;25(1):28-38. PubMed PMID: 34264752
Graney BA, He C, Marll M, Matson S, Bianchi P, Cosgrove GP, Lee JS. Essential Components of an Interstitial Lung Disease Clinic: Results From a Delphi Survey and Patient Focus Group Analysis. Chest. 2020 Oct 5. [Epub ahead of print] PubMed PMID: 33031832
Jacobs SS, Krishnan JA, Lederer DJ, Ghazipura M, Hossain T, Tan AM, Carlin B, Drummond MB, Ekström M, Garvey C, Graney BA, Jackson B, Kallstrom T, Knight SL, Lindell K, Prieto-Centurion V, Renzoni EA, Ryerson CJ, Schneidman A, Swigris J, Upson D, Holland AE. Home Oxygen Therapy for Adults with Chronic Lung Disease. An Official American Thoracic Society Clinical Practice Guideline. Am J Respir Crit Care Med. 2020 Nov 15;202(10):e121-e141. PubMed PMID: 33185464
Graney BA, Au DH, Barón AE, Cheng A, Combs SA, Glorioso TJ, Paden G, Parsons EC, Rabin BA, Ritzwoller DP, Stonecipher JJ, Turvey C, Welsh CH, Bekelman DB. Advancing Symptom Alleviation with Palliative Treatment (ADAPT) trial to improve quality of life: a study protocol for a randomized clinical trial. Trials. 2019 Jun 13;20(1):355. PubMed PMID: 31196156
Graney BA, Fischer A. Interstitial Pneumonia with Autoimmune Features. Ann Am Thorac Soc. 2019 May;16(5):525-533. PubMed PMID: 30695649
Specialty Information
Specialties
Pulmonary Disease, Board Certification
Critical Care Medicine, Board Certification
Internal Medicine, Board Certification
Pediatrics, Board Certification
Conditions & Treatments
Lungs and Breathing - Granulomatous Lung Disease
Lungs and Breathing
Lungs and Breathing - Interstitial Lung Disease
Clinical Interests
My clinical interests include a focus on the diagnosis and management of interstitial lung diseases. This encompasses over 100 rare lung diseases with idiopathic pulmonary fibrosis, autoimmune or connective tissue disease-related interstitial lung disease and hypersensitivity pneumonitis being the most common. Other rare ILDs including cystic lung disease, other occupational and environmental lung diseases, vasculitis, etc are also encompassed in the care of patients with ILD.

Care Philosophy
I believe that working with patients and their families or other support systems is a huge privilege, and I strive to practice patient-centered care at all times. Specifically, I try to ensure I not only address the clinical or medical aspects of care, but also the emotional, mental, spiritual and social impacts of these diseases. Working in collaboration with patients and families through shared decision-making, valuing patient preferences and working together with patients and families in a team approach are my top priorities.


General Information
Medical Schools
:
MD, University of Nebraska College of Medicine (0001)
Undergraduate Schools
:
BS, Northwestern University (IL) (0001)
Internships
:
Indiana University School of Medicine Program (0001)
Residency Programs
:
Indiana University School of Medicine Program, Chief Resident, Internal Medicine - Pediatrics (0001)
Fellowships
:
University of Colorado, Pulmonary Disease and Critical Care Medicine (0001)
Department
:
Medicine-Pulmonary Sciences & Critical Care