Andrew Novick, MD, PhD
Assistant Professor, Psychiatry-Other CI Services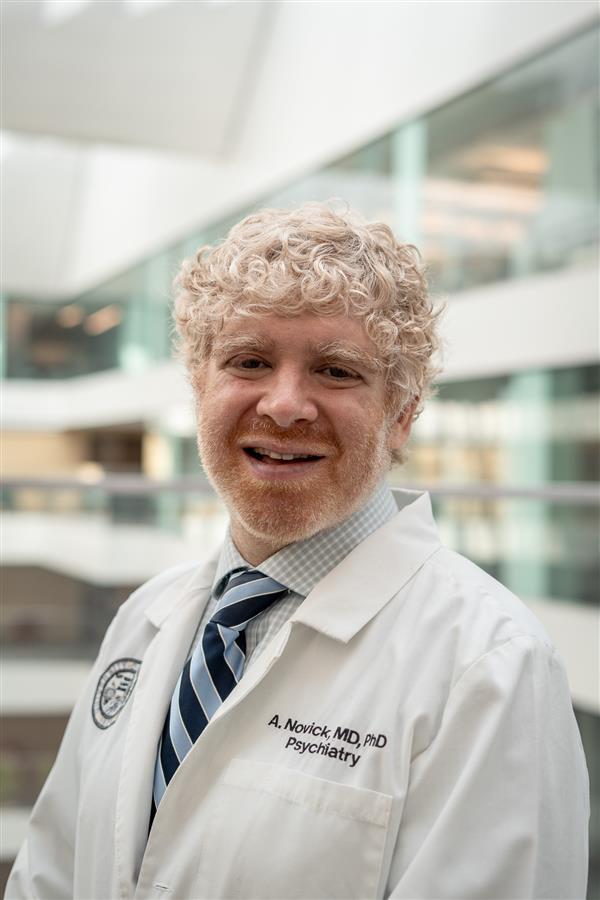 Medical School
:
MD, Sanford School of Medicine The University of South Dakota (2015)
Graduate School
:
PhD, University of South Dakota, The (2015)
Undergraduate School
:
BS, University of the Sciences in Philadelphia (PA) (2008)
Residency
:
Brown University (Butler Hospital) Program, Psychiatry (2019)
Languages
:
English
Department
:
Psychiatry-Other CI Services
Recognition & Awards
Travel Award Fellowship, Society of Biological Psychiatry (2022)
Emerging Scholar Travel Award, National Network of Depression Centers (2022)
Martin B. Keller Award for Most Outstanding Graduating Resident, Department of Psychiatry, Brown University (2019)
NNCI Scholar, National Neuroscience Curriculum Initiative (2018)
Research Interests
My research interests are divided into two main areas: 1) Understanding the effects of sex steroids on the brain 2) Evaluating novel drug therapies for psychiatric disorders, specifically psychedelics. I am currently testing the effects of an oral birth control pill on brain functions related to mood, motivation, and pleasure. I am also principal investigator on a planned study to evaluate the effects of the psychedelic drug, psilocybin, in treatment-resistant Major Depressive Disorder.
Publications
ElSayed MW, Novick AM, Cooper JJ, Ross DA. The Sweet Taste of Progress-The Evolving Role of Electroencephalography in Psychiatry. Biol Psychiatry. 2023 Apr 15;93(8):e21-e23. PubMed PMID: 36948760
Kyzar EJ, Novick AM, Ross DA. The Hidden Side of Addiction: Allostatic Load, Health Disparities, and Opioids in the Time of COVID. Biol Psychiatry. 2023 Jun 15;93(12):e57-e59. PubMed PMID: 37257984
Novick AM, Duffy KA, Johnson RL, Sammel MD, Cao W, Strasser AA, Sofuoglu M, Kuzma A, Loughead J, Morrow AL, Epperson CN. Effect of progesterone administration in male and female smokers on nicotine withdrawal and neural response to smoking cues: role of progesterone conversion to allopregnanolone. Biol Sex Differ. 2022 Oct 23;13(1):60. PubMed PMID: 36274158
Lebin LG, Novick AM. Selective Serotonin Reuptake Inhibitors (SSRIs) in Pregnancy: An Updated Review on Risks to Mother, Fetus, and Child. Curr Psychiatry Rep. 2022 Nov;24(11):687-695. PubMed PMID: 36181572
Novick AM, Kwitowski M, Dempsey J, Cooke DL, Dempsey AG. Technology-Based Approaches for Supporting Perinatal Mental Health. Curr Psychiatry Rep. 2022 Sep;24(9):419-429. PubMed PMID: 35870062
Specialty Information
Specialties
Psychiatry, Board Certification (2019)
Conditions & Treatments
Women's Health
Mental Health and Behavior
Transgender Health
Clinical Interests
My main clinical focus is on women's behavioral health. This includes treatment of women both during pregnancy and directly following delivery, as well as during the menopausal transition. I enjoy providing integrative treatment that takes into account an individual's hormonal status, past experiences, and current challenges.

Care Philosophy
I believe in providing care that: 1) Is tailored to the unique experiences and biology of the individual; 2) Is grounded in scientific evidence; 3) Promotes healthy individual development throughout the lifespan.


General Information
Medical Schools
:
MD, Sanford School of Medicine The University of South Dakota (2015)
Graduate Schools
:
PhD, University of South Dakota, The (2015)
Undergraduate Schools
:
BS, University of the Sciences in Philadelphia (PA) (2008)
Residency Programs
:
Brown University (Butler Hospital) Program, Psychiatry (2019)
Languages
:
English
Department
:
Psychiatry-Other CI Services