Katrina Claw, PhD
Assistant Professor, Biomedical Informatics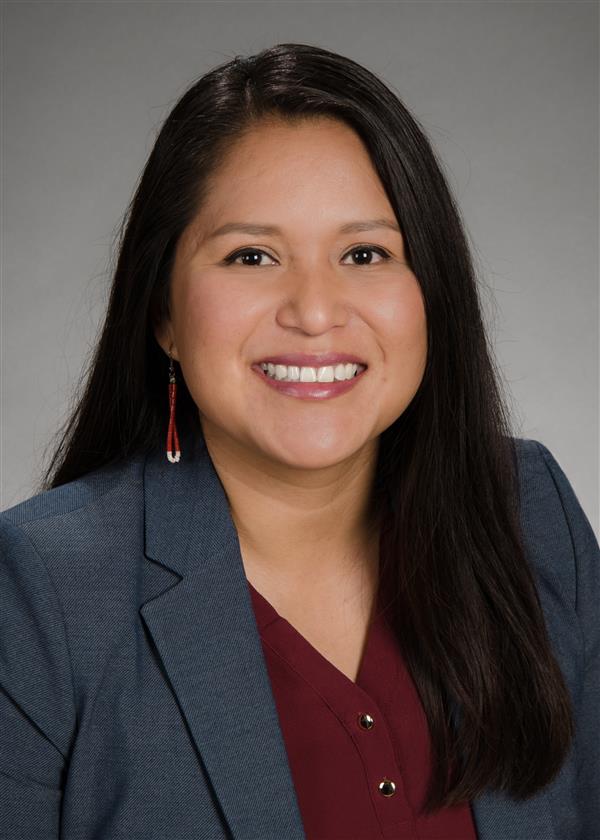 Graduate School
:
PhD, University of Washington (2013)
Undergraduate Schools
:
BS, Arizona State University (AZ) (2006)
BA, Arizona State University (AZ) (2006)
Languages
:
English, Navajo
Department
: Biomedical Informatics
Recognition & Awards
Genomic Innovator Award, NHGRI (2020)
Pharmacogenomic approaches to drug metabolism in American Indian/Alaska Native People
Research Interests
My research focuses broadly on personalizing medicine, using genetic information and biomarkers for tailored treatment, in relation to pharmacogenomics as well as understanding the ethical, cultural, and social implications of genomic research with populations historically underrepresented in health research. My current research includes studying cytochrome P450 genetic variation in Indigenous communities (e.g., American Indian and Alaska Native peoples), with a focus on CYP2A6 variation in relation to nicotine metabolism and smoking cessation, as well as understanding the ways in which adaptations to diverse local environments may have impacted modern pharmacogenomic variation and evolutionary medicine. My other projects include exploring the perspectives of tribal members on genetic research with tribes and developing guidelines and policies in partnership with tribes. All of my projects strive to use community based participatory research approach and include cultural and Indigenous knowledge.
Publications
El-Boraie A, Tanner JA, Zhu AZX, Claw KG, Prasad B, Schuetz EG, Thummel KE, Fukunaga K, Mushiroda T, Kubo M, Benowitz NL, Lerman C, Tyndale RF. Functional characterization of novel rare CYP2A6 variants and potential implications for clinical outcomes. Clin Transl Sci. 2022 Jan;15(1):204-220. PubMed PMID: 34476898
Fleskes RE, Bader AC, Tsosie KS, Wagner JK, Claw KG, Garrison NA. Ethical Guidance in Human Paleogenomics: New and Ongoing Perspectives. Annu Rev Genomics Hum Genet. 2022 Aug 31;23:627-652. PubMed PMID: 35537469
El-Boraie A, Tanner JA, Zhu AZX, Claw KG, Prasad B, Schuetz EG, Thummel KE, Fukunaga K, Mushiroda T, Kubo M, Benowitz NL, Lerman C, Tyndale RF. Functional characterization of novel rare CYP2A6 variants and potential implications for clinical outcomes. Clin Transl Sci. 2022 Jan;15(1):204-220. PubMed PMID: 34476898
Fohner AE, Dalton R, Skagen K, Jackson K, Claw KG, Hopkins SE, Robinson R, Khan BA, Prasad B, Schuetz EG, Nickerson DA, Thornton TA, Dillard DA, Boyer BB, Thummel KE, Woodahl EL. Characterization of CYP3A pharmacogenetic variation in American Indian and Alaska Native communities, targeting CYP3A4*1G allele function. Clin Transl Sci. 2021 Jan 27. [Epub ahead of print] PubMed PMID: 33503331
Claw KG, Dundas N, Parrish MS, Begay RL, Teller TL, Garrison NA, Sage F. Perspectives on Genetic Research: Results From a Survey of Navajo Community Members. Front Genet. 2021;12:734529. PubMed PMID: 34925442
General Information
Graduate Schools
:
PhD, University of Washington (2013)
Undergraduate Schools
:
BS, Arizona State University (AZ) (2006)
BA, Arizona State University (AZ) (2006)
Languages
:
English, Navajo
Department
: Biomedical Informatics