Amy Fenoglio, MD
Assistant Professor, Orthopedics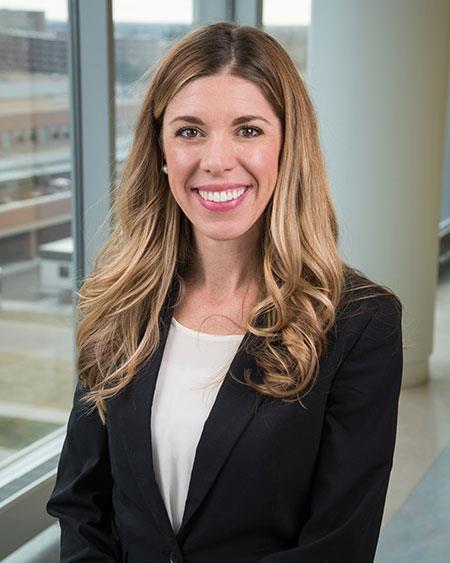 Medical School
:
MD, Vanderbilt University School of Medicine (2010)
Undergraduate School
:
BS, Indiana University–Bloomington (IN) (2005)
Residency
:
Yale-New Haven Medical Center Program, Orthopedics (2016)
Fellowships
:
University of Utah Medical Center Program, Hand Surgery (2017)
Shriners Hospital for Children (Northern California), Hand Surgery (2018)
Languages
:
English
Department
:
Orthopedics
Professional Titles
Hand & Upper Extremity Surgeon
Teaching
Assistant Professor, Orthopedic Hand Surgery (2018)
School of Medicine, Orthopedics
Publications
Fenoglio AK, Stephens AR, Zhang C, Presson AP, Tyser AR, Kazmers NH. Evaluating the Utility of Follow-up Radiographs for Isolated Radial Head Fractures Undergoing Initial Nonoperative Treatment. J Orthop Trauma. 2019 Aug;33(8):e291-e295. PubMed PMID: 31335568
"Radial Wrist Pain." Review article in progress.
Specialty Information
Specialties
Hand Surgery, Board Certification
Conditions & Treatments
Bones, Joints and Muscles
Bones, Joints and Muscles - Osteoarthritis of the Hand
Bones, Joints and Muscles - Trigger Finger
Bones, Joints and Muscles - Dupuytren's Disease
Bones, Joints and Muscles - Carpal Tunnel Syndrome
Surgery - Hand Surgery
Surgery
Surgery - Wrist fractures
Clinical Interests
Orthopedic upper extremity injuries and disorders.

Care Philosophy
Amy K. Fenoglio, M.D. is board certified orthopedic surgeon and fellowship-trained specialist in hand and upper extremity surgery. She is an Assistant Professor of Orthopedic Surgery at the University of Colorado with a clinical practice located in the northern Denver regions of Broomfield and Boulder. Her care philosophy is to provide a patient-centered approach that combines communication, compassion, and evidence-based medical decision making.


Personal Interests
As an outdoors enthusiast, I am thrilled to be a part of the Colorado community. In my spare time, I can most often be found exploring the mountains with my 120-lb Bernese mountain dog.


General Information
Medical Schools
:
MD, Vanderbilt University School of Medicine (2010)
Undergraduate Schools
:
BS, Indiana University–Bloomington (IN) (2005)
Residency Programs
:
Yale-New Haven Medical Center Program, Orthopedics (2016)
Fellowships
:
University of Utah Medical Center Program, Hand Surgery (2017)
Shriners Hospital for Children (Northern California), Hand Surgery (2018)
Languages
:
English
Department
:
Orthopedics