Jenna Demedis, MD
Assistant Professor, Pediatrics-Heme/Onc and Bone Marrow Transplantation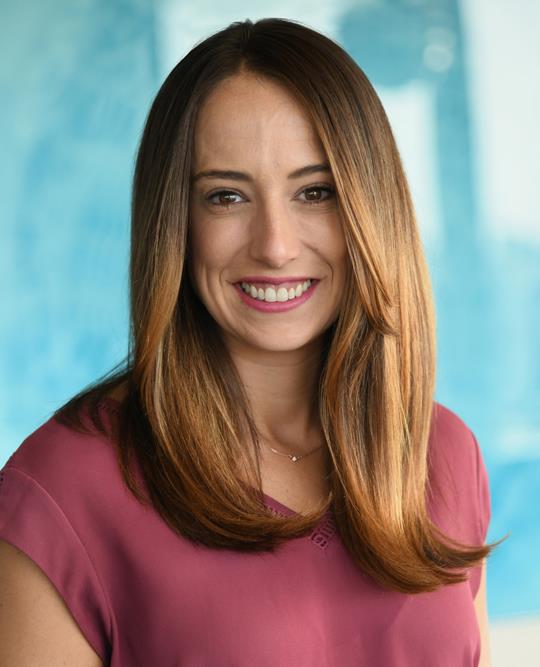 Medical School
:
MD, Vanderbilt University School of Medicine (2012)
Graduate School
:
MSCS, University of Colorado Denver (2018)
Undergraduate School
:
BS, University of California–Los Angeles (CA) (2008)
Residency
:
University of Colorado (Children's Hospital Colorado) Program, Pediatrics (2015)
Fellowships
:
University of Colorado (Children's Hospital Colorado) Program, Pediatric Hematology / Oncology (2018)
Department
:
Pediatrics-Heme/Onc and Bone Marrow Transplantation
Professional Titles
Assistant Professor of Pediatrics
Research Interests
My research interests are in pediatric oncology outcomes, late effects, and patient quality of life.
Publications
Sopfe J, Marsh R, Frederick NN, Klosky JL, Chow EJ, Dorsey Holliman B, Peterson PN. Adolescent and young adult childhood cancer survivors' preferences for screening and education of sexual function. Pediatr Blood Cancer. 2021 Jul 10;:e29229. [Epub ahead of print] PubMed PMID: 34245209
Sopfe J, Pettigrew J, Afghahi A, Appiah LC, Coons HL. Interventions to Improve Sexual Health in Women Living with and Surviving Cancer: Review and Recommendations. Cancers (Basel). 2021 Jun 24;13(13). PubMed PMID: 34202477
Bodlak A, Chang K, Channel J, Treece AL, Donaldson N, Cost CR, Garrington TP, Greffe B, Luna-Fineman S, Sopfe J, Loeb DM, Hayashi M. Circulating Plasma Tumor DNA Is Superior to Plasma Tumor RNA Detection in Ewing Sarcoma Patients: ptDNA and ptRNA in Ewing Sarcoma. J Mol Diagn. 2021 Jul;23(7):872-881. PubMed PMID: 33887462
Sopfe J, Marsh R, Ziniel SI, Klosky JL, Chow EJ, Dorsey Holliman B, Peterson PN. Evaluation of the v2.0 Brief Profiles for Sexual Function and Satisfaction PROMIS in Adolescent and Young Adult Childhood Cancer Survivors. J Adolesc Young Adult Oncol. 2021 Aug;10(4):418-424. PubMed PMID: 33136468
Macaruso N, Campbell K, Cost C, Sopfe J. Provider Documentation of Tinnitus in Childhood Cancer Survivors. J Pediatr Hematol Oncol. 2021 Jul 1;43(5):e642-e647. PubMed PMID: 33065711
Specialty Information
Specialties
Pediatric Hematology / Oncology, Board Certification
Clinical Interests
My focus is on taking care of children, adolescents and young adults with pediatric solid tumors of all types, as well as caring for survivors of pediatric cancers.

Care Philosophy
The privilege of being a part of a patient's and family's lives at such a difficult time is something that I take very seriously. While my ultimate goal as an oncologist is to cure my patients of their cancers, I strongly believe in the importance of considering each child and family's whole experience through this difficult journey. It is our duty to work toward reducing harmful side effects both during and after treatment and I strive to consider these short and long term effects at every interaction.


General Information
Medical Schools
:
MD, Vanderbilt University School of Medicine (2012)
Graduate Schools
:
MSCS, University of Colorado Denver (2018)
Undergraduate Schools
:
BS, University of California–Los Angeles (CA) (2008)
Residency Programs
:
University of Colorado (Children's Hospital Colorado) Program, Pediatrics (2015)
Fellowships
:
University of Colorado (Children's Hospital Colorado) Program, Pediatric Hematology / Oncology (2018)
Department
:
Pediatrics-Heme/Onc and Bone Marrow Transplantation