Laura Foster, MD
Assistant Professor, Neurology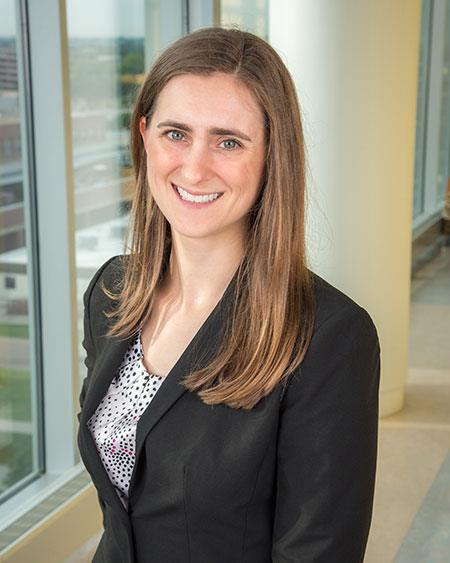 Medical School
:
MD, Loma Linda University School of Medicine
Internship
:
University of Minnesota Program
Residency
:
University of Minnesota Program, Neurology
Fellowships
:
Brigham and Women's Hospital/Massachusetts General Hospital/Harvard Medical School Program, Neuromuscular Medicine
Brigham and Women's Hospital/Massachusetts General Hospital/Dana-Farber Cancer Institute Program, Hospice and Palliative Medicine
Languages
:
English
Department
:
Neurology
Teaching
Assistant Professor (2018)
School of Medicine, Neurology
Publications
Kluger BM, Kramer NM, Katz M, Galifianakis NB, Pantilat S, Long J, Vaughan CL, Foster LA, Creutzfeldt CJ, Holloway RG, Sillau S, Hauser J. Development and Dissemination of a Neurology Palliative Care Curriculum: Education in Palliative and End-of-Life Care Neurology. Neurol Clin Pract. 2022 Apr;12(2):176-182. PubMed PMID: 35747891
Paganoni S, Berry JD, Quintana M, Macklin E, Saville BR, Detry MA, Chase M, Sherman AV, Yu H, Drake K, Andrews J, Shefner J, Chibnik LB, Vestrucci M, Cudkowicz ME. Adaptive Platform Trials to Transform Amyotrophic Lateral Sclerosis Therapy Development. Ann Neurol. 2022 Feb;91(2):165-175. PubMed PMID: 34935174
Sethi A, Everett E, Mehta A, Besbris J, Burke C, Pedowitz E, Kilpatrick M, Foster L, Maiser S. The Role of Specialty Palliative Care for Amyotrophic Lateral Sclerosis. Am J Hosp Palliat Care. 2022 Jul;39(7):865-873. PubMed PMID: 34583569
Foster LA. Neuromuscular Notes: Amyotrophic Lateral Sclerosis Symptomatic Care. Practical Neurology. Jan 2022.
Brackett H, Forman A, Foster LA, Fischer SM. Compassionate Removal of Heated High-Flow Nasal Cannula for End of Life: Case Series and Protocol Development. J Hosp Palliat Nurs. 2021 Aug 1;23(4):360-366. PubMed PMID: 34081632
Practice Locations
UCHealth Neurosciences Center - Anschutz Medical Campus
1635 Aurora Ct
4th Floor
Aurora
, CO
80045
720-848-2080
Specialty Information
Specialties
Hospice and Palliative Medicine
Neuromuscular Medicine
Neurology
Clinical Interests
My clinical interest is to help patients navigate serious illness, particularly those with ALS and neurologic complications of cancer treatment.


General Information
Medical Schools
:
MD, Loma Linda University School of Medicine (0001)
Internships
:
University of Minnesota Program (0001)
Residency Programs
:
University of Minnesota Program, Neurology (0001)
Fellowships
:
Brigham and Women's Hospital/Massachusetts General Hospital/Harvard Medical School Program, Neuromuscular Medicine (0001)
Brigham and Women's Hospital/Massachusetts General Hospital/Dana-Farber Cancer Institute Program, Hospice and Palliative Medicine (0001)
Languages
:
English
Department
:
Neurology