Marco Del Chiaro, MD
Professor, Surgery-Surgical Oncology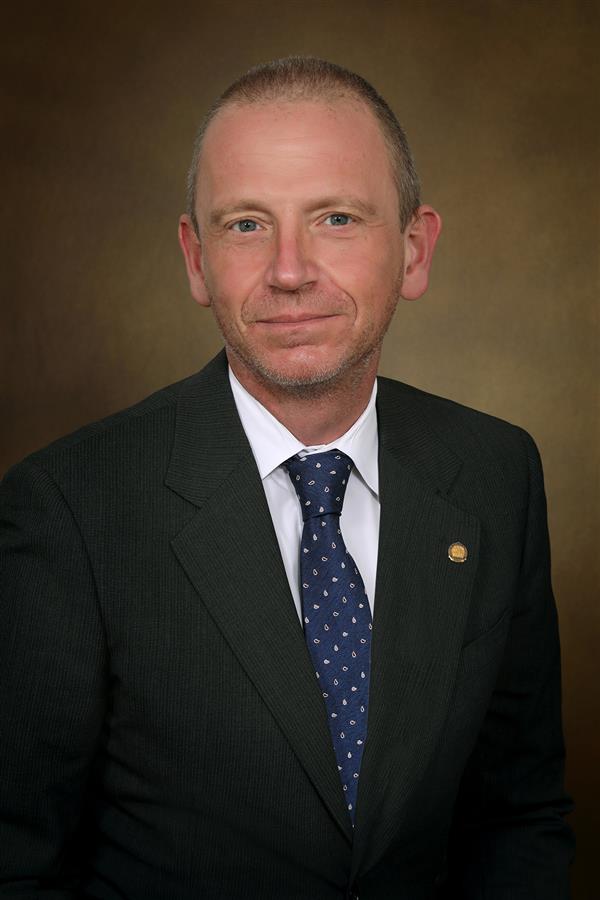 Medical School
:
MD, University of Pisa, Italy (1997)
Languages
:
English, Italian, Swedish, French
Department
:
Surgery-Surgical Oncology
Professional Titles
Division Chief, Surgical Oncology
Clinical Director, Hepato-Pancreato-Biliary Program
Teaching
Professor (2018)
School of Medicine, Surgery
Pancreas, Liver, Stomach, Adrenal, Colorectal, Sarcoma, Cancer Surgery, Immunotherapy
Publications
Oba A, Wu YHA, Colborn KL, Karam SD, Meguid C, Al-Musawi MH, Bao QR, Gleisner AL, Ahrendt S, Schulick RD, Del Chiaro M. Comparing neoadjuvant chemotherapy with or without radiation therapy for pancreatic ductal adenocarcinoma: National Cancer Database cohort analysis. Br J Surg. 2022 Feb 8. [Epub ahead of print] PubMed PMID: 35136963
Valente R, Zarantonello L, Del Chiaro M, Vujasinovic M, Baldaque Silva F, Scandavini CM, Rangelova E, Vespasiano F, Anzillotti G, Löhr JM, Arnelo U. Lumen apposing metal stents vs double pigtail plastic stents for the drainage of pancreatic walled-off necrosis. Minerva Gastroenterol (Torino). 2022 Feb 3. [Epub ahead of print] PubMed PMID: 35112820
Stoop TF, Ghorbani P, Scholten L, Bergquist E, Ateeb Z, van Dieren S, Holmberg M, Besselink MG, Sparrelid E, Del Chiaro M. Total pancreatectomy as an alternative to high-risk pancreatojejunostomy after pancreatoduodenectomy: a propensity score analysis on surgical outcome and quality of life. HPB (Oxford). 2022 Jan 1. [Epub ahead of print] PubMed PMID: 35031280
Oba A, Croce C, Hosokawa P, Meguid C, Torphy RJ, Al-Musawi MH, Ahrendt S, Gleisner A, Schulick RD, Del Chiaro M. Prognosis Based Definition of Resectability in Pancreatic Cancer: A Road Map to New Guidelines. Ann Surg. 2022 Jan 1;275(1):175-181. PubMed PMID: 32149822
Pozzi Mucelli RM, Moro CF, Del Chiaro M, Valente R, Blomqvist L, Papanikolaou N, Löhr JM, Kartalis N. Publisher Correction: Branch-duct intraductal papillary mucinous neoplasm (IPMN): Are cyst volumetry and other novel imaging features able to improve malignancy prediction compared to well-established resection criteria?. Eur Radiol. 2022 Dec 13. [Epub ahead of print] PubMed PMID: 36513880
Specialty Information
Specialties
Complex General Surgical Oncology, Board Certification
Surgery, Board Certification
Conditions & Treatments
Cancers - Biliary Cancer
Cancers
Cancers - Pancreatic Cancer
Digestive System - Pancreas Surgery
Digestive System
Digestive System - Biliary Surgery
Surgery
Surgery - Pancreas Transplant Surgery
Cancers - Cancer Prevention
Cancers - Cancer Surgery
Cancers - Gastroenterologic Cancer (Colon, Stomach, Esophageal, Liver)
Digestive System - Gastrointestinal Surgery
Clinical Interests
Pancreas, Bile duct, Liver, Stomach, Adrenal, Sarcoma, and Cancer Surgery

Care Philosophy
Dr. Marco Del Chiaro is a surgical oncologist with 15 years of experience in the treatment of pancreatic diseases. He is internationally recognized as a leader in the surgical treatment of borderline resectable\locally advanced pancreatic cancer, as well as in the diagnosis and treatment of pancreas lesions. Dr. Del Chiaro's unique approach, combined with multimodal chemoradiotherapy, allows more surgical options for locally advanced pancreatic cancer patients. He is active in academic research, with more than 130 peer reviewed papers, and is a member of several scientific journals' editorial boards. Dr. Del Chiaro's mission is to improve pancreatic cancer survival through both prevention and aggressive treatment of the advanced tumors and to create a multimodal personalized treatment for each patient.


General Information
Medical Schools
:
MD, University of Pisa, Italy (1997)
Languages
:
English, Italian, Swedish, French
Department
:
Surgery-Surgical Oncology